Minneapolis Police Commander Demoted Following Criticism Over Racist Christmas Tree Ornaments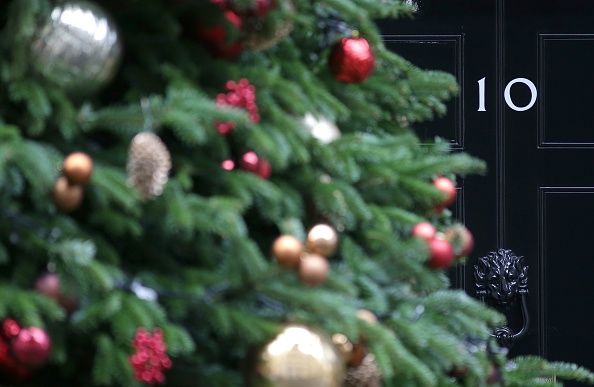 The commander of a Minneapolis police department has been demoted after decorations on a Christmas tree sparked outrage.
Commander of the North Minneapolis' Fourth Precinct and Inspector Andrew Biard has been replaced by Assistant Chief Mike Kjos on Monday following the uproar of what many people said were racial stereotypical Christmas ornaments, the Minneapolis Star Tribune reported.
Minneapolis Police Chief Madaria Arradondo told WCCO that Kjos will serve the Inspector of the precinct until there is another decision made for the next inspector.
A photo of the Christmas tree surfaced on social media earlier last week and was located at the precinct. Many felt like the decorations carried racial stereotypes including police tape, a can of malt liquor, a bag of Takis, a pack of cigarettes, a bag of Funyuns and a cup from Popeyes Louisiana Kitchen. There were also traditional Christmas ornaments placed on the tree, the Minneapolis Star Tribune previously reported.
In a statement to the Minneapolis Star Tribune, Arradondo said he was "ashamed and appalled" over the decorations and said the behavior does not represent the department's values.
The department has not identified the officers involved in the decor, but several sources told the publication that two 21-year-old officers decorated the Christmas tree. The two officers were placed on paid leave on Friday.
Minneapolis City Councilman Phillipe Cunningham addressed the incident in a Facebook post on Friday and stated that he spoke with Inspector Birad about the decorations. "I spoke to Inspector Biard this morning. Every year an officer is assigned to decorate the tree. As a prank, another officer hung some inappropriate ornaments after it was decorated," Cunningham wrote on Friday on Facebook, adding that the inspector took the decorations down the day they were placed on the tree.
In a second Facebook post, Cunningham addressed the message being sent by the tree, claiming they hurt community-police relationships.
"Reminders like this continue to infuriate me and so many in my community. They hurt EVERY gain made in improving community-police relations. On a personal level, despite being a [Council Member], I am still a Black man myself and these outrageous reminders only further my own feeling (of being) generally unsafe around police officers," Cunningham wrote.
The investigation is still ongoing by the Minneapolis Police Department's Internal Affairs Bureau.