Karen Monahan's Keith Ellison Domestic Abuse Accusations Won't be Investigated by Minneapolis Police
After Karen Monahan accused Democratic National Committee Deputy Chair Keith Ellison of domestic abuse, immediate calls came for an investigation. But before any investigation could be conducted, another issue had to be resolved: finding someone to take it on.
Ellison's son, Jeremiah Ellison, serves on the Minneapolis City Council, which has proved problematic for local agencies tasked with investigating Monahan's claim against the congressman. On Wednesday, the Minneapolis Police Department said in a statement to the Star Tribune that "due to a conflict of interest or the appearance of a conflict of interest" the department would not handle the accusations made against Ellison.
This is only the most recent pass in the investigation, which began with Minneapolis City Attorney Susan Segal. The Minnesota Democratic-Farmer-Labor-Party (DFL) hired attorney Susan Ellingstad to investigate the claims and sent an internal report to Segal for review.
"For the purpose of objectivity and getting all of the facts regarding these allegations, we have decided to forward the information in the investigation to local authorities in order to let them review the contents and determine whether further investigation is warranted," Ken Martin, the chairman of the DFL, said in a statement to NBC News.
Segal received the report on Monday and given that Ellison's son is on the city council, she forwarded it to Dakota County Attorney James Backstrom. In response to Segal's request, the Star Tribune reported Backstrom had agreed to review the matter because of the conflict of interest it posed to Segal. However, he would only do so if an investigation was completed by a law enforcement agency.
Although the Minneapolis Police Department decided against conducting the investigation itself, the statement explained that the department would possibly refer the case to other law enforcement agencies. It's unclear what specific agencies the case could be sent to.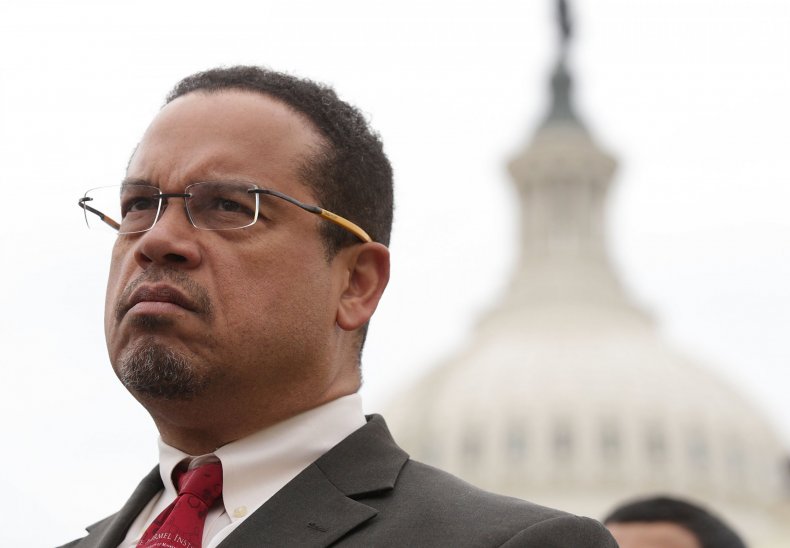 Monahan was in a relationship with Ellison for several years and she moved in with him in 2015. Monahan told CBS News that in September 2016, Ellison, who has represented Minnesota's 5th District since 2007, asked her to take out the trash, but an argument ensued when she hadn't hear what he said.
"He looked at me, goes 'Hey you f**king hear me…and then he looked at me, he goes 'B***h, get the f**k out of my house,' and he started to try to drag me off the bed," Monahan recounted. "That's when I put my camera on to video him."
Monahan has been pushed to release the video. Her son, Austin, found it on his mother's computer and claims to have seen it. Monahan stated on numerous occasions that she has no planned to share this footage.
"You are not entitled to my pain and trauma. You are not entitled to see me getting dragged, when my body is being exposed in more ways than one," Monahan tweeted on Monday. "This is my trauma, I dealt with the abuse. I have already shared more than I was originally comfortable with."
In her report, Ellingstad wrote that Monahan's refusal to allow her to see the video created doubt about her allegations. Ultimately, she determined that Monahan's accusation was "unsubstantiated."
The report also stated that Ellison believes Monahan is jealous of another relationship of his and that jealousy, combined with her belief that he was not faithful to her are "motivating the current allegations."
Ellison is currently campaigning to become Minnesota Attorney General, and his Republican opponent, Doug Wardlow, threw his support behind Monahan in light of Ellingstad's findings.
"As predicted, the sham 'investigation' led by the DFL party attorney's legal partner has concluded in favor of the party's atorney general candidate. But the publicly available evidence contradicts that conclusion," Wardlow told NBC News.
As proof of her claim, Wardlow pointed to Austin's claim that he saw the video and Monahan's release of medical records that detailed what she told doctors about Ellison.
While the video has largely been the focus of Monahan's accusations against Ellison, she also accused the DNC chair of narcissistic abuse, which she told The New York Times was difficult for people to understand if they hadn't endured it.
"It's the gaslighting, it's the habitual lying, it's the making it seem like it was my fault for even asking why something happened," she said. "It was crazy-making. My hair was falling out, I was anemic—narcissist abuse is horrid."
Ellison has repeatedly denied the allegations, and in August told CNN that the video doesn't exist because "I have never behaved in this way and any characterization otherwise is false."