Just as 2020 winds down, tensions in Minneapolis ratcheted up again with the police killing another man. Wednesday night's incident happened about a mile from the death of George Floyd. A spokesman for the Minnesota police department confirmed that at least one officer shot and killed a man during a traffic stop Wednesday night.
It's the first killing by the police department since the widely-publicized death of Floyd on May 25. Floyd was a Black man who died while in custody of Minneapolis police. A video shows former Minneapolis officer Derek Chauvin kneeling on Floyd's neck for nearly nine minutes. The last words heard from Floyd were, "I can't breathe."
Floyd's death on Memorial Day set off a burst of nationwide protests against police brutality against people of color. It also sparked Black Lives Matter protests across the country that spilled into everyday life.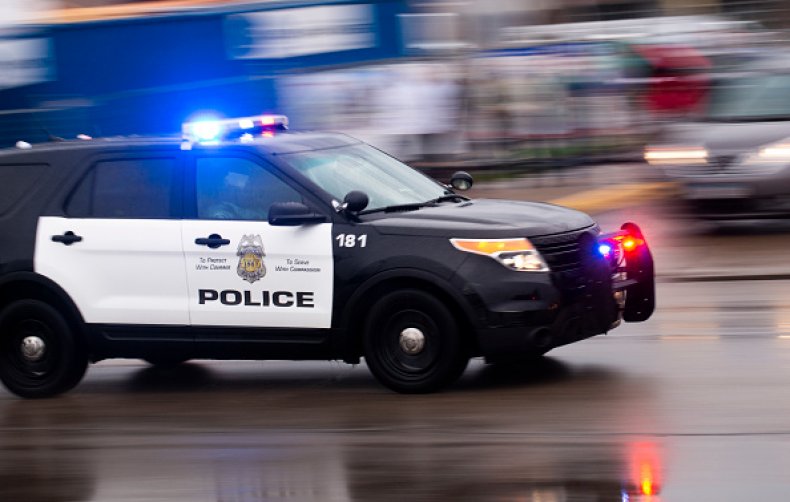 Early reports of the Wednesday night shooting—about a mile away from the location of Floyd's death—ignited more new protests late into the cold Minneapolis night.
John Elder, a spokesman for the Minneapolis Police Department, said the police pulled over a driver who was wanted for a crime. MPD did not release the person's name, nor the crime, per a New York Times report. There was reportedly an exchange of gunfire, and the man who was pulled over died at the scene. No other people were hurt, which include officers nor an adult woman who was in the passenger seat of the man's car.
Elder said that at least one police officer was wearing a body camera, and that it started filming during the gunfight. The video from any cameras will be released Thursday, per reports.
The incident Wednesday night happened close to a gas station in the Powderhorn neighborhood.
Minneapolis Police Chief Medaria Arradondo said the suspect fired at officers, who returned fire and struck the man, which the chief said is backed up by initial witness statements.
Not long after the shooting, throngs of people showed up to the scene, shouting at police—a sign that indicates past wounds haven't been healed.
Arradondo said it's the right of the people to march and protests, but his department wants to maintain civility—or no destruction like the city has seen before.
"We want to do everything we can to protect everyone's First Amendment rights ... but we can not allow for destructive criminal behavior, the city has gone through too much," Arradondo said.
Minneapolis Mayor Jacob Frey's office released a statement Wednesday that said the city will seek facts, but try to maintain peace during that time.
"Events of this past year have marked some of the darkest days in our city. We know a life has been cut short and that trust between communities of color and law enforcement is fragile," Frey said. "Rebuilding that trust will depend on complete transparency. I am working closely with Chief Arradondo to gather all the facts surrounding what happened tonight and will be relaying that information, in coordination with State partners, to community as quickly as possible.
"We must all be committed to getting the facts, pursuing justice and keeping the peace."
This is a developing story. More details will be published later.