The head of the police union in Minneapolis blamed police department leaders for making union members "the scapegoat" in how they have responded to the death of George Floyd in police custody.
Lt. Bob Kroll, president of the Police Officers Federation of Minneapolis, said in an interview aired Tuesday on CBS This Morning that city and state officials have placed their "failed leadership" onto union members.
"We believe that our membership...has been unfairly scapegoated by political leaders in our city and our state," Kroll said in his first interview since Floyd's death on May 25. "They have shifted their failed leadership onto us and our members and it's simply unjust."
The union has come under criticism for not taking a clear stance on the officers' use of force in Floyd's death. In a viral video, Minneapolis Police Officer Derek Chauvin kept his knee on Floyd's neck for at least eight minutes and 15 seconds as Floyd informs Chauvin and three other officers that he can't breathe until he appears to lose consciousness. Floyd was later pronounced dead at a local hospital.
Chauvin has since been charged with second-degree murder and manslaughter. Officers J. Alexander Kueng, Thomas Lane and Tou Thao, who also reported to the scene, have been charged with aiding and abetting second-degree murder.
"It's just dumbfounding to me that one incident, we become the scapegoat to having a bad officer," Anna Hedberg, a union director, said in the interview.
Newsweek was unable to immediately reach union representatives for further comment.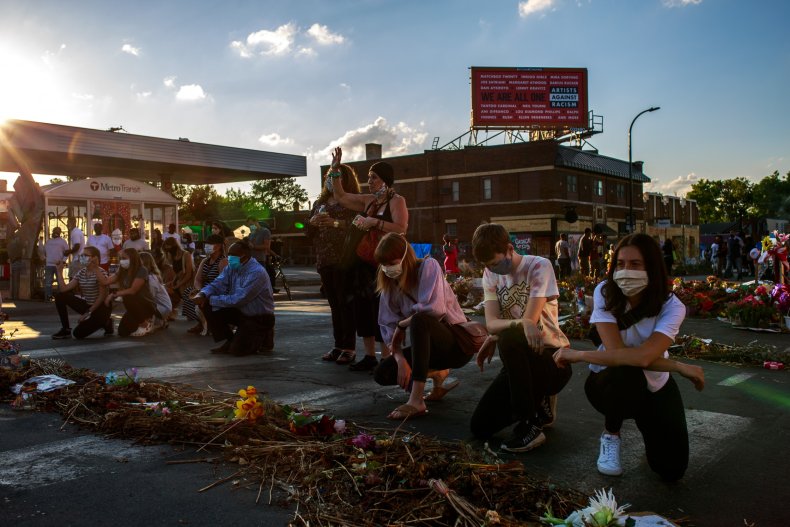 Kroll explained in the interview that union leaders had only been able to see footage of Floyd's death from what has been posted to various social media accounts. Union members are typically allowed to review the officers' body camera footage, which is provided by the police department, he said.
Such footage would give union members the full picture surrounding Floyd's death and his interactions with the officers, Rich Walker, a union director, told CBS This Morning.
"Any human being that watched [Floyd's death] knows that that shouldn't have ended the way it did," Walker said. "But we also know that there's more to the story."
Without the body camera footage, the union cannot currently make an informed decision regarding Floyd's case and the officers' use of force, Kroll said.
Walker added that the media is pushing the narrative that white police officers are on the streets to kill Black men.
"What happened to Mr. Floyd is a tragedy. But we weren't out there," he said. "What we're saying is, the narrative needs to stop. It needs to stop. Police officers are not out here just randomly hunting Black people to kill them."
In the interview, Kroll also discussed the acts of protest in his city following Floyd's death, saying he believed that the protesters' actions are "a form of domestic terrorism."
The interview with Kroll and other union leaders aired just two days after 60 Minutes featured Minneapolis Police Chief Medaria Arradondo where he acknowledged that reform in his police department is necessary. Arradondo also blamed Kroll and the union for making the possibility for reform difficult.
"He and others are going to have to come to a reckoning that either they're going to be on the right side of history or the wrong side of history," Arradondo said.
Newsweek was unable to immediately reach the Minneapolis Police Department for further comment.
Arradondo announced June 10 that conversation with the union, which had been in the middle of contract negotiations with the department, would be stopped immediately in an effort to pressure the union to help with reforms.