Minneapolis Public Schools to Drop Contract With Police After George Floyd Death
Josh Pauly, the director of the Minneapolis Public School Board (MPS), announced on Friday that he will submit a proposal to the full board this coming Tuesday to end the school district's contract with the Minneapolis Police Department (MPD).
Pauly made the proposal because of the recent killing of George Floyd, a black man who died in police custody after an MPD officer kneeled on his neck for nine minutes during an arrest. Floyd had allegedly given a counterfeit $20 bill to a diner cashier who notified the police.
In a series of tweets published Friday morning, Pauly wrote that he drafted the resolution with the support of Minneapolis Board of Education Chair Kim Ellison and Board Director Siad Ali.
The proposal suggests terminating the district's contract with MPD, ceasing all future negotiations with MPD and directing the district superintendent & his staff to devise an alternative plan to better serve students.
"Our communities are in pain and our city is on fire as a result of MPDs blatant disregard for black lives," Pauly wrote. "MPS cannot align itself with MPD and claim to fight institutional racism. We cannot partner with organizations that do not see the humanity in our students. We cannot be neutral in situations of injustice."
"And while our school board does not have the ability or authority to arrest and prosecute the officers who murdered George Floyd," he continued, "we do have the ability to send MPD a very clear message- not only through public statements- but through action."
Pauly ended his tweet thread by calling others in positions of power to do everything they can to create change to push anti-racism efforts in local policing, adding the hashtag #BlackLivesMatter.
Ellison told Newsweek that MPS has had police in schools since the 1960s and the city currently spends $1.1 million annually for 14 officers assigned to different schools. These officers build relationships with students and staff and respond when fights break out or laws are broken.
She said the board gave the district superintendent until August 18 to present an alternative school safety plan to the board.
"My hope is that the superintendent talks with stakeholders, especially students, to reimagine what safety in schools, without officers, looks like," Ellison said.
In order to reconsider the MPD contract, Ellison said, "The culture of the police department would need to change. We have talked with them about treating residents with dignity [and] re-evaluating their use-of-force policy."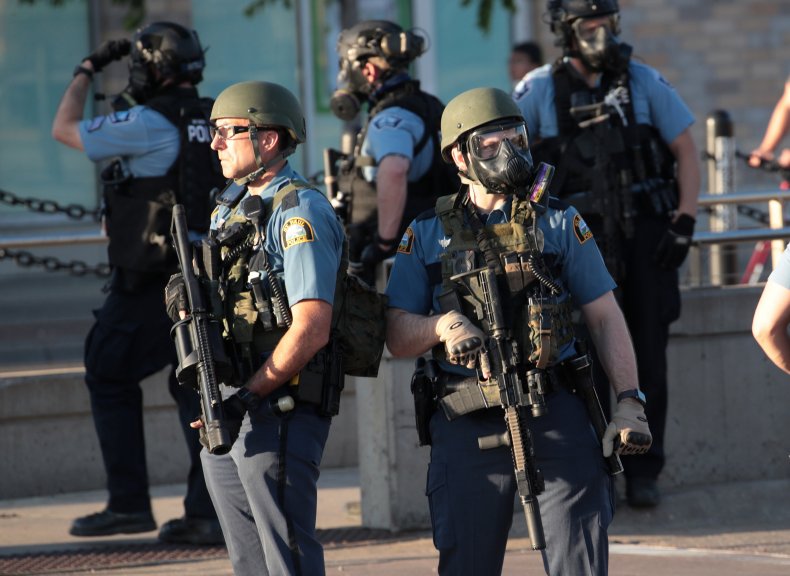 Pauly's tweets follow three days of increasingly volatile protests in Minneapolis by demonstrators demanding police reform and judicial accountability for the officers involved in Floyd's arrest.
Thousands of protesters have marched the city streets over the last few evenings, clashing with riot police who used tear gas in an effort to disperse crowds. Meanwhile, businesses in downtown Minneapolis were vandalized, looted and torched.
The torched buildings included the 3rd Precinct Police building where Derek Chauvin, the officer who kneeled on Floyd's neck, worked. Chauvin has since been arrested and charged with third-degree murder and manslaughter.
An officer with the Minnesota State Patrol arrested black CNN correspondent Omar Jimenez and his crew members while they covered the protests.
Minnesota State Patrol said the journalists had been arrested in the process of "clearing the streets and restoring order." However, officers didn't arrest Jimenez's white CNN colleague, Josh Campbell who was also reporting on the protests.
Update (6/4/2020, 3:20 p.m.): This article has been updated to include comments from the Minneapolis Board of Education Chair Kim Ellison.