In Minneapolis, Where George Floyd Was Killed, Black Drivers Are Five Times More Likely to be Stopped by Police Than White Drivers: Analysis
Black drivers in Minneapolis are five times more likely to get pulled over by police than white drivers, according to new analysis data.
ABC News recently collected data from local police departments on millions of traffic stops over the past few years in several major U.S. cities.
The data collected from Minneapolis, the city George Floyd died in after being held down by several police officers, shows that Black drivers are much more likely to be stopped than white drivers.
Newsweek reached out to the Minneapolis Police Department for comment but did not receive a response in time for publication.
Across several other cities' ABC News collected data from, all show at least some racial disparity in police traffic stops.
According to the analysis, in Chicago, Black drivers were four times as likely to be stopped when compared to white drivers, while in Philadelphia, Los Angeles and San Francisco, Black drivers were about three times more likely to be stopped by police.
ABC News' analysis also looked at the rate police officers stop pedestrians in several major cities and found even higher rates of racial disparities. The analysis shows that in all nine cities where data was available, Black Americans were more likely to be searched when stopped by police than white Americans.
When Black Americans were stopped in four cities, including, Philadelphia, Chicago, Fresno and San Francisco, they were less likely to be found possessing something illegal when compared to white Americans stopped.
On the other hand, only two out of the 12 cities examined, Louisville, Kentucky and Houston, Texas, were Black drivers stopped at the same rate as white drivers. Despite this finding, when the analysis looked deeper it found that Black drivers in Houston were three times as likely to be searched by police after being stopped and Black drivers in Louisville were more likely to be stopped than white drivers for suspected violations that eventually turned out not to be serious enough for officers to take action.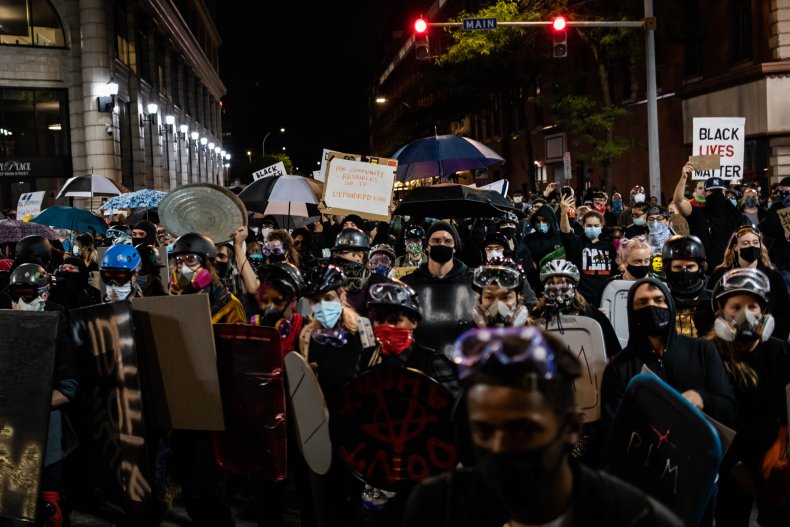 The analysis comes as protests have sparked across the country, after several instances of racial injustice by police officers against Black Americans.
In addition to Floyd's death in Minneapolis, multiple other instances, such as the shooting of Jacob Blake, a 29-year-old Black man in Kenosha, Wisconsin, the fatal shooting of Elijah McClain, a 23-year-old Black man from Colorado and the death of Daniel Prude, a 41-year-old Black man in Rochester, New York have led to protests across the U.S.
While speaking with ABC News, Joanna Weiss, the co-founder and co-director of the nonprofit advocacy group Fines and Fees Justice Center, suggested that the racial disparities discovered in traffic stops are issues also seen throughout the criminal justice system.
Weiss said if someone's license is suspended, they tend to stop driving, making it so that they can't access work, childcare, healthcare or "any of your basic necessities."
"The next time he's pulled over, now [it is] a misdemeanor charge, because driving on a suspended is a misdemeanor in every jurisdiction. That comes with additional fines and fees," Weiss told ABC News. "It comes with possible jail time as well. So, this is how we take somebody, just on the basis of their poverty, and induct them into the criminal justice system."