Minnesota AG Files Lawsuits Against Restaurants Defying Indoor Dining Ban
Minnesota Attorney General Keith Ellison filed at least four lawsuits this week against restaurants and bars defying an executive order issued by Gov. Tim Walz last month banning indoor dining statewide.
In a series of statements beginning Thursday, Ellison's office announced it has filed legal action against four Minnesota restaurants: Alibi Drinkery in Lakeville, Neighbors on the Run in Princeton, Cornerstone Cafe in Monticello, and Cork in Anoka. His office alleged that these establishments had been hosting indoor dining in open violation of the governor's orders.
In a Friday statement, Ellison announced the lawsuits against Cornerstone Cafe and Cork.
"There are 10,000 restaurants and 1,500 bars in Minnesota. By far the vast majority of them have served their communities by complying with the law all along," Ellison said in a Friday statement. "Of the few that have threatened not to comply and the even fewer that violated the law, many have already pulled back. The two restaurants that we're holding accountable today are among the very few that have refused to live up to their responsibility to keep their customers, employees, and communities safe."
Ellison, whose mother died of COVID-19 complications in March, emphasized that restaurants and bars should comply with safety measures imposed by Walz, who cited data in his order that supports indoor restaurant areas could further the spread of the virus.
"Once again, I'm asking all restaurants and bars to do the right thing and comply with the law and orders that are designed to stop the spread of COVID-19," Ellison continued. "I don't enjoy using the enforcement tools I have available because I'd much prefer people do the right thing on their own, but I will use them when I have no other choice to protect Minnesotans from this deadly virus."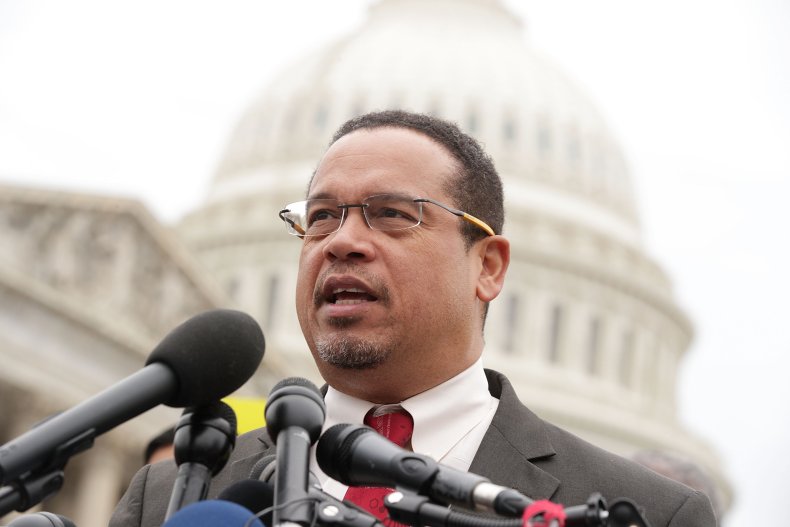 Cork owner Bobby Martin, whose grandmother died from the virus two weeks ago, told Newsweek Saturday that he's simply trying to survive and keep his 12-table business afloat. He noted that other indoor venues, including gyms and fitness studios, are open.
"This isn't about sticking it to anybody. This is about surviving a mandate that I personally don't think is legal," Martin said. "People don't realize that restaurants run on the tightest margins of any business. That's how we've always ranked because there's too much competition. So if you gotta lose some here, lose some there, that hurts us horrendously."
Meanwhile, state officials have encouraged restaurants to adapt by seating customers outdoors—not ideal in the Minnesota cold—at 50 percent capacity or up to 100 people, or by offering takeout, as Martin's restaurant offers. But Martin says it just doesn't work for the type of food he serves and the customer service he provides, which relies a great deal on the positive vibes of the space.
While Martin says he's not willing to pack people into his small restaurant, which seats a little over 52 people, as other locations have attempted to do, he believes there are real, devastating consequences in banning indoor dining for small bars and restaurants like Cork, especially as orders continue to change once businesses adjust.
"Before, people were going to lose their businesses. Now, they're gonna lose their houses," Martin said. "People don't understand that these people have families, too."
He adds that people from all over the country haven't been sympathetic after news of the lawsuit broke.
"I'm not here to hurt anybody. I'm not here to have my family be ridiculed," Martin said. "My cousins are hundreds of miles away from us saying, wow they're really hacking you guys and, all of a sudden, they go and hack my cousins too."
"Is that really how it is?" he asked. "We're just trying to survive."
On Wednesday, Ellison's office announced that it would hold restaurants and bars accountable for serving food and beverages on their premises following a plan formulated by a coalition of businesses, called the ReOpen Minnesota Coalition, to resume business operations in protest of state restrictions.
The announcement noted that the office would seek up to $25,000 in civil penalties for each violation.
It also indicated that many businesses that reopened Wednesday in protest did not actually violate the executive orders, while the ones who were in violation consisted of restaurants and bars.
"Of a list of approximately 150 establishments supposedly open today in violation of Executive Order 20-99, approximately 40 percent can already legally operate, do not in fact intend to violate the executive order, or are anonymous," the statement reads.
"Of the remaining number, approximately 60 are bars and restaurants," the statement continued. "Of those, approximately 20 have represented to the Attorney General's office that they are in fact complying with the executive order and are not open for on-premises service."
Ellison's office announced Thursday that it filed a motion for a temporary restraining order against Alibi Drinkery for refusing to close on-premise dining after the lawsuit. The restraining order was granted by the Dakota County District Court on Friday, indicating that the bar must close for indoor dining or risk being found in contempt of court.
Neighbors on the Rum voluntarily closed on-premise dining following the lawsuit, according to Ellison's office.
The Minnesota Department of Health announced on Friday that it issued cease-and-desist orders to Alibi Drinkery and The Interchange, in Albert Lea, for violating executive orders.
The department detailed photographs and videos showing patrons eating and drinking indoors Wednesday at Alibi Drinkery, along with food workers not wearing masks. In a social media post on Thursday, the bar announced that it was open and welcoming customers to dine indoors.
"COVID-19 protocols are designed to slow the spread of this virus and reduce the impacts of this pandemic," said Dan Huff, the department's assistant commissioner.
"Our preference is always to work with business to bring them into compliance, and we consider regulatory actions as a last resort," he continued. "The vast majority of businesses are doing their best to help slow down the spread of COVID-19, and we owe it to them to have a consistent and fair enforcement approach."
Newsweek reached out to Cornerstone Cafe and Alibi Drinkery for comment but did not receive a response in time for publication.