Minnesota Congresswoman Ilhan Omar on Sunday said that nationwide reforms are needed in the wake of George Floyd's police-involved death, saying black Americans have long been "brutalized" in the United States.
The Democratic lawmaker said Minneapolis residents, African-Americans and much of the country "want charges" filed against the other three officers who "stood by idly" as now-fired police officer Derek Michael Chauvin knelt on Floyd's neck on May 25.
Speaking with ABC News' This Week Sunday morning, Omar highlighted the "severe social and economic neglect" of black communities across the U.S., particularly the criminal justice system. She also criticized the burning of buildings and businesses during protests Friday night, placing blame for such agitation on "people who exploit the pain that communities are feeling to ignite violence."
Omar reiterated that the protests are much larger than just asking for justice in Floyd's death, saying "this is what happens when people are tired ... marching ever single day just to have their humanity be recognized."
"The unrest we are seeing in our nation isn't just because of the life that was taken it's also because so many people have experienced this," Omar told This Week host George Stephanopoulos. "So many people have experienced injustices within our system, so many people know the social and economic neglect. We are living in a country that has a two-tiered justice system and people are tired of being sick and tired. We need to step back and say to ourselves, 'Where do we actually go from here?'"
Omar said the presence of the National Guard in Minnesota Saturday evening to enforce the curfew was comforting to some, but also terrifying to others.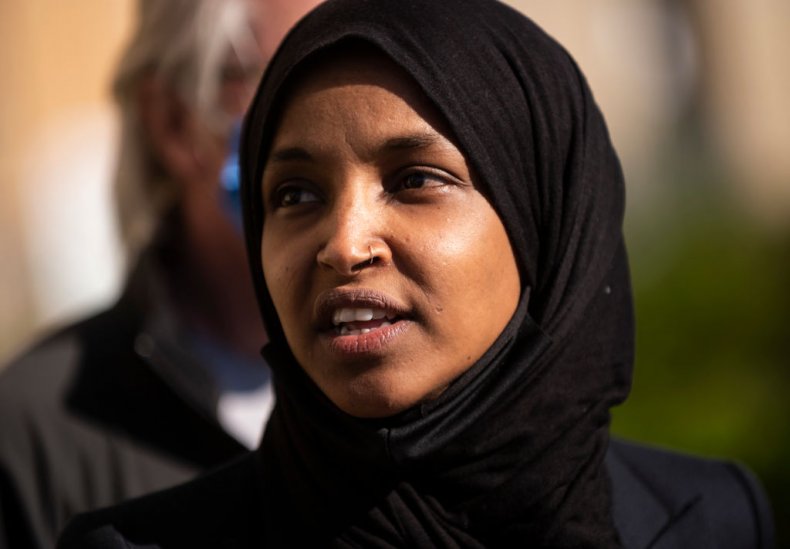 "I think last night the community did feel safe to know there will not be a burning of their businesses and their homes, we were obviously worried and feeling terrorized about that prospect," Omar said. "But there were also many people who chose to demonstrate and not abide by the curfew who felt like they also were terrorized by the presence of tanks, the National Guard and a militarized police."
Omar said Americans must come to terms with the country's long history of "brutalized" treatment directed toward African Americans dating back to the days of slavery.
"Our country is in pain and people can't get that image of George Floyd having the life choked out of him by a police officer who was supposed to protect and serve our community," the Minnesota congresswoman continued. "But this also is a reminder that we are living in a country that has truly, for a long time, brutalized African Americans from slavery, to lynching, to Jim Crow, to mass incarceration and now police brutality."
Newsweek reached out to Omar's Minneapolis office Sunday morning for additional remarks.