Minnesota Democratic Senator Tina Smith and Republican Opponent Jason Lewis in Statistical Tie: Poll
Senator Tina Smith (D-Minn.) is in a statistical dead heat with her GOP challenger Jason Lewis less than two weeks before Election Day, according to a new poll.
A SurveyUSA poll released Wednesday shows Smith leading Lewis, a former congressman whose candidacy has been endorsed by President Donald Trump, by only 1 percent. It found that 43 percent of voters favored Smith compared to 42 percent for Lewis. Another 12 percent said they were undecided, while 3 percent said they would vote for a third party candidate. Smith's lead is well within the poll's 5 percent margin of error.
Although a Civiqs poll also released on Wednesday found Smith with an 11 percent lead over her challenger, the SurveyUSA poll could be a worrying sign for the incumbent. A poll conducted earlier this month by the same firm showed her with a 7 percent lead over Lewis, while another from mid-September gave her an 8 point lead. A RealClearPolitics average of recent polls shows Smith maintaining a 5.8 percent lead as of Thursday.
"As we enter the final two weeks and more and more voters vet the candidates and pay attention to the race, it's no surprise I have closed the gap by ten points since September, making this a one point race," Lewis said in a statement. "This poll further proves that Donald Trump and I have all the momentum in this election."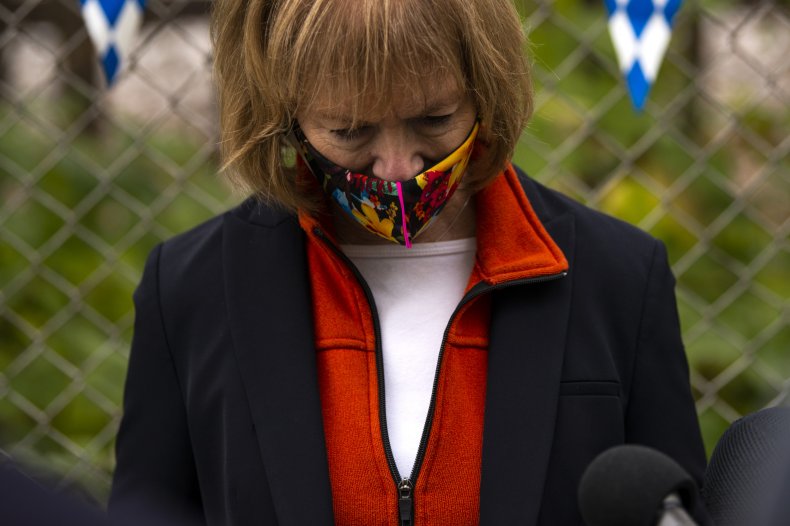 There is little evidence that Trump has any significant momentum in Minnesota. A SurveyUSA poll released Thursday shows the president trailing Democratic presidential nominee Joe Biden by 6 percent, similar to a 7 point margin the poll showed two weeks earlier. Biden leads by an average of 6 percent in all recent polls, according to RealClearPolitics.
Smith, who had served as lieutenant governor of Minnesota, was appointed by departing Democratic Governor Mark Dayton in 2018 to fill the seat of former Senator Al Franken, who resigned in late 2017 amid allegations of sexual misconduct. Later that year, she won a special election to serve the remainder of what would have been Franken's term by a comfortable 11 percent margin over GOP nominee Karin Housley.
If Lewis is able to pull off an upset victory over Smith, it would a huge boost for Republicans hoping to retain control of the Senate. They will need to lose no more than two of their current 53 seats to keep control if Biden wins the presidential election. If Trump wins, they could keep control with only 50 seats, since Vice President Mike Pence would cast any deciding votes if the chamber were evenly split.
Polls show Democratic challengers leading incumbent Republican Senators in at least four states, while GOP challenger Tommy Tuberville has a commanding lead over incumbent Democratic Senator Doug Jones in Alabama.
Newsweek reached out to the Smith and Lewis campaigns for comment.