Minnesota Dems Expel State Rep. Thompson Amid Domestic Violence, Residency Controversies
The Minnesota House Democratic-Farmer-Labor (DFL) caucus voted Tuesday night to expel state Representative John Thompson, who has been embroiled in controversies over the summer.
The expulsion means the Democrat won't have access to DFL legislative staff or resources and will be stripped of his committee assignments. However, he will remain a state representative, as it would take a vote of the entire House to remove him, and retain salary and benefits unless he resigns or is expelled from the Legislature.
Lawmakers from both parties and Democratic Governor Tim Walz have called for Thompson to step down, but he has repeatedly refused.
In a joint statement, House Speaker Melissa Hortman and Majority Leader Ryan Winkler said, "Rep. Thompson's actions, credible reports of abuse and misconduct, and his failure to take responsibility remain unacceptable for a member of the Minnesota House."
Thompson has come under scrutiny since July, when he received a traffic citation over the Fourth of July weekend.
Following the police encounter, the state representative accused the St. Paul police of racially profiling him, which the department vehemently denied. Police Chief Todd Axtell publicly demanded that Thompson apologize to the sergeant who stopped Thompson for driving without a front license plate.
At the time of the citation, Thompson presented the officer with a Wisconsin license, which raised questions around whether he lives in the legislative district he represents.
Shortly afterward, details of domestic abuse allegations, which are detailed in public records, were revealed. Police calls describe multiple incidences of alleged choking and punching by Thompson between 2003 and 2011. He has denied all the allegations.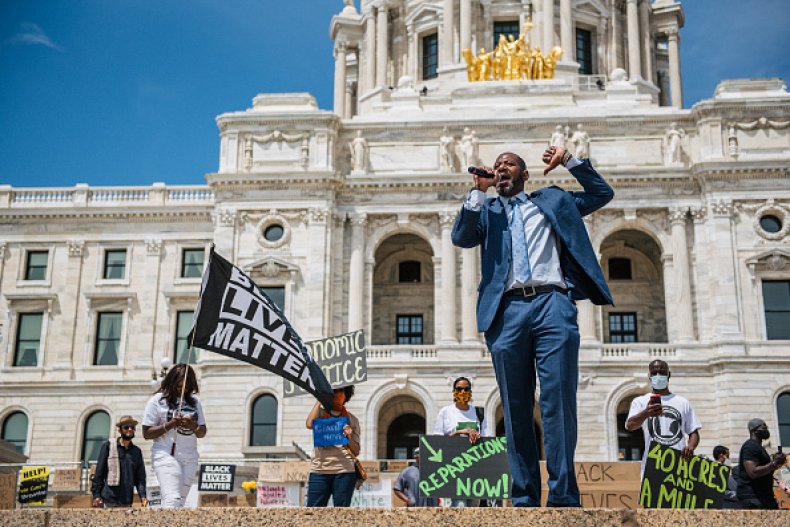 On Tuesday, Thompson took to Facebook to address the ongoing controversies. He described 2016 as being "an unbelievably difficult year" following his mother's death and the highly publicized police killing of his "good friend" Philando Castile, a black motorist, during a traffic stop.
"Currently, some are saying because of the past allegations against me that I am not fit to serve in this legislative seat," Thompson wrote. "The fact is, I don't have a hateful bone in my body for anything other than the blatant racism that is being displayed all over the world and that some play as though it does not exist."
He went on, "Allegations about something that allegedly happened to me twenty years ago does not disqualify me from doing my job today. As a matter of fact, it only gave me strength to fight harder and help transform the communities I am fighting for."
Thompson said he held the Wisconsin license until it expired last November, days before he was elected to the Legislature.
"If my friend Philando hadn't been killed by police in 2016, I would probably still be working quietly and my life would not be so hectic but I was called to be an agent of change, to be the change I wish to see," Thompson said. "It's what I have done, and what I plan to continue doing."
Newsweek reached out to Thompson for comment but did not hear back before publication.