Minnesota George Floyd Protests Could Worsen Coronavirus Outbreak Disproportionately Impacting Minorities, Officials Warn
Minnesota health care officials are warning that continued protests in Minneapolis may ultimately lead to a spike in COVID-19 cases, particularly among minorities.
Minnesota Health Commissioner Jan Malcolm said Thursday that while people are justifiably angry about the death of George Floyd while in custody of Minneapolis police officers, they should also be careful.
"People are moved to want to speak and to want to gather in solidarity and in protest, and we certainly honor and respect that right," Malcolm said in a Star Tribune report. "As we know, large gatherings do pose a risk in any epidemic, but certainly where we stand today with the state of COVID-19 spread in our community."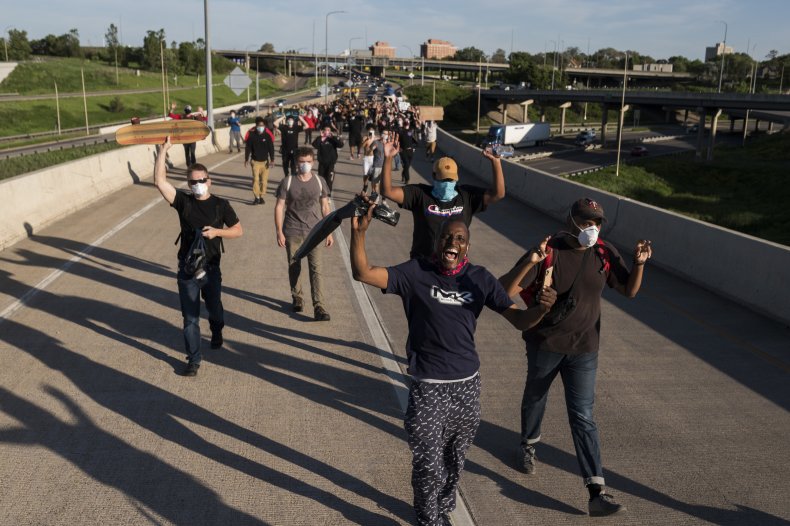 Minnesota health officials reported 35 new deaths on Thursday from COVID-19, raising the total number of deaths to 967.
Since the start of the COVID-19 pandemic, Hennepin County and Minneapolis—one of the most impacted communities in the state—there have been 7,540 cases of the new coronavirus, resulting in 565 deaths, according to the Johns Hopkins University tracker.
The COVID-19 pandemic, which has disproportionately impacted the elderly, has also disproportionately impacted the black community.
According to the Minnesota Department of Health, the African American population accounts for about 29 percent of confirmed COVID-19 cases in the state, while whites account for 35 percent of confirmed new coronavirus cases.
Other ethnic groups, such as Hispanics accounted for 19.2 percent of the COVID-19 cases, while ethnic groups classified as unknown accounted for 25 percent of the state's positive cases.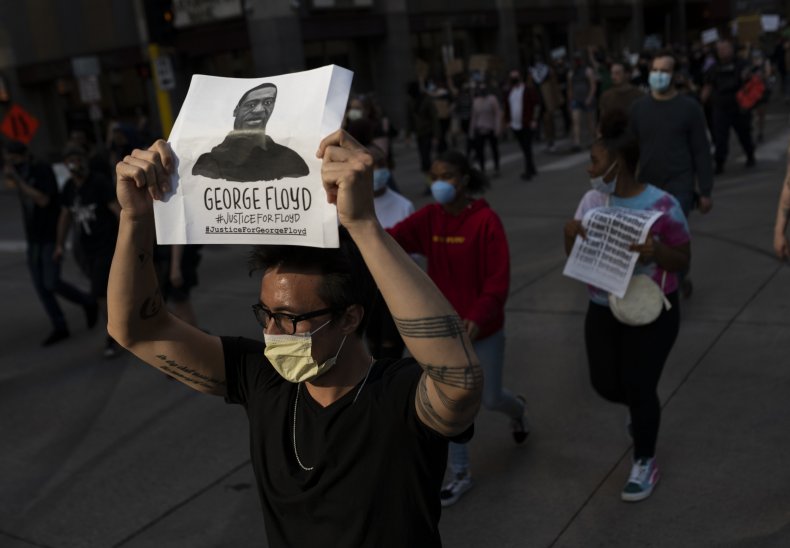 "Communities of color are facing multiple devastations with disproportionate financial and health impacts from the COVID-19 pandemic, in addition to the ongoing trauma of deeply entrenched racial bias," Penny Wheeler, Allina Health's chief executive told the Star Tribune.
Angry protesters took to the streets this week demanding justice for Floyd, 46, who was arrested Monday for allegedly passing a counterfeit $20 at a Cup Foods supermarket. Officers were called to the scene and arrested Floyd.
Video of the arrest showed former Minneapolis Police Officer Derek Chauvin kneeling on Floyd's neck during the arrest, with Floyd repeatedly telling officers that he couldn't breathe. Later, he appears to lose consciousness, though Chauvin continues to kneel on his neck.
More protesters are expected to arrive in Minneapolis—many from out of state—to take part in weekend demonstrations. Malcolm said the large crowds will most certainly add to the number of COVID-19 cases.
"It's certainly going to be a factor in what happens in our outbreak and our case counts," she said in an MPR report.
Minnesota Senator Amy Klobuchar took to her Twitter page on Friday morning to call for calm and an end to the violence.
"Our community is hurting. Hurting for justice and charges for George Floyd. Vandalism must stop," Klobuchar said, adding that a full-scale investigation by the Department of Justice of the Minneapolis Police Department.
The DOJ, the U.S. Attorney's Office, and the FBI field office in Minneapolis announced Thursday that the agencies had launched an investigation into the actions leading up to Floyd's death, in order to determine if police violated Floyd's civil rights.