Minnesota Governor Tim Walz has issued a statement praising the guilty verdict in the trial of Derek Chauvin. Walz also spoke publicly later on Tuesday evening, pledging to pressure legislators to pass reforms that would advance racial equity in his state.
Chauvin—the white former police officer who killed Black Minneapolis resident George Floyd on May 25, 2020—was found guilty of second-degree unintentional murder, third-degree murder and second-degree manslaughter for killing Floyd.
"Today's verdict is an important step forward for justice in Minnesota," Walz wrote in his statement. "The trial is over, but our work has only begun.... We know that accountability is only the first step."
"A year later," Walz's statement continued, "Derek Chauvin has been found guilty of murder and faces years behind bars."
"True justice for George only comes through real, systemic change to prevent this from happening again," Walz added. "And the tragic death of Daunte Wright this week serves as a heartbreaking reminder that we still have so much more work to do to get there."
In Walz's public address, held later Tuesday evening, he pledged that his administration would "do everything we possibly can to put the priorities of lifting up equity in all aspects of life in Minnesota." He noted racial disparities in state statistics regarding educational opportunities, healthcare outcomes and home ownership.
"We need to take away that qualifier. [Minnesota is] not just the best place to live if you're white," Walz said in his address. "It needs to be the best place ever."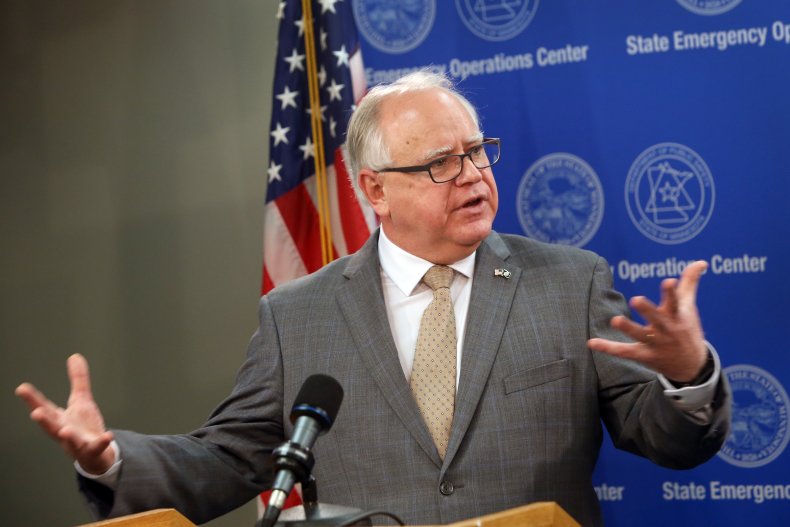 Walz noted that police shootings and social inequalities cause problems for all members of society and the government, regardless of one's race. He also noted that Republicans and Democrats both control one chamber of his state legislature. He then said that he will "burn" his political capital pushing for legislation that addresses racial inequalities.
"I have tried not bringing the partisan side of this in," he added, "but if there are those legislators who choose not to make these changes, I will use the platform that I have to make sure that Minnesotans know who's holding up progress that Minnesotans want."
Walz thanked his state Attorney General Keith Ellison and Ellison's legal team for successfully prosecuting the case. Walz also thanked the jurors, everyone who testified—particularly the police officers who testified against Chauvin—and the people who witnessed and recorded Floyd's murder.
Following Walz's comments, John Harrington, the commissioner of the Minnesota Department of Public Safety, said that legal authorities had not instated an evening curfew the Minneapolis region. Nevertheless, he added, police stand ready to address any civil unrest.
Floyd's death sparked nationwide racial justice protests for police reform.
Newsweek contacted Walz's office for comment.