Minnesota Gov. Tim Walz Says State Not Prepared for 'Threat' of Unrest Ahead of Derek Chauvin Verdict
Minnesota Governor Tim Walz said on Tuesday that his state is not fully prepared for the "threat" of unrest ahead of the verdict in the case against former Minneapolis police officer Derek Chauvin.
In a statement issued on Tuesday, Walz declared a "peacetime emergency" in several counties across Minnesota but warned that they might not be enough to combat any potential violence as the verdict in Chauvin's case is expected to be announced this week.
"Local and state resources have been fully deployed, but they are inadequate to address the threat," Walz wrote in the executive order.
In the executive order, Walz notes that in addition to the upcoming verdict in the case against Chauvin, who is accused of murdering George Floyd during an arrest in May 2020, the state has also recently faced mass protests in response to the fatal police shooting of 20-year-old Daunte Wright.
Wright was fatally shot last week by a Brooklyn Center Police officer, who was seen on body camera video yelling she had her Taser but grabbing her gun instead. The officer, identified as Kim Potter, and Brooklyn Center Police Chief Tim Gannon announced their resignations following the fatal shooting.
"Today, the Hennepin County District Court heard closing arguments in the trial of former police officer Derek Chauvin. The anticipated verdict in the Chauvin trial and the fatal police shooting of Daunte Wright have raised the potential of further civil unrest in the seven-county metropolitan area of Anoka, Carver, Dakota, Hennepin, Ramsey, Scott and Washington counties," Walz wrote. "Recent events in Brooklyn Center have exhausted Minnesota's local and state resources and are likely to hamper our ability to provide public safety and protect critical infrastructure and key resources in the seven-county metro area in the coming week."
Walz's statement went on to note that the police chiefs in Minneapolis and St. Paul, as well as the sheriffs of Dakota, Hennepin and Ramsey counties "have all requested that the State seek assistance from other states pursuant to the Emergency Management Assistance Compact ("EMAC"). This peacetime emergency declaration allows the State to receive EMAC assistance from other states."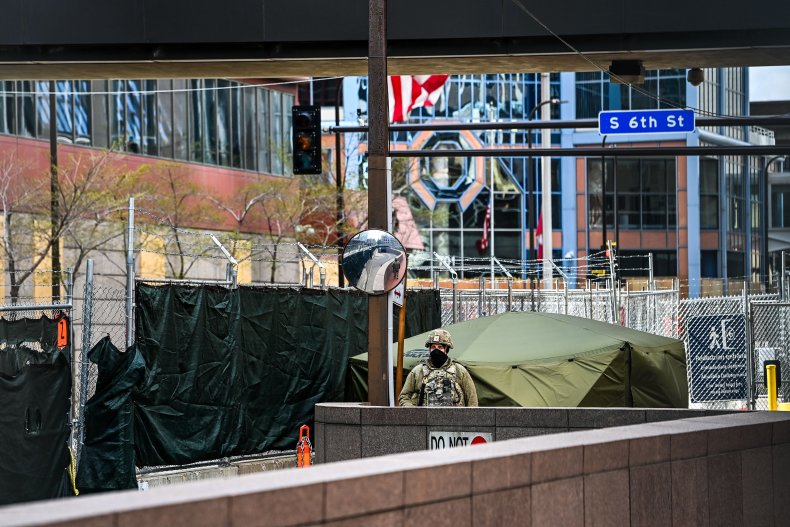 Prior to his statement on Tuesday, Walz thanked Ohio and Nebraska for providing police backup in response to the potential protests following the verdict.
"I am grateful to our colleagues in Ohio and Nebraska for their willingness to provide assistance and relief to our state troopers and law enforcement officers as they continue to work to keep the peace in our communities," Walz said on Monday.
In addition to Minnesota, several other states and cities have prepared for potential protests, including Washington, D.C., Chicago and Los Angeles.
Newsweek reached out to Walz's office for comment but did not receive a response in time for publication.