Minnesota Governor Signs Executive Order Allowing Outdoor Activities to Resume as State Begins to Reopen
Minnesota Governor Tim Walz signed on Friday an executive order permitting the state's residents to partake in outdoor recreational activities while continuing to follow social distancing guidelines.
The outdoor activities now permitted are golfing, fishing, boating, hunting and hiking, all of which were halted during the state stay-at-home order that was issued to slow the spread of the coronavirus. The executive order will go into effect Saturday at 5 a.m. CT.
The order requires residents participating in the newly permitted outdoor activities to follow social distancing guidelines, which include staying at least 6 feet away from others, avoiding crowded areas and staying close to home.
In a statement, Walz stated the need for outdoor activities. "It's important for us to stay active and enjoy the outdoors while preventing the spread of COVID-19," he said. "This measure will allow Minnesotans to take advantage of more opportunities to get outside, while still doing their part to keep their neighbors healthy."
As the state begins to reopen, a number of other closures will continue, such as campgrounds, recreational equipment retail stores and places renting recreational equipment.
In Minnesota, there are currently over 2,000 confirmed cases of the coronavirus and at least 111 deaths, according to a Johns Hopkins University tracker.
Newsweek reached out to Walz's office for comment on his executive order but did not receive a response before publication.
Walz's executive order comes soon after President Donald Trump announced a new three-part plan for states to reopen. "Now that we have passed the peak in new cases, we are starting our life again. We are starting rejuvenation of our economy again, in a safe and structured and a very responsible fashion," Trump said at a Thursday press conference. "We are not opening all at once but one careful step at a time."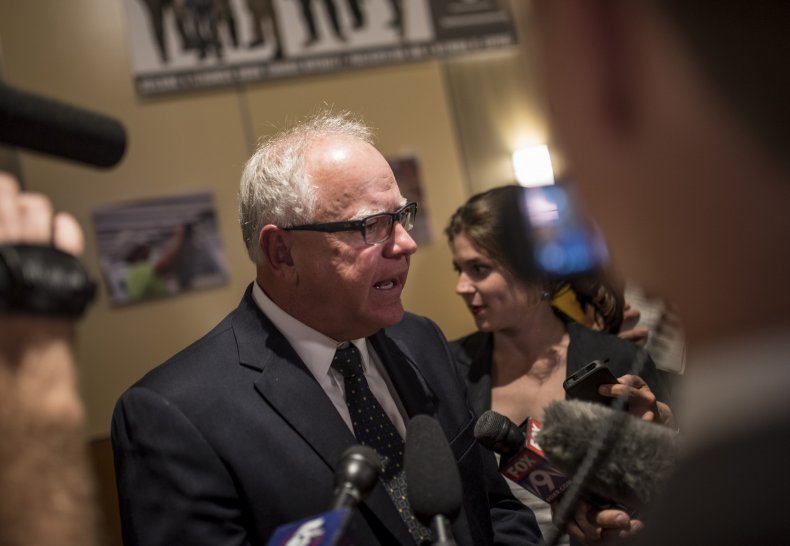 The plan is broken down into three phases, with states first required to meet a "gating" criterion, which includes a "downward trajectory of documented cases within a 14-day period."
According to the guidelines, phase one would begin to reopen such places as restaurants, movie theaters, sporting arenas and places of worship. Phase two includes reopening schools and day care centers, while also allowing nonessential travel within the state. Phase three allows work sites to resume normal activities while also permitting "vulnerable individuals" to return to their normal lives.
In addition to Minnesota, six other states have begun outlining their plans to reopen: North Dakota, Texas, Ohio, Michigan, Illinois and Kentucky.
The new coronavirus, which causes the respiratory disease COVID-19, has infected over 2 million people worldwide, with the U.S. now the pandemic's epicenter. According to the Johns Hopkins tracker, there are over 679,000 confirmed cases in the U.S. and at least 34,180 deaths, while over 56,000 people have recovered from the disease.