Minnesota, Illinois, Indiana Report Single-Day Record COVID Cases With 5 Days Till Election
Three states on Thursday reported their highest single-day increase in COVID-19 cases, with just five days until Election Day.
The three states that saw those record increases in cases were Minnesota, Illinois and Indiana.
According to the Minnesota Department of Health, at least 2,872 new cases of the new coronavirus were reported on Thursday, the most the state has seen throughout the pandemic.
Across Minnesota, data from the state's department of health shows over 142,000 confirmed cases of the novel virus, as well as at least 2,419 deaths.
The Minnesota Department of Health directed Newsweek to comments made by Commissioner Jan Malcolm during a press conference on Thursday, where she suggested that the growth in cases in the state is not caused by one or two big events, but instead "it's driven by thousands of seemingly small decisions people are making every day without realizing the impact those decisions are having on their neighbors and their community.
"We urge people to step up their efforts to follow guidelines for social distancing, wearing masks when in public, avoiding larger gatherings, staying home when sick and seeking testing," Malcolm said.
In Indiana, the state's department of health reported a single-day high of 3,643 cases of the virus. This tops a previous high of 2,820 new COVID-19 cases reported on October 21. The Indiana Department of Health also reported 33 new deaths related to the virus, bringing the state's total numbers to over 172,000 confirmed cases and at least 4,024 deaths.
Illinois also saw its highest single-day increase in cases, with 6,363 newly confirmed cases, according to the state's department of health.
The number of new cases reported on Thursday in Illinois tops a previous high of 6,161 new cases reported on October 25. According to the Illinois Department of Health, there are currently over 395,000 confirmed COVID-19 cases and at least 9,675 deaths.
Newsweek reached out to the departments of health in Illinois and Indiana for comment but did not hear back in time for publication.
Each of these states has also seen a continued increase in the daily number of cases over the past week.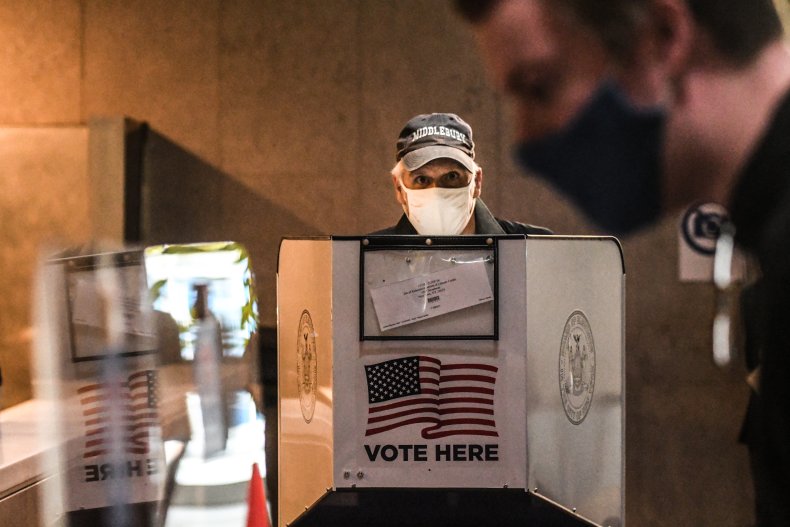 According to a COVID-19 tracking map from The New York Times, as of Wednesday, each of these three states has seen an increase in the seven-day moving average number of cases. In Minnesota, the seven-day moving average is currently at 1,836, an increase from the beginning of October where the seven-day average was 1,027.
Similarly in Illinois and Indiana, the map from the Times shows these states having seven-day moving averages of 5,006 and 2,392, respectively. On October 1, Illinois had a seven-day moving average of 2,070 while Indiana had an average of 997.
The increase in cases in these three states comes less than a week before the November 3 election, where voters across the country will vote between President Donald Trump and Democratic candidate Joe Biden to be the next president.
Amid the spike in COVID-19 cases in these three states, each of the two candidates have discussed different plans on how they will combat the virus.
Trump has continued to assert that a vaccine is just "weeks" away, and during the final presidential debate he said, "We're learning to live with it."
On the other hand, Biden and his campaign have criticized Trump's response and recently released a plan outlining how he intends to fight the virus. According to the plan, if elected, Biden's administration would "spend whatever it takes, without delay, to meet public health needs and deal with the mounting economic consequences."
Biden's plan also notes that he intends to make COVID-19 tests "widely available and free" as well as also calling on governors to pass mask mandates in their states.