Minnesota Man Pleads Guilty to Threatening to Put Member of Congress in Wheelchair
Jason Robert Burham Karimi, a Minnesota man, pleaded guilty to threatening to invoke so much pain on a U.S. representative from California that the member of Congress would be unable to walk.
Karimi, 32, was arrested in January, shortly after he made the threatening phone call and claimed the voicemail was meant to cause "political pain" and not "physical pain." Facing potentially years in prison, Karimi changed his plea from not guilty to guilty on Thursday and is set to be sentenced at a later date for the charge of interstate communication of a threat against a U.S. Representative.
The 32-year-old's voicemail to the unnamed member of Congress told them to be "as scared as possible, terrified, sh--ting your pants."
"We're coming for ya, we're going to f--- you up and we're going to cause you pain in every way possible," Karimi said in the voicemail. "Your house being vandalized, that was quite unfortunate but it wasn't far enough, so we're going to end all political power you have, make it so you can't even walk in anything but a wheelchair."
The voicemail, left on January 11, came days after the Capitol riot that sent members of Congress into hiding. It also occurred about a week after Speaker of the House Nancy Pelosi's California home was vandalized. Pelosi's office has not confirmed or denied whether she was the recipient of the call; California has 53 Congressional representatives.
The voicemail was brought to the attention of the U.S. Capitol Police and the FBI, who arranged to meet with Karimi.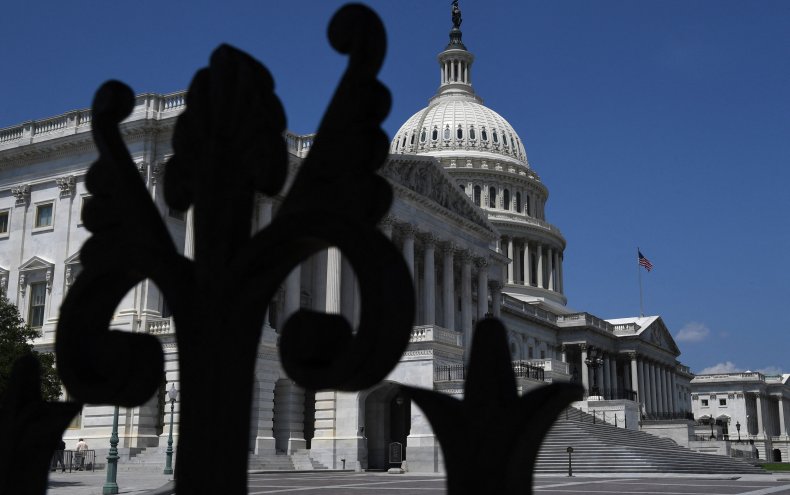 When FBI special agent Daniel Jeffreys contacted Karimi by phone and asked if he knew why the FBI wanted to speak with him, Karimi asked, "Is it about the voicemails?" according to court records. He said he works as an activist for the marijuana industry, working mostly in Iowa but with goals to lobby the U.S. government.
After leaving the voicemail, Karimi told Jeffreys he realized he'd made a mistake and called his friend to say he "f---ed up." Court records allege Karimi was afraid the Secret Service was "coming to get him."
Although the voicemail contained threats of violence, Karimi told the FBI agent that he wasn't intending to cause the representative physical harm. He said he uses "political threatening" as a tactic of getting people's attention and eliciting a response.
Before leaving the voicemail on the representative's office phone, Karimi said he told a lawyer he would "rip out his son's guts" and feed it to the lawyer's son.
Newsweek reached out to Shannon Elkins, Karimi's attorney for comment but did not receive a response in time for publication.
Karimi is far from the first person to threaten a member of Congress. On Thursday, Sidhartha Kumar Mathur was sentenced to eight consecutive weekends in jail and six months of home confinement for threatening to kill Representative Andy Harris. Harris, a Republican from Maryland, supported Trump's efforts to overturn the election results and Mathur told him that if he tried "to take my vote away" he would blow up his office and "end" the lawmaker.
Mathur also directed threats at Harris' family and the congressman said at Thursday's sentencing hearing that while he expected threats, going after his family was "particularly wrong."