Minnesota Man Prepared to Go to Jail Over Massive Trump Flag That Violates City Law
A Minnesota man says he is prepared to "go to jail" for refusing to take down his massive Trump 2020 flag that violates city ordinances.
Jay Johnson is flying a 50-foot-by-30-foot custom-made flag at his construction business in Buffalo, Minnesota, but his decision to do so is in violation of the law.
City ordinance requires signs of that size to be licensed. Under the city code, signs with a sign area larger than eight square feet, like Johnson's, must have a license and are subject to the time, place and size restrictions set forth by the city.
Signs that do have licenses are also only allowed to be displayed for a maximum of 15 consecutive days and the city does not issue more than two licenses in a 12-month period.
Because Johnson has not applied for one and has not indicated to the city that he will, the city told Newsweek it is now determining how to proceed with enforcement. A Buffalo official added that Johnson received previous warnings from the city.
"I am prepared to get the fines, ultimately get cuffed, go to jail, whatever," he told CBS affiliate WCCO.
He said that if the city refuses to let him fly the flag at it's current location, "I'll just put it up someplace else, and maybe even a bigger flag."
Johnson originally took the flag down after the November election but decided to put it back up last month.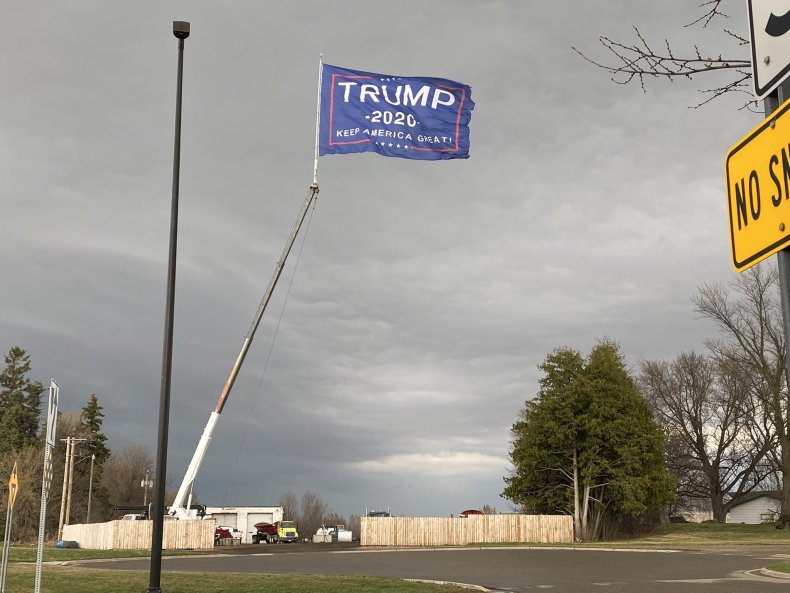 "It looks small because it's 150 feet in the air, but it's a pretty big flag," Johnson said. He added that the flag cost him $1,000, and the crane, which is holding it up, cost him another $50,000.
The city said that it has received roughly 100 formal comments about the flag that are split between complaints and statements of support.
"It doesn't really bother me much. It's just weird seeing it up again," neighbor Patrick Cayanan told WCCO. "Like, are they campaigning again for 2024?"
"I always thought like, Well, why couldn't you do like an American flag or something?" Cody Hulstein said. "Where it's like, you know, this is kind of divisive."
Johnson said that shortly after he put the flag back up, several of his work vehicles had their windows shot out by BB guns.
"I'm willing to forgive the people that did it," Johnson said. "They just got to come forward and admit it. I put a reward out."
Around the time of the incident, officials say the same thing happened to a Trump merchandise pop-up shop on the other side of town. Police are investigating both cases but there are currently no suspects.
Former President Donald Trump lost Minnesota's 10 electoral votes in the 2020 presidential election after President Joe Biden declared victory in the swing state with 52 percent of the popular vote.
Newsweek reached out to the city of Buffalo for comment but did not hear back before publication.