Minnesota Mayor Defends Whites-Only Church, Insists Town Isn't Racist
A mayor in Minnesota has defended the decision to allow a whites-only religious group to practice at a church, despite anger from locals and anti-racism campaigners.
Asatru Folk Assembly (AFA) bought the abandoned building in Murdock earlier this year. It has now been granted permission to hold services there after successfully applying for the building to be rezoned from residential use to a place of worship.
AFA is listed as a hate group by the Southern Poverty Law Center. It describes itself as a "warrior" religion of "white people", and attracts white supremacists, according to the Anti-Defamation League (ADL).
Murdock City Council has come under fire over the rezoning, but local leaders say they were legally obliged to permit the change of use.
Council members voted 4-1 on December 9 in favor of granting the permit. Shortly before the decision was made, Mayor Craig Kavanagh has said the council "condemn racism in all forms." He has since defended the move.
"Because we've approved this permit, all of a sudden everyone feels this town is racist, and that isn't the case," he told NBC News on Monday. "Just because we voted yes doesn't mean we're racist."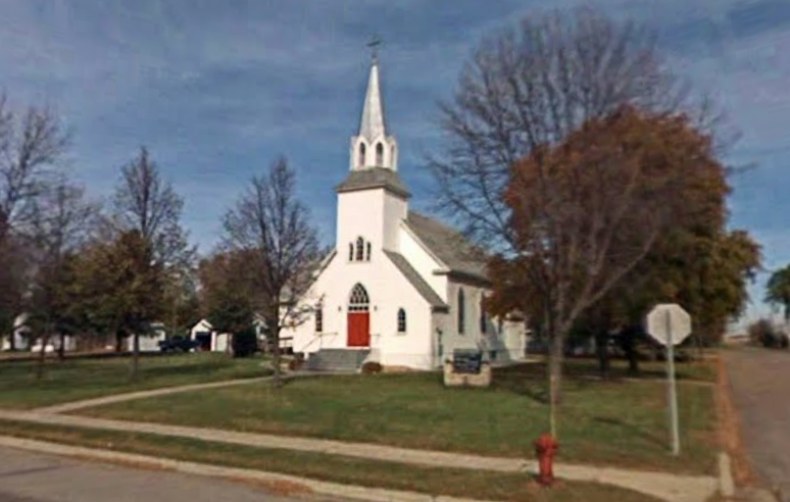 Campaigners have collected more than 120,000 signatures for a petition to stop AFA operating in the town of about 280 people. Local residents have protested the group's arrival and established a "Murdock Area Alliance Against Hate" Facebook group.
However, city attorney Don Wilcox said the town planning decision came down to freedom of religion, while calls for AFA not to practice in the town were a "separate" issue.
"I think there's a great deal of sentiment in the town that they don't want that group there," he said. "You can't just bar people from practicing whatever religion they want or saying anything they want as long as it doesn't incite violence."
However Stephanie Hoff, who cast the only vote against the switch, said she thought the council "had a chance to fight" the approval.
"I felt that we had a case with the emotional and mental well-being of the city of Murdock," she said.
Nearly 50 people—wearing masks and social distancing—attended a meeting to discuss the AFA's planning request in October.
At that meeting, AFA board member Allen Turnage told the crowd non-whites would not be permitted at the church "because they're not of Northern European descent."
Turnage denies the group is white supremacist, telling NBC News after the decision to allow worship at the building: "Just because we respect our own culture, that doesn't mean we are denigrating someone else's."
The California-based religious group has about 500 members in the U.S., according to Turnage. AFA now hopes the Murdock church will become its Midwest base.