Minnesota Native American Tribes Ask Regulators to Stop Pipeline Construction Over Increased COVID-19 Risk
Two Native American tribes in Minnesota are seeking to halt a pipeline replacement project over concerns that its construction could lead to further spread of COVID-19 as construction workers move into the area to complete it.
The $2.9 billion Line 3 Replacement Project aspires to replace more than 350 miles of 34-inch pipe with new 36-inch pipe in Minnesota, North Dakota and Wisconsin. The pipeline replacement project will run through more than 300 miles in Minnesota alone. It is the largest project of its kind that Enbridge Inc., a Canadian energy company, has ever taken on, according to the project description on the company's website.
An estimated 400 construction workers traveled to the edge of North Dakota in August to replace 12 miles of the pipeline, a portion of the project that Enbridge said they completed in about two months. The company announced in a Tuesday news release that the Minnesota Public Utilities Commission approved its request to start construction in the area, though the company said it was still waiting on one additional permit to begin the work.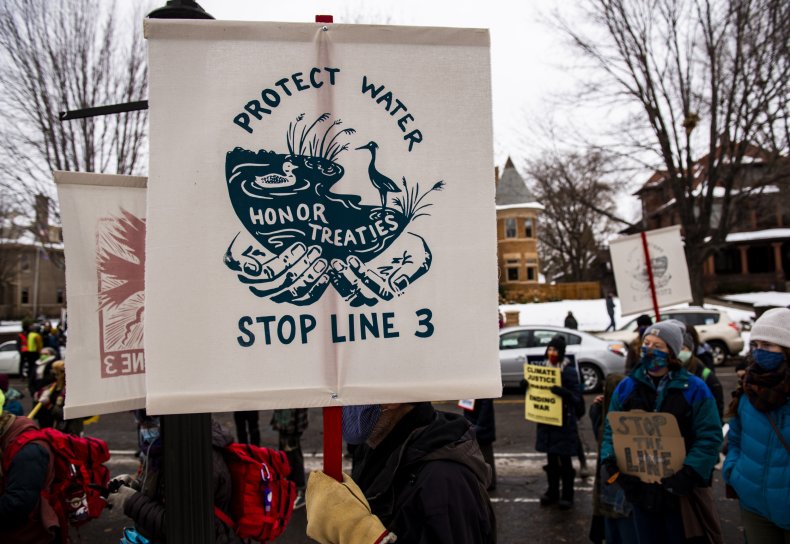 The construction approval came as the U.S. was heading into what health experts have predicted will be the worst point of the coronavirus pandemic thus far. Like many states, Minnesota has reported a spike in daily infections in recent weeks, with more than 295,000 total cases reported since the virus first arrived in the state.
According to the Associated Press, the White Earth and Red Lake bands of Chippewa filed a motion on Wednesday requesting that the Minnesota Public Utilities Commission halt construction due to COVID-19-related concerns.
In a statement shared with Newsweek, Enbridge said the motion "only seeks to delay an essential maintenance and safety replacement project."
"At Enbridge safety is our top priority," the statement said. "We are taking precautions to protect the health and safety of our workers, landowners, and neighboring communities. Nothing is more important. We have put in place an industry leading screening and testing program for all workers.
"We will continue to follow the latest guidance provided by local, federal and international public-health and government authorities to protect workers and communities. This includes regular COVID-19 testing, daily health and temperature screenings, and required on site safety protocols including wearing masks, observing strict physical distancing, and regularly sanitizing work areas."
In addition to the latest COVID-19 concerns mentioned in Wednesday's filing, those who oppose Enbridge's project have said that it is not environmentally sound and could threaten the safety of food grown and water collected in the area in the event of oil spills. Enbridge has denied these arguments and said that it completed the environmental impact assessment needed in order to move forward.
Newsweek reached out to the Minnesota Public Utilities Commission for comment but did not receive a response in time for publication.