Minnesota prosecutors in the case against the four ex-police officers charged in the death of George Floyd noted in court documents filed Friday that the officers "inflicted gratuitous pain on Mr. Floyd," and that they intend to seek stiffer sentences if the men are convicted.
The state's attorney general, Keith Ellison, who will be the case's lead prosecutor, filed motions Friday seeking "upward departure" in the sentencing guidelines, meaning that he is asking the judge to impose a sentence greater than what the guideline range provides.
Ellison noted in the motions that an upward departure would be reasonable for all four of the former Minneapolis police officers. He listed several reasons in the case against Derek Chauvin, who is charged with second-degree and third-degree murder and second-degree manslaughter in Floyd's May 25 death. Video footage captured Chauvin with his knee on Floyd's neck for several minutes before Floyd was pronounced dead.
Ellison's reasons included that Floyd was in a "particularly vulnerable" position because he had already been handcuffed and was placed chest down on the ground, KARE 11 reported.
"Mr. Floyd was treated with particular cruelty," prosecutors wrote. "Despite Mr. Floyd's pleas that he could not breathe and was going to die, as well as the pleas of eyewitnesses to get off Mr. Floyd and help him, Defendant and his codefendants continued to restrain Mr. Floyd."
The motion also notes that Chauvin abused his position of authority, committed the act with the three other former officers, and did so in the presence of children. The three other men—J. Alexander Kueng, Tou Thao and Thomas Lane—are each charged with aiding and abetting second-degree murder and aiding and abetting second-degree manslaughter.
If convicted, all four of the ex-officers could face up to 40 years in prison, but with the documents Ellison filed Friday, it appears the prosecution will request that the sentences be even longer than the maximum. The documents do not indicate how much time prosecutors will specifically request, the Associated Press reported.
John Stiles, a spokesman for Ellison, declined to comment to Newsweek beyond the motion itself, he wrote in an email.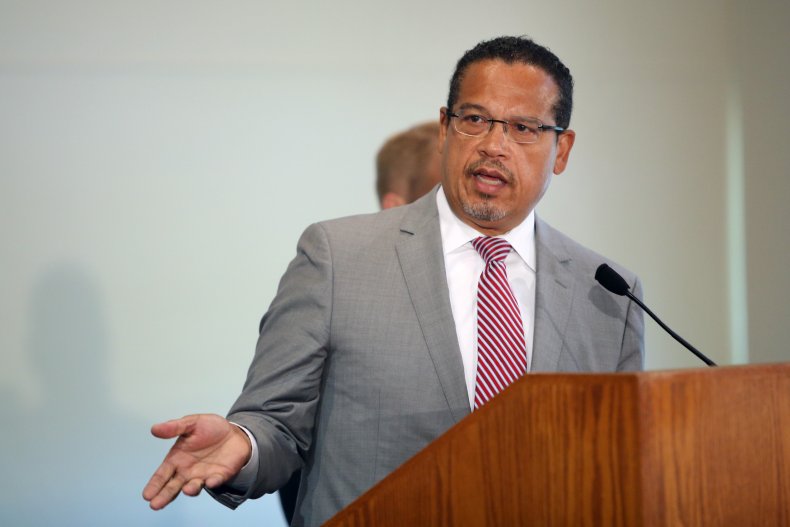 Defense attorneys for some of the former officers also filed court documents this week, providing further insight into the case they will present to jurors. Attorney Earl Gray, who is representing Lane, said much of his client's defense—and that of the other three officers—comes down to Floyd having "killed himself," as he had fentanyl in his system at the time of his death.
Several medical experts have informed Lane's defense team that Floyd having COVID-19 was also likely a contributing factor to his death during the time of his arrest, Gray said. After telling The Los Angeles Times that Floyd died of a drug overdose due to a heart condition, Gray said on CNN August 22 that Chauvin's knee on Floyd's neck did not cause his death—a claim disputed by two autopsies that determined Floyd's death was a homicide.
Chauvin's attorney on Friday filed papers asking a judge to dismiss the murder charges against him, arguing there is not probable cause to support them, CNN reported.
The three other former officers have also filed motions for their charges to be dropped, but Judge Peter Cahill has not yet made any decisions. Separately from the dismissal request, Kueng's attorney has also filed a motion seeking that the trial be moved out of downtown Minneapolis in Hennepin County and to another area with similar demographics.
The change-of-venue motion claims that potentially prejudicial material has been disseminated publicly by the prosecution, "creating a reasonable likelihood that a fair trial in the metro area cannot be had," KARE 11 reported.
Thomas Plunkett, an attorney representing Kueng, wrote in an email to Newsweek that he declined to comment on both his and the prosecution's filings.
Recent court documents filed by the defense attorney teams suggest that they wish to use details of Floyd's prior arrest record as evidence in their cases.
The defense attorneys are hoping to use body camera footage and information relating to an arrest of Floyd on May 6, 2019, as evidence. They allege that Floyd had put drugs in his mouth then to avoid arrest, and will argue it parallels the incident leading to his death this year, Court TV reported.
Additionally, the defense attorneys hope to have information about Floyd's arrest on August 9, 2007, entered as evidence in the murder trial. The recent court documents claim that Floyd pretended to be a water company employee and robbed a woman at gunpoint, and was ultimately convicted of aggravated robbery with a deadly weapon.
"These are some of the things that defense attorneys for the former police officers want to put in front of the jury during their murder trial," Court TV anchor Vinnie Politan said. "Should they be allowed to? Is it relevant? Does it prove anything?"
Court TV reporter Julia Jenaé added that the defense attorneys hope to be able to use this information as "character evidence" in their cases. They believe it will show proof of Floyd's "motive, intent, plan, knowledge and/or absence of mistake or accident" during the May 25, 2020, incident, the documents stated.
Newsweek contacted the other three defense attorneys for comment, but did not hear back in time for publication.
Update 4:51 p.m. ET: This article has been updated to include comments from Attorney Thomas Plunkett and the office of Minnesota Attorney General Keith Ellison.