Minnesota Asks Trump to Declare 'Major Disaster' Over Massive Riots Damage
Minnesota Governor Tim Walz has asked for federal help to rebuild cities in his state that were damaged during riots in the wake of the death of George Floyd in police custody.
Around 1,500 businesses in Minneapolis where Floyd died, and in St. Paul, were damaged by vandalism, fire or looting during the unrest, Walz's office said in a statement, with estimates of the damage in the Twin Cities exceeding $500 million.
A preliminary assessment found $15 million of damages related to the fires alone, according to KNSI radio.
Walz said he requested that President Donald Trump "declare a major disaster for the State of Minnesota because of extensive fire damage to public infrastructure caused by civil unrest."
The state had to mobilize the Minnesota National Guard for the first time in its history to deal with the protests, which also required the efforts of over 10,000 public safety officials to contain.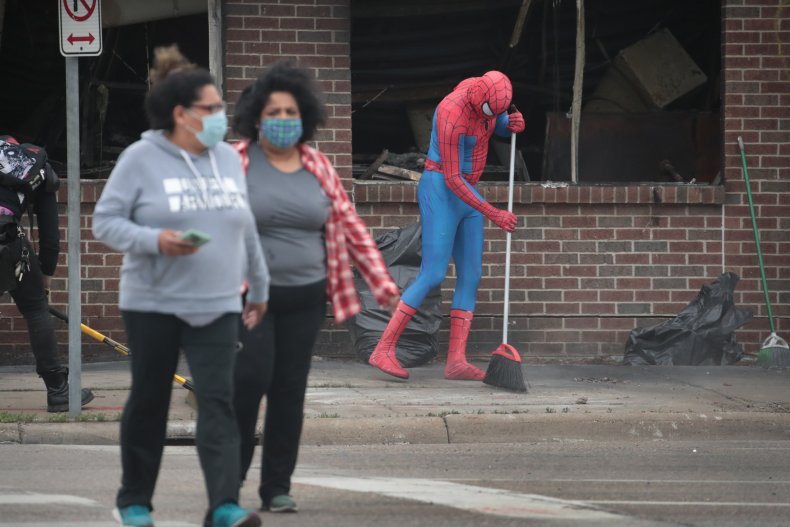 In his request for support from the Federal Emergency Management Agency (FEMA) to reimburse local governments for removing debris, and fixing damaged buildings and equipment, Walz said: "We're asking our federal partners to step up and help our communities recover."
"We need to come together to ensure Minnesotans who were victims of this destruction have access to critical infrastructure they need so they can go to the grocery store, pick up their medication, and live their lives. Together, we will rebuild."
Lieutenant Governor Peggy Flanagan said that despite state and local budgets being stretched due to the coronavirus, "we need everyone to step up, including the federal government, to restore safety and critical infrastructure to our communities." Newsweek has contacted FEMA for comment.
In June, two groups in Minneapolis launched a fundraising campaign for businesses suffering due to the coronavirus, whose problems were compounded by the riots.
The West Broadway Business and Area Coalition (WBBAC) and the Northside Funders Group had reached $2.17 million of their $5 million goal, as of Friday.
"The fund made a pivot on May 29, 2020 after North Minneapolis was impacted by the uprising across our city," Northside Funders Group, Sarah Clyne, told Newsweek last month.
Meanwhile, thousands of stores, restaurants and bars have opened up across the state over the last month following an easing of coronavirus restrictions. Despite an increase in COVID-19 infection rates, Walz said he would not yet order people to wear masks.
"The social compact of people agreeing to do it is important," Walz told reporters, according to Fox News.