Minnesota Republican Senate Candidate Once Compared Michelle Obama to a 'Chimp' in an Old Facebook Post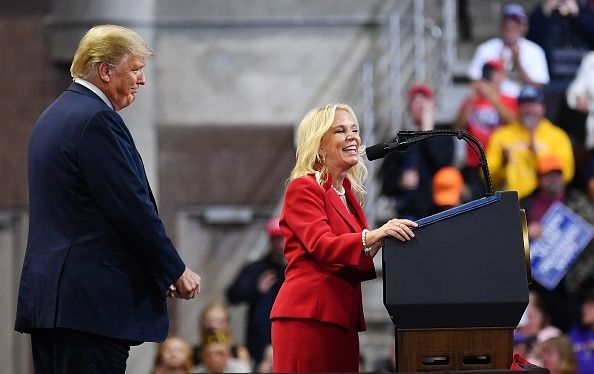 A state senator running to represent Minnesota in the U.S. Senate compared Michelle Obama to a "chimp" in 2009.
Minnesota's Karin Housley called then–first lady Michelle Obama a "chimp" on an April 2009 Facebook post because of her posture and for touching Queen Elizabeth II when the former First Lady and former President Barack Obama met with her, HuffPost reported.
"Michelle is soooo far from cool. Don't we expect our First Ladies to at least stand up straight? (And my dear sister, know the proper etiquette and DO NOT TOUCH THE QUEEN!)," Housley wrote on her Facebook wall, according to a post found by HuffPost.
In the thread of the comment she posted, Housley compared the then–first lady to the chimpanzee in the 1951 film Bedtime for Bonzo, starring then-actor Ronald Reagan, HuffPost reported.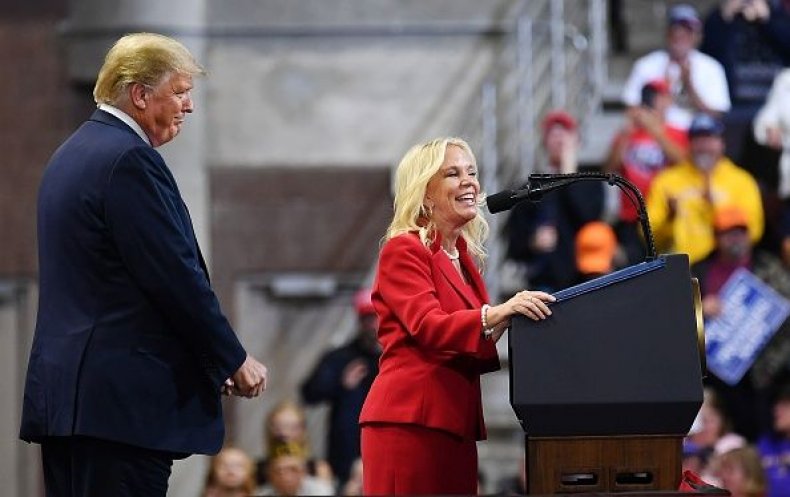 "I do miss Nancy Reagan. Ronald even more. Speaking of Bedtime for Bonzo, I think even that chimp stood up straighter than Michelle," Housley allegedly wrote at the time. "Uh-oh, someone is going to make a comment."
A statement sent to Newsweek from one of Housley's representatives blamed the left for using an old Facebook post to attack Housley's campaign.
"It's not surprising Tina Smith's campaign is using an out-of-context Facebook post from ten years ago to manufacture outrage. This is what the radical left does when they are losing—they attack Republicans so they don't have to come up with solutions to the problems Minnesotans are facing," the statement read. "Imagine if the media spent the same amount of energy investigating Keith Ellison as they do digging into candidates' old Facebook posts and satirical columns from a decade ago."
A representative from Democrat challenger Tina Smith sent a statement to Newsweek stating that residents in Minnesota deserved a senator who was respectful to all.
"Minnesotans deserve a Senator who treats everyone with respect - even if you disagree," the statement read.
The 54-year-old is facing Democrat Tina Smith in November's race for a seat in the Senate which was vacated by Al Franken. Housley is currently trailing Smith in the polls by 9.7 points, according to a poll by Real Clear Politics.
This is not the first time a person of power has been called out on statements made in regard to race. In May, ABC canceled its reboot show of Roseanne after actress Roseanne Barr, on Twitter, compared Valerie Jarrett, a former senior adviser to the Obama administration, to an ape.
In August, Ron DeSantis, a Republican running for governor in Florida, told voters during a Fox News interview not to "monkey this up" by electing Democratic nominee Andrew Gillum, who is black. DeSantis's campaign quickly responded following his remarks, claiming that he was telling Florida voters to not "embrace the socialist policies that Andrew Gillum espouses."