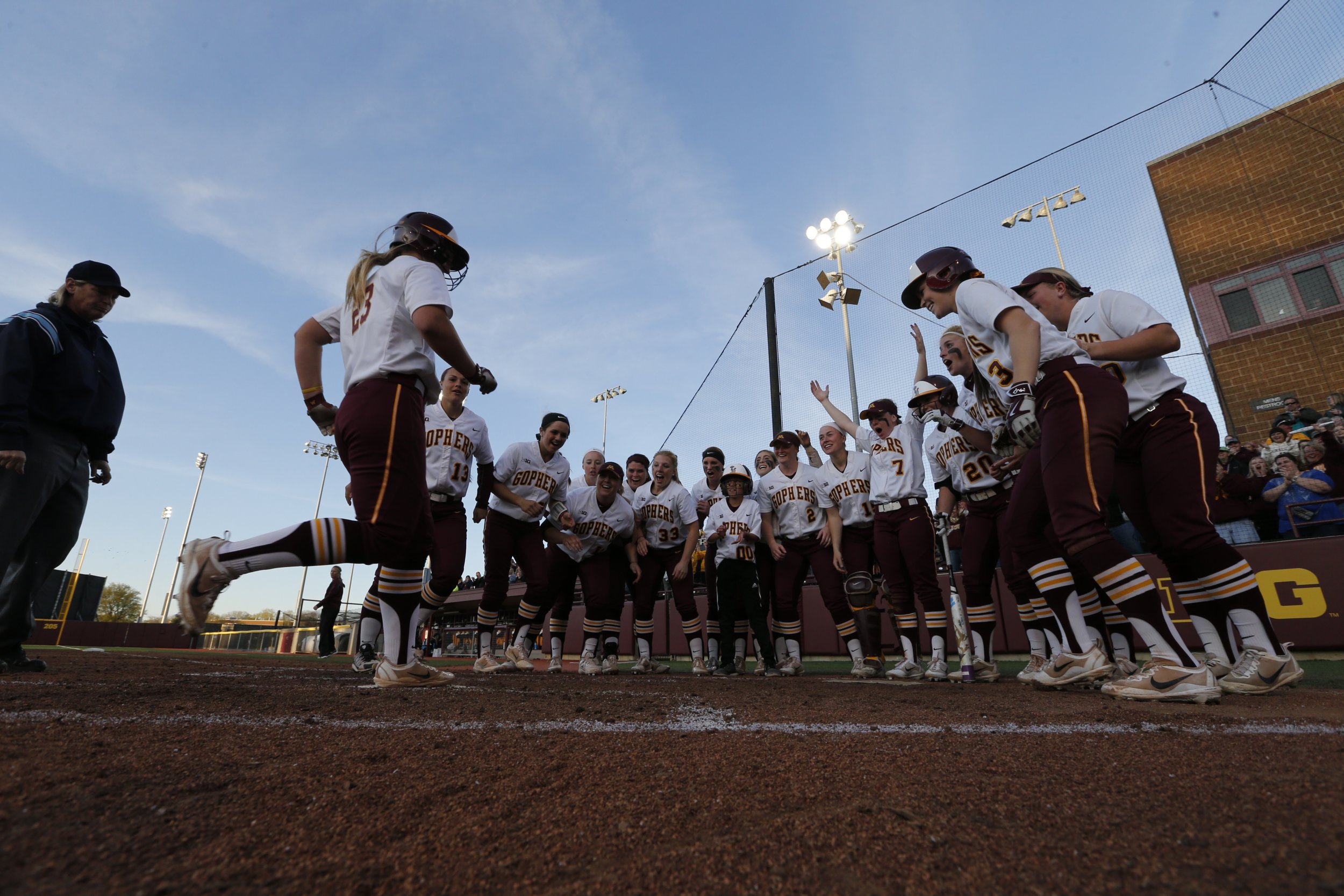 A quick recap of the Minnesota Golden Gophers' 2017 regular season in softball:
• The Golden Gophers are 54-3, far and away the nation's top record and even more impressive when you consider that due to the weather in Twin Cities, they were compelled to play their first 34 games on the road. That matters more in softball than most other sports, since the home team bats last.
• Minnesota has the nation's longest win streak, 25 games, and was just voted No. 1 in the NCAA Coaches Poll.
• Of the three losses Minnesota suffered, two were by one run and two were to eighth-ranked Washington. All three were road defeats. The Golden Gophers have a 16-0 record at home.
• The Golden Gophers rank second nationally in earned run average, runs and on-base percentage and third in batting average. Senior pitcher Sara Groenewegen of White Rock, British Columbia, ranks second nationally in win percentage (30-2) and third in ERA (0.59).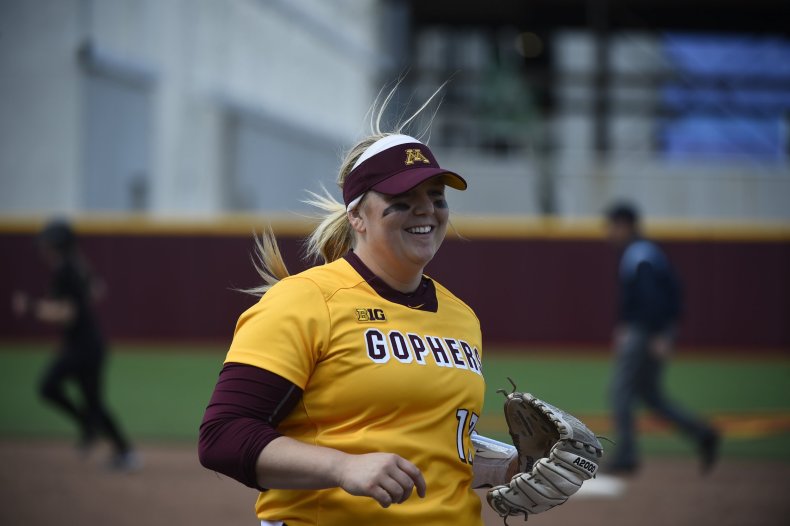 So, yeah, Minnesota is pretty good. That's why head coach Jessica Allister was surprised when the NCAA released its Women's College World Series tournament bracket and the Golden Gophers were not among the 16 seeded schools. Sixty-four teams make the tournament, but the top 16 host a four-team double-elimination series this weekend that will cull 48 schools from the tourney. "The reaction was a little bit of shock," said Allister, a 2004 Stanford alumnus who is in her seventh season in Minneapolis. "I thought hosting a regional was a lock and that we had a real good chance to host [as a Top 8 seed]."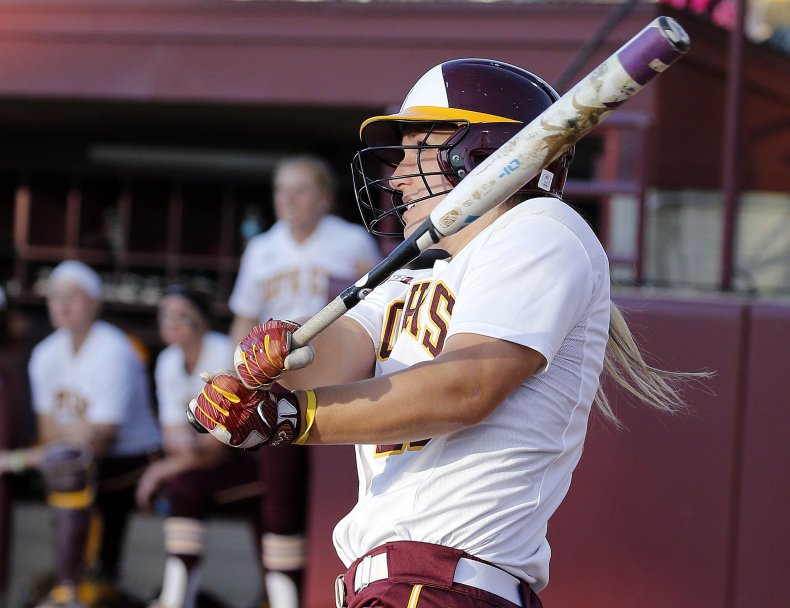 A day or two after the seedings were released, the NCAA Selection Committee released a statement to explain why the nation's top-ranked club did not merit one of 16 seeded spots. "When the committee compared Minnesota against other teams being considered for the top 16 seeds, Minnesota did not have as many regular-season Top 10 and Top 25 wins as compared to other teams," the statement read in part. "The teams that were selected as the 16 seeds had at least one or more Top 10 wins and between four to 18 Top 25 wins. Minnesota did not have any Top 10 wins and only two Top 25 wins.
Related: Baseball needs to let women play
"Furthermore, Minnesota's strength of schedule was 114," the statement said. "The top seeded teams had strength of schedules ranging from 1 to 36."
You can only beat the teams you play, of course, and Allister pointed out that the Golden Gophers silenced quite a few respectable schools on unfamiliar diamonds. "We go to Texas and play Texas twice, we go to the Big Ten-ACC Challenge, sweep Notre Dame and N.C. State, go to LSU, beat LSU on their home field, go to Fresno, who's a top-20 team last year, beat Fresno," said Allister, whose teams have won at least 75 percent of their games each of the last four seasons. "Go up to Washington, go to Cal, go to Oregon State. It's a tough thing to swallow when you hear that schedule's not good enough, because I'm not sure what else we could have done."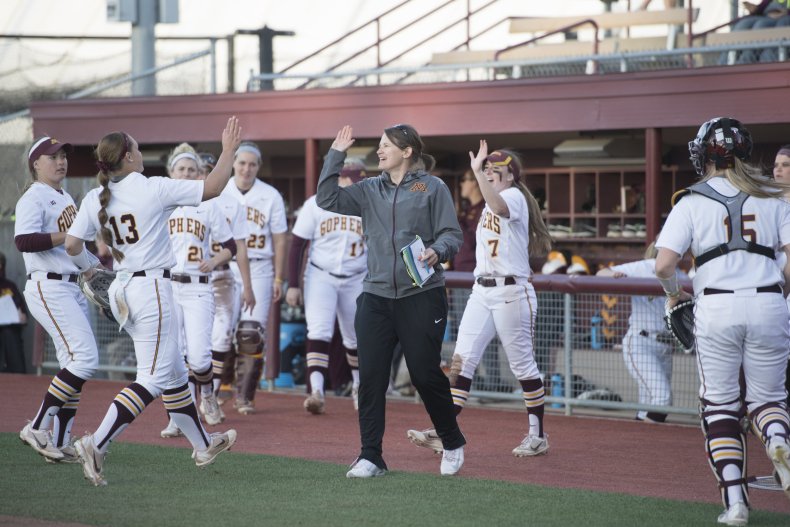 Minnesota went 13-3 versus teams that earned a berth in the 64-team tournament and won 94.7 percent of their games, but the NCAA deemed that not worthy of hosting a first-weekend regional. Instead, the Golden Gophers are headed to Tuscaloosa this weekend, where 16-seed Alabama will be the host. More indefensible than the seeding snub is where the NCAA has placed Allister's crew: If the Golden Gophers survive opening weekend, they likely will meet Florida, the No. 2–ranked team in the coaches' poll and the No. 1 seed in the Women's World Series. "I don't think anybody's happy, but you can't control that," said Allister. "Life's not fair, and guess what? Everything that we want to do is still ahead of us."
If Allister and her players are to take any solace from the snub, they can remember that they are not alone. James Madison, which has a 50-6 record, leads the nation in batting average (.357) and is third in ERA (1.25) and has in Megan Good (36-1, .48 ERA) arguably the nation's premier windmilling ace, also failed to be seeded. The Dukes are headed to Waco, Texas, this weekend where 15-seed Baylor will host.
Uncommon Knowledge
Newsweek is committed to challenging conventional wisdom and finding connections in the search for common ground.
Newsweek is committed to challenging conventional wisdom and finding connections in the search for common ground.
About the writer
John Walters is a writer and author, primarily of sports. He worked at Sports Illustrated for 15 years, and also at NBC Sports where he won two Sports Emmys for his on-air writing at the Athens and Beijing Olympics. He has also worked at AOL Fanhouse and The Daily, as well as waited at a popular Manhattan steakhouse. Walters is the author of The Same River Twice: A Season With Geno Auriemma and the Connecticut Huskies. He is the founder of mediumhappy.com, a pop culture blog that he updates daily. He holds a B.A. from the University of Notre Dame, where he studied pre-med and rowed crew.