Minnesota State Rep Proposes Some Counties Secede and Become Part of South Dakota
Under legislation recently introduced by a Minnesota Republican, some of the state's counties could choose to secede and become a part of South Dakota or other neighboring states.
Representative Jeremy Munson introduced a bill on March 25 that would create a constitutional amendment to allow counties to vote on whether to break away from Minnesota and join a nearby state: either South Dakota, North Dakota, Iowa or Wisconsin.
Munson has created a petition on his campaign website to rally support for the bill, titled HF2423. As of Monday morning, the petition had garnered 6,475 signatures, with the goal of gathering 10,000 names.
"Minnesota becomes more politically polarized every year and the metro politicians have shown us that rural Minnesotans are no longer represented by St Paul," the website page reads.
The site also references the push among several Oregon counties to join Idaho. This May, a proposal to move the state's border will be on the ballot in five rural Oregon counties.
In a tweet, Munson said the proposed changes will allow Minnesota counties to join a "State that respects Freedom and Liberty." The social media post had an image attached of counties located west of the Twin Cities metro area as a part of a newly imagined South Dakota.
South Dakota Governor Kristi Noem, a Republican, appeared to endorse Munson's proposal by retweeting his post about HF2423 with a caption saying, "In South Dakota, we roll out the red carpet for people who love personal responsibility and Freedom."
But the legislation faces an uphill battle in the Legislature. Munson told the Duluth News Tribune that "it's one of 2,400 bills introduced so far in the last few months, most of which won't become law."
Even if it does pass, a county would face a long process to successfully secede from the state. First, it would need to apply to Congress for an amendment to the boundaries of Minnesota. The state would recognize that application as valid only if it was approved by a two-thirds vote from the county board and a two-thirds vote by county voters.
The secession request would then have to be approved by both the U.S. House of Representatives and Senate. The final step would be to have two-thirds of Minnesota voters cast their ballot in favor of the amendment during a general election.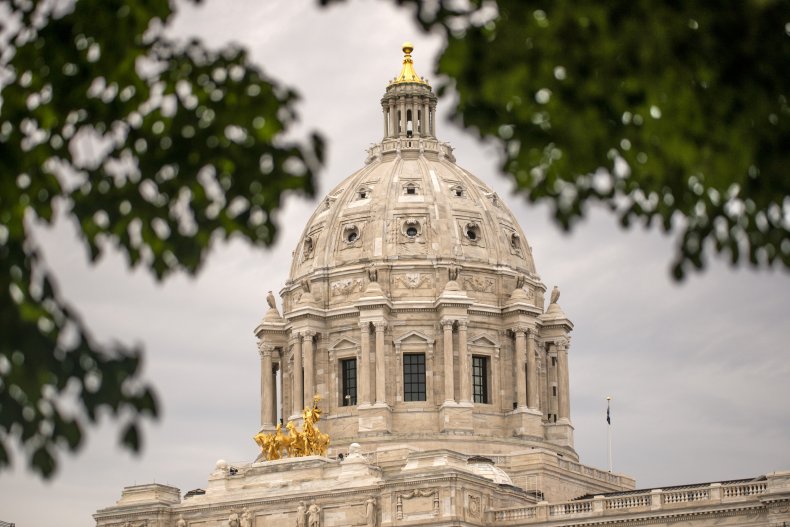 Munson told Newsweek he's heard from approximately 100 constituents and nearly a thousand Minnesotans over the past year asking how counties could join a neighboring state.
"I have also heard from many seniors, families and businesses who were choosing to relocate their permanent residence to lower-taxed, freedom-loving states, and some of the neighboring states are actively running campaigns to encourage businesses to move," he said.
"This was especially true for business owners located in border towns," he continued. "Changing the state border would allow some border communities to stay intact and keep their small businesses. It would also enable farmers and people to keep their neighbors and property while finding a government that more closely matches their values and priorities.
"This bill is not about people leaving Minnesota to join South Dakota. It is about people remaining in our communities while choosing better governance," Munson said.
This story was updated on March 29 to include comment from Representative Munson.