Minnesota Students Leave Class in Protest, Demand Justice for Amir Locke
Hundreds of students across Minneapolis and St. Paul walked out of their classes on Tuesday to protest last week's police shooting of Amir Locke, a 22-year-old Black man.
The students are demanding justice for Locke, who was awaken while Minneapolis police carried out a no-knock warrant at the apartment in which he was staying last Wednesday, then shot after he grabbed his legally obtained firearm. Locke was not listed on the warrant.
Video shared on social media shows students marching while holding signs saying Black Lives Matter and Justice for Amir Locke. Some of the students plan to take their march to Minnesota Governor Time Walz's residence, WCCO-TV reported.
The Black Student Union at Central Senior High School in Saint Paul and the nonprofit organization Minnesota Teen Activists organized the walkout. A video posted to Twitter by a WCCO radio reporter shows hundreds gathered outside the school, with the tweet saying the rally started with only about 40 people but rapidly grew. Several other middle and high schools in the area also participated, WCCO added.
The students' demands include a ban on no-knock warrants, police transparency and review of police and SWAT practices, according to KSTP-TV They also called for Minneapolis Interim Police Chief Amelia Huffman and Mayor Jacob Frey to resign.
Grace Mutondo, a student at Central, told WCCO that the students want to see Minnesota do away with the no-knock warrant the way Kentucky did after officers fatally shot Breonna Taylor in March of 2020 when they obtained that type of warrant to search her apartment.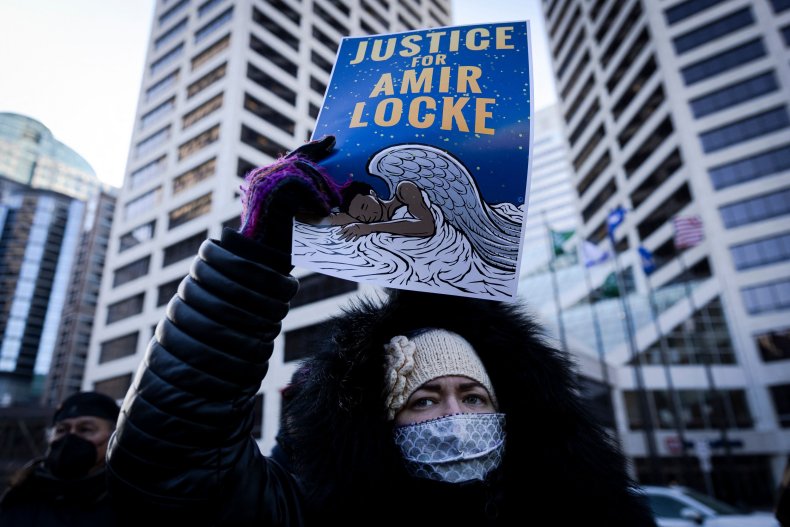 The student protests echo larger protests from last weekend in which hundreds marched in the streets of Minneapolis, making similar demands.
The no-knock warrant has been so contentious, Newsweek reported, that Frey temporarily suspended them from being issued. According to WCCO, Democrats in the Minnesota State House plan to introduce legislation banning the warrants later Tuesday.
The warrant in question is expected to be released later Tuesday, as a 17-year-old suspect was arrested on Monday afternoon in connection with the homicide investigation warrant that led to Locke's shooting. Minneapolis police said that the warrant will likely be unsealed once charges are filed.
Since the beginning of this year, Minneapolis police have executed at least 11 no-knock search warrants, WCCO reported. Last year, the city issued 78, a significant decrease from 171 in 2020.
The Minnesota Teen Activists did not immediately respond to Newsweek's request for comment.
Update 2/8/22, 4:15 p.m.: This story has been updated with additional information.