Minnesota Teacher Who Wrote 'Kill Kavanaugh' Tweet Placed on Administrative Leave
The teacher, from Intermediate School District 917's Alliance Education Center in Rosemount, Minnesota, has been placed on leave while the school district investigates a tweet that talked about killing Supreme Court Justice Brett Kavanaugh, the Star Tribune reported.
"So whose [sic] gonna take one for the team and kill Kavanaugh?" the tweet, which has since been deleted, allegedly read.
A spokesperson from the FBI confirmed that the tweet belonged to the unnamed teacher, and their Twitter account had also been deleted. Following the incident, Superintendent Mark Zuzek of Intermediate School District 917 released a statement Monday morning on the school district's website.
"Over the weekend, the district has received a complaint regarding an employee. The employee has been placed on paid administrative leave pending the outcome of the investigation," the statement read. "Pursuant with the data practices act, we are limited to providing additional information regarding this matter."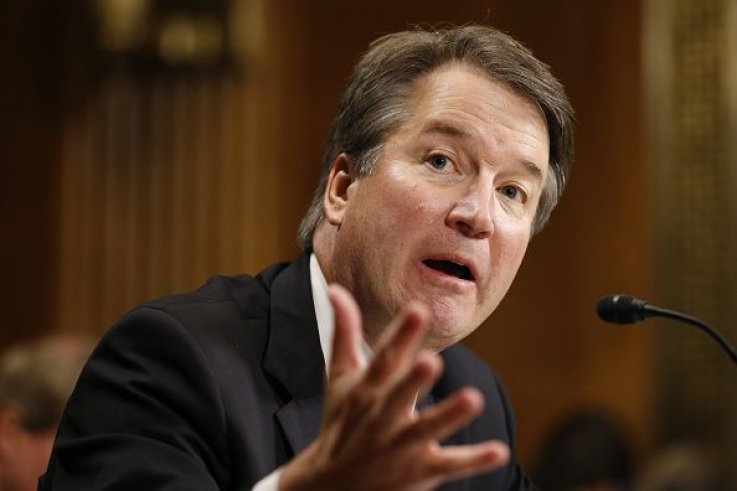 Kavanaugh was confirmed by the Senate last Saturday by a 50-48 vote. A formal ceremony for his confirmation will take place on Monday. The confirmation comes weeks after three women alleged that they were sexually assaulted by Kavanaugh. During a Senate Judiciary Committee hearing on September 27, Christine Blasey Ford accused Kavanaugh of assaulting her at a house party when she was in high school.
Hundreds of protesters were on the East Lawn of the Capitol, chanting "We don't want no Kavanaugh" and "Hey, hey, ho, ho, Kavanaugh has got to go," according to The Hill.
A similar incident occurred earlier this month when a Georgetown professor was suspended from Twitter after writing that Republican senators supporting Kavanaugh "deserve miserable deaths while feminists laugh as they take their last gasps." Carol Christine Fair, a professor in a security studies program, wrote several controversial tweets following the sexual assault allegations against Kavanaugh, Campus Reform reported.
Fair, who runs multiple blogs including Tenacious Hellpussy and ShitMenSay, revealed that she was a sexual assault survivor in one post from September 23, and sympathized with Ford.
"I have lived her nightmare for years and I know too many other women who have and do as well," Fair wrote.
On Friday, a man from Florida was arrested after he threatened to shoot members of Congress if they voted against Kavanaugh. James Patrick, 53, also threatened to shoot any police officer who arrived at his home in response to the threat he made on Facebook on September 27, according to the Polk County Sheriff's office.
"I can tell it seems I will be sacrificing my life for my country. But I am ready and will know who needs to be killed after the vote to put Kavanaugh on the Supreme Court," Patrick wrote in a Facebook post that has since been deleted. "I believe Democrats need to made to be afraid to do what they are doing right now and weak Republicans that do not vote for him need to pay with their lives."