Minnesota Troopers Plan to Arrest Hundreds of Protesters Who Shut Down Interstate in Minneapolis
Minnesota state troopers intend to arrest at least 200 people who participated in a demonstration that shut down a portion of Interstate Highway 94 on Wednesday night.
Protesters involved in the demonstration, which began during the earlier part of the evening, were confined to the freeway by 10:30 p.m. local time after law enforcement allegedly blocked nearby exits. Minneapolis Police Department personnel assisted the Minnesota State Patrol in its response to the protest.
Those who participated in the demonstration marched along a section of 1-94 to protest President Donald Trump's potential reelection, as well as advocate for a more progressive and inclusive future, as one organizer said, regardless of the election's outcome.
"We're here to say we don't want four more years of Trump, and we're here because we want to promote a progressive agenda and a progressive future for this city and for this country," said Meredith Aby, a member of Minnesota's Anti-War Committee, an activist group present at Wednesday's demonstration. Aby told Newsweek that others who spoke earlier during the protest "addressed the fact that we need to stop talking about this election and start working on movement building," because "we have a lot of work to do in this country."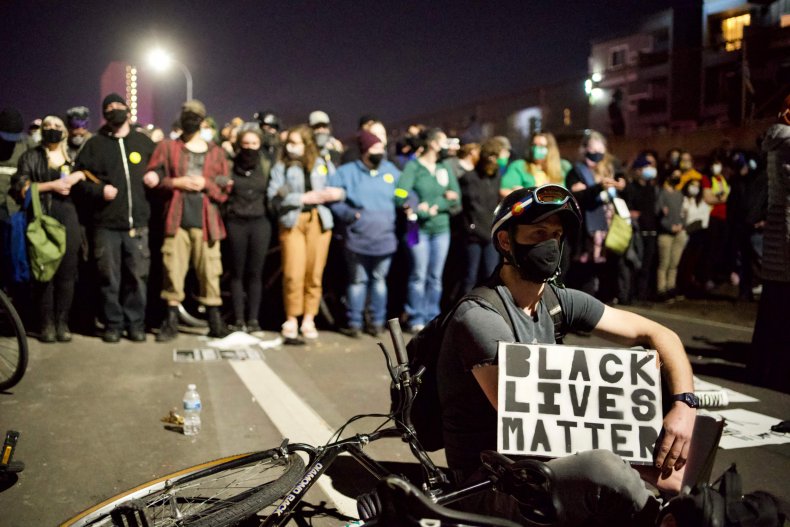 Additional photos and videos from the demonstration showed multiple activist groups involved, including advocates for racial justice, labor rights and environmental issues.
When Aby spoke to Newsweek about the demonstration, the activist said she, alongside hundreds of other Minnesota protesters, were "trapped" on the highway, surrounded by Minneapolis police and state troopers. Aby explained law enforcement had been "holding [demonstrators] here for over an hour, and they're not letting people get off the highway." At the time, she observed police slowly arresting protesters from the crowd as they moved closer to her and others affiliated with her organization. Children reportedly attended the demonstration with their families.
The tactic Minnesota troopers and local police used to sequester protesters and then arrest them for not leaving the area is called kettling, a crowd control method for which a number of law enforcement agencies faced backlash nationwide during Black Lives Matter protests that took place earlier this year. Aby told Newsweek protesters on I-94 "were actually marching to the offramp" in an attempt to leave the freeway when troopers and Minneapolis police stopped them from proceeding.
"They wouldn't let us go forward. They wouldn't let us go back," she recalled. Some protesters tried climbing over barriers that line the highway's perimeter, Aby said, but law enforcement "wouldn't let people leave that way," either.
Lieutenant Gordon Shank, a spokesperson for the Minnesota State Patrol, confirmed the plan to arrest all protesters involved in the highway demonstration in comments to Newsweek Wednesday night. Shank declined to comment on reports that troopers and Minneapolis police blocked freeway exists prior to initiating the arrests, citing an "open investigation" into the matter.
Minnesota State Patrol offered preliminary information about its response to the demonstration earlier Wednesday in a series of posts shared to Twitter.
"Troopers continue to arrest protestors on 1-94 at Riverside Avenue," read one tweet posted around 9 p.m. CT. "Walking on the freeway is illegal and very dangerous for pedestrians and motorists. We respect the right of everyone to express themselves under the First Amendment, but the freeway is not a place to do that."