Minnesota Viking Everson Griffen Reveals Bipolar Diagnosis Week After Police Standoff
Minnesota Vikings football player Everson Griffen has publicly discussed his bipolar diagnosis one week after his hours-long standoff with police.
"It's true I am bipolar. I will embrace it and I will be an advocate for mental health. I been running from it a long time. I'm not ashamed of it anymore," Griffen wrote in an Instagram post published on Friday night.
"It all started when my mother passed away [in 2012]," his post continued. "Went into a dark place, thought I was great for many years. I promise this time I will do everything the experts say. I love my family and I miss my friends. Thank you for all the love and support, but most of all thank you for all the prayers. #bEGreat #mentalhealthawareness".
Griffen published his Instagram post a week after his dramatic standoff with police at his home in Minnetrista, Minnesota.
At 3 a.m. November 24, Griffen posted screenshots of text messages that he had sent to his agent, Brian Murphy. Griffen posted the screenshots on his Instagram.
"I need help. Better call 911. People are trying to kill me," Griffen's messages said.
Griffen also posted a 30-second video on social in which he held a gun and said that people had tried to kill him.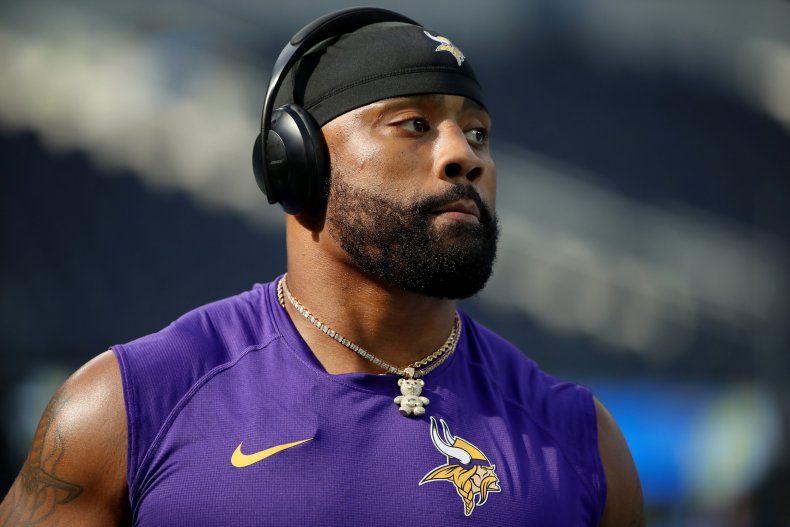 Around the same time, Griffen contacted the Minnetrista Police Department. He told the police dispatcher that he needed help because someone was inside his home. He also said that he had fired his gun, but that he had injured no one.
Police responded but found no evidence of an intruder, Sports Illustrated reported. From 7 a.m. onward, police officers and psychologists from the Minnesota Vikings stood outside his home, trying to convince him to come outside. They believed he was alone inside the house.
Griffen emerged from his house around 1:30 p.m. He was then transported by ambulance to a local mental health facility to receive care, his team said in a statement.
A week before the standoff, Griffen wrote via Instagram that he felt in the best mental headspace of his life. His difficulties with mental health had previously made headlines.
He sat out the last five weeks of the 2018 football season after making several public verbal outbursts and showing up shirtless and uninvited to his then-teammate Trae Waynes' house. In one incident that year, Griffen said he believed people were trying to kill him.
Griffen would later reveal that from October 2018 until January 2019, he had been living in a sober house where he wasn't allowed to drive or use a cell phone. There, he received mental help, including an evaluation.
At the time, Murphy wrote that the evaluation had ruled out bipolar disorder. Instead, the agent said that doctors determined that Griffen's behavior had "resulted from significant unresolved emotional distress, emotional incongruence and a lack of healthy coping skills."
Bipolar disorders often result from altered brain chemistry that can be caused by genetic factors and high-stress life experiences. People with bipolar disorder swing between intense emotional states of energetic mania and depressive fatigue. They may also act in uncharacteristic or risky ways, experience extreme irritation and hallucinations or exhibit illogical thinking, according to the Mayo Clinic.
Bipolar disorders are often treated with psychiatric medications and therapeutic counseling.