Minnesota Vikings vs. Jacksonville Jaguars TV Channel, Live Stream, Time for 2018 Preseason Game
The Jacksonville Jaguars and Minnesota Vikings are set to square off in a preseason matchup on Saturday. Perhaps predictably, much of the focus will be Kirk Cousins, the Vikings new quarterback brought in this offseason.
But since it's preseason, it's unclear, of course, how many snaps Cousins is actually going to take. Cousins threw just four passes—and completed them all—in the Vikings first preseason matchup, a 42-28 win over the Denver Broncos.
"I think it was a smooth first drive but it is a small sample size and the next couple of weeks will be a good test for us," Cousins said after the game, via the Associated Press (AP).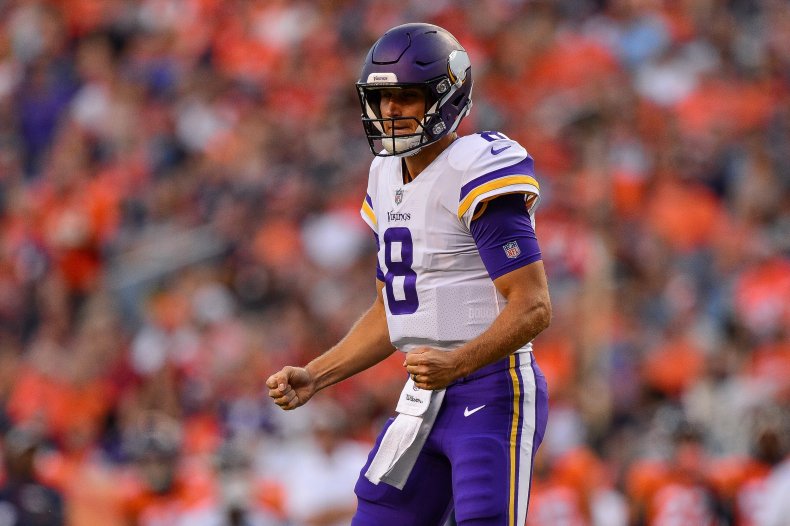 The Vikings and Jaguars have had joint practices in the run-up to Saturday's game. Cousins indicated it has helped the team prepare.
"It's a great reminder of why practice is so important every week during the season because each defense has those nuances that, if you're not on top of it, will make for a long day on Sundays." he said, according to the AP.
Meanwhile, Jaguars star cornerback Jalen Ramsey had complimentary things to say about the new Vikings QB in a GQ profile that garnered a lot of attention for Ramsey trash talk concerning many other quarterbacks.
"I think [Cousins is] good," Ramsey told GQ. "I think he's a winner. He's a hell of a competitor. Coming off the play action, he's the best quarterback in the league. Play action passing, he's a hell of a quarterback."
In that same interview, however, Ramsey said Baltimore Raven Joe Flacco "sucks," rookie Josh Allen is "trash" and that Atlanta Falcon Matt Ryan is "overrated."
Ramsey—whose Jaguars fell 24-20 in their first preseason matchup against the New Orleans Saints—will likely get a shot on Saturday to see if his assessment of Cousins was correct. Here's what you need to know to watch the game:
Date: Saturday, August 17
Start time: 1 p.m. ET
TV channel: NFL Network
Live Stream: fuboTV (more info on fuboTV, including a free trial, here).