Minnesota Will Soon Be Able to Test Every Symptomatic Person for Coronavirus
Minnesota Governor Tim Walz on Wednesday announced a "breakthrough" statewide pandemic mitigation strategy that will allow for every symptomatic person to be tested for coronavirus, with capacity for as many as 20,000 Minnesotans per day.
Walz, the Mayo Clinic and the University of Minnesota (U of M) stood together at a press briefing today and jointly launched the new widespread testing strategy that will test all symptomatic individuals, isolate confirmed cases and expand public health surveillance tools.
"While Minnesota faces a challenge, we rise up—together," Walz said. "I'm proud to partner with Minnesota's innovative health care systems and leading research institutions to pioneer how states can begin to move forward amid Covid-19."
Walz, who has indicated he wants to reopen the state economy when it's safe, has extended his stay-at-home order to May 4. He says the new strategy will deliver capacity to conduct 20,000 coronavirus and 15,000 antibody tests per day. It will in part be funded by the $36 million in a Minnesota response fund established by the state government and approved by Walz.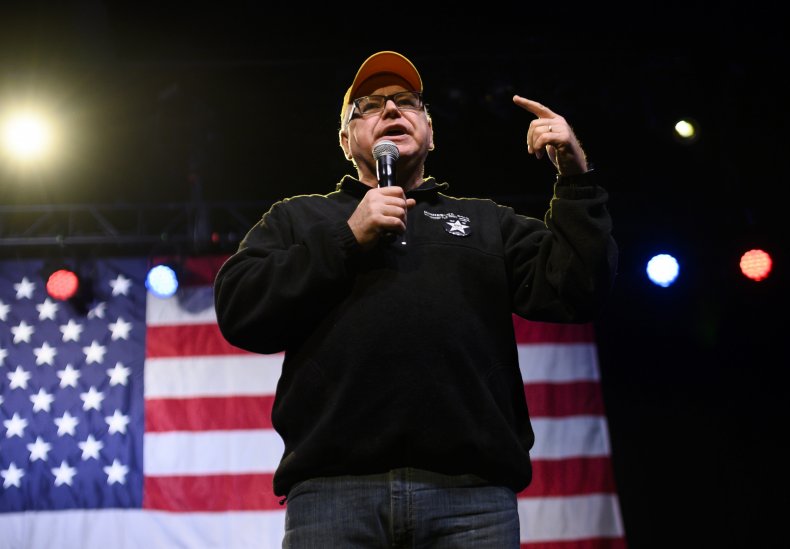 A central lab will be established to accommodate the widened testing capabilities and a virtual command center will monitor the results and formulate responses to potential Covid-19 clusters.
Minnesota has 2,721 confirmed cases of the coronavirus based on a total of 49,344 tests, but health officials say it's inadequate to understand the state's outbreak. State health experts believe each confirmed case could carry up to 100 undiscovered cases as many infected individuals do not show any symptoms.
The expanded testing announcement came hours after the state Department of Health reported 154 new infections and 19 additional deaths, the most so far in a single day, bringing the total to 179 fatalities caused by the novel disease. Currently 240 individuals with Covid-19 are under hospital care, with 107 of those in intensive care.
Minnesota Health Commission Jan Malcolm announced earlier this week that the expansion of testing capacity in the state would come soon. Local health officials also appeared at a Senate committee Tuesday to explain why widespread testing was vital to battling the virus. "Anyone in Minnesota that has symptoms, we want them to be able to go to their clinics, go to their health providers, and get tested," assistant health commissioner Dan Huff said in his testimony.
Newsweek reached out to Walz for additional information on testing expansion timelines.
As of April 22, more than 842,100 individuals had tested positive for coronavirus in the U.S, with over 47,100 deaths caused by the new disease and 83,600 recoveries.