A Minnesota wolf went on a record-breaking beaver massacre, according to researchers at the University of Minnesota.
The breeding male wolf known as 'P0C' broke a record by killing 15 beavers in May, the Voyageurs Wolf Project said on Facebook.
"The most beavers any wolf we have studied has killed in a single month! The next closest was Wolf V028 in 2018 who killed 10 beavers in October 2018," the group said on Facebook. "That said, he did kill a deer in early May and then scavenged beavers that died of unknown causes on 4 occasions and scavenged deer carcasses on 8 occasions (many of these were likely kills made during winter)."
The Voyageurs Wolf Project tracks wolves living in the Voyageurs National Park by setting up camera traps.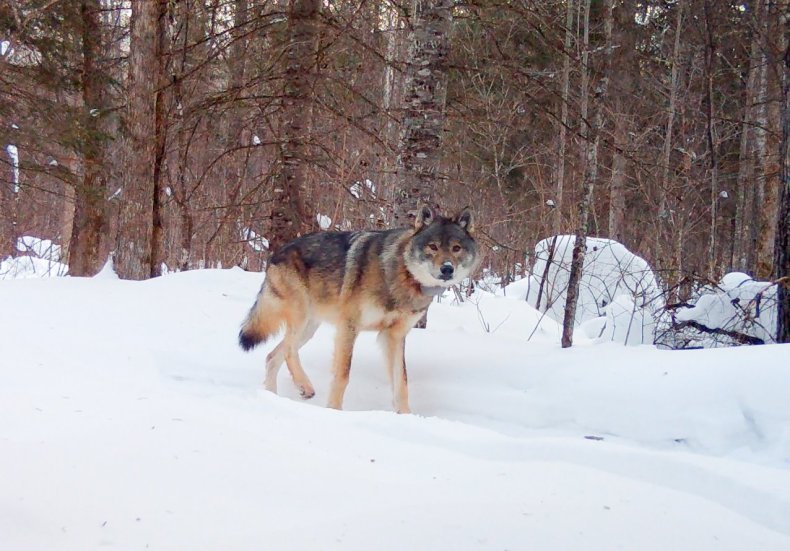 This particular male belongs to the Bluebird Lake Pack, a pack that holds territory to the southeast of the Voyageurs National Park. Most of the beavers that the wolf killed were "dispersing beavers," the project said, that were traveling over the land through creeks in search of an area to build a dam.
Gray wolves prefer to eat mammals such as deer and elk. However, the hunting of beavers typically increases in May because there are so many around the woods, according to the project.
"We are interested to see if P0C breaks Wolf V083's all-time record of the number of beavers killed in a summer—a whopping 42 beavers! P0C is currently at 17 beavers (1 in April, 15 in May, and 1 in June so far) and there is a lotta summer left!" the Voyageurs Wolf project said.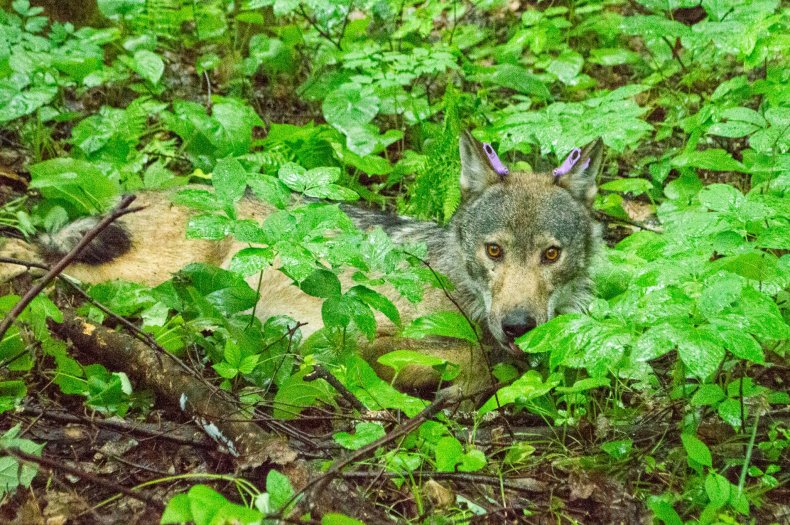 Photographs posted to Facebook show the predator wandering the Minnesota wilderness.
The Voyageurs National Park has a population of between 30 and 50 wolves, divided into six to nine packs.
The Voyageurs Wolf Project focuses on one of the "biggest knowledge gaps in wolf ecology"—what wolves do during the summer. To do this, they attach GPS collars and tags to the wolves and set up trail cameras.
The camera traps used to track the wolves are usually set up in remote areas of the park. Sometimes tracking the elusive animals can be difficult but often, the project captures behaviors that provide valuable insight into the species.
In April, the group caught footage of a wolf carrying a dead pup still in the amniotic sac. This baffled experts at the time. The Voyageurs Wolf Project had never seen footage quite like that before.
Project lead Thomas Gable previously told Newsweek that studying wolves can be "challenging, frustrating, and satisfying all at the same time."