Minnesota's Largest Wildfire Destroys Homes, Outbuildings as It Grows to 34 Square Miles
Minnesota's largest wildfire has destroyed dozens of homes and outbuildings in the northeast as it grew to 34 square miles scorching forest land, the Associated Press reported.
Superior National Forest officials said the Greenwood Lake fire is still uncontained. It has destroyed 12 homes and cabins as well as 57 outbuildings, authorities said. The Greenwood Lake fire was detected on August 15 and has caused the evacuation of 280 homes and cabins.
The Minnesota National Guard said its aviation crews continued to provide "aerial fire suppression capabilities" to combat wildfires in the state on Wednesday.
Three more homes or cabins were burned, Minnesota Public Radio News reported Wednesday.
The fire has burned at least 19,000 acres, according to the U.S. Forest Service, and was started by lightning, the New York Times reported.
Brian Pisarek, an incident commander, said at a news conference Monday evening that "once it starts rolling, it starts to build up steam and feed off itself."
He said it was like a "freight train."
More than 400 firefighters were working to combat the fire.
Firefighters from the Pennsylvania Department of Conservation & Natural Resources were headed to Minnesota to help provide support, Pennsylvania Governor Tom Wolf said Wednesday, "as wildfires continue to threaten communities in Western states."
For more reporting from the Associated Press, see below.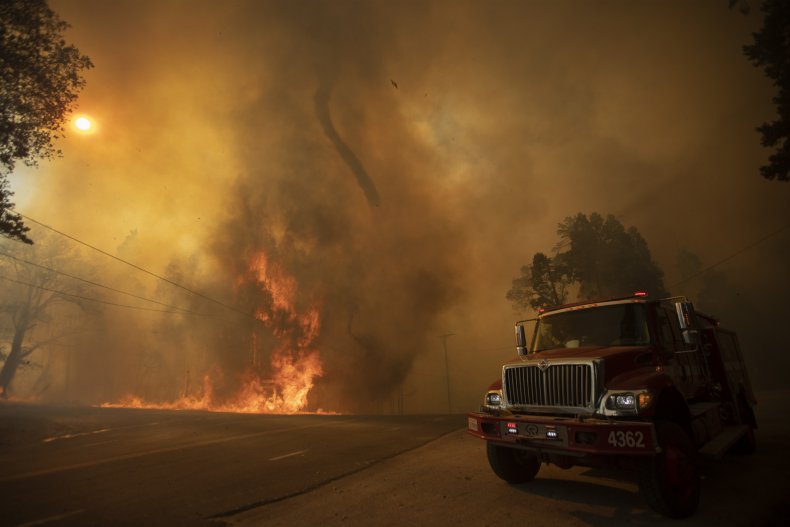 Forest officials decided to keep the popular Boundary Waters Canoe Area Wilderness closed another week, until September 3, dealing a blow to tourists who spent months planning their trips there and to the outfitters and other businesses serving the 1 million-acre wilderness.
Several fires caused by lightning have burned in the wilderness during this summer's drought conditions, while the much bigger Greenwood Lake fire just to the south has forced the evacuations. When it was first spotted, it was about 15 miles southwest of the town of Isabella.
Forest officials were also watching fires burning just across the Canadian border, in Ontario's Quetico Provincial Park, which led them to close some parts of the Boundary Waters north of Ely earlier this summer.
But when the John Ek fire took off late last week, forest officials decided to close the entire wilderness area as a precaution. They said that fire and the Greenwood Lake fire have stretched their resources too thin to ensure the safety of paddlers and campers.
More than 400 crew members are fighting the forest fires.