After 13 Years and Several Scandals, U.N. Votes to End Mission in Haiti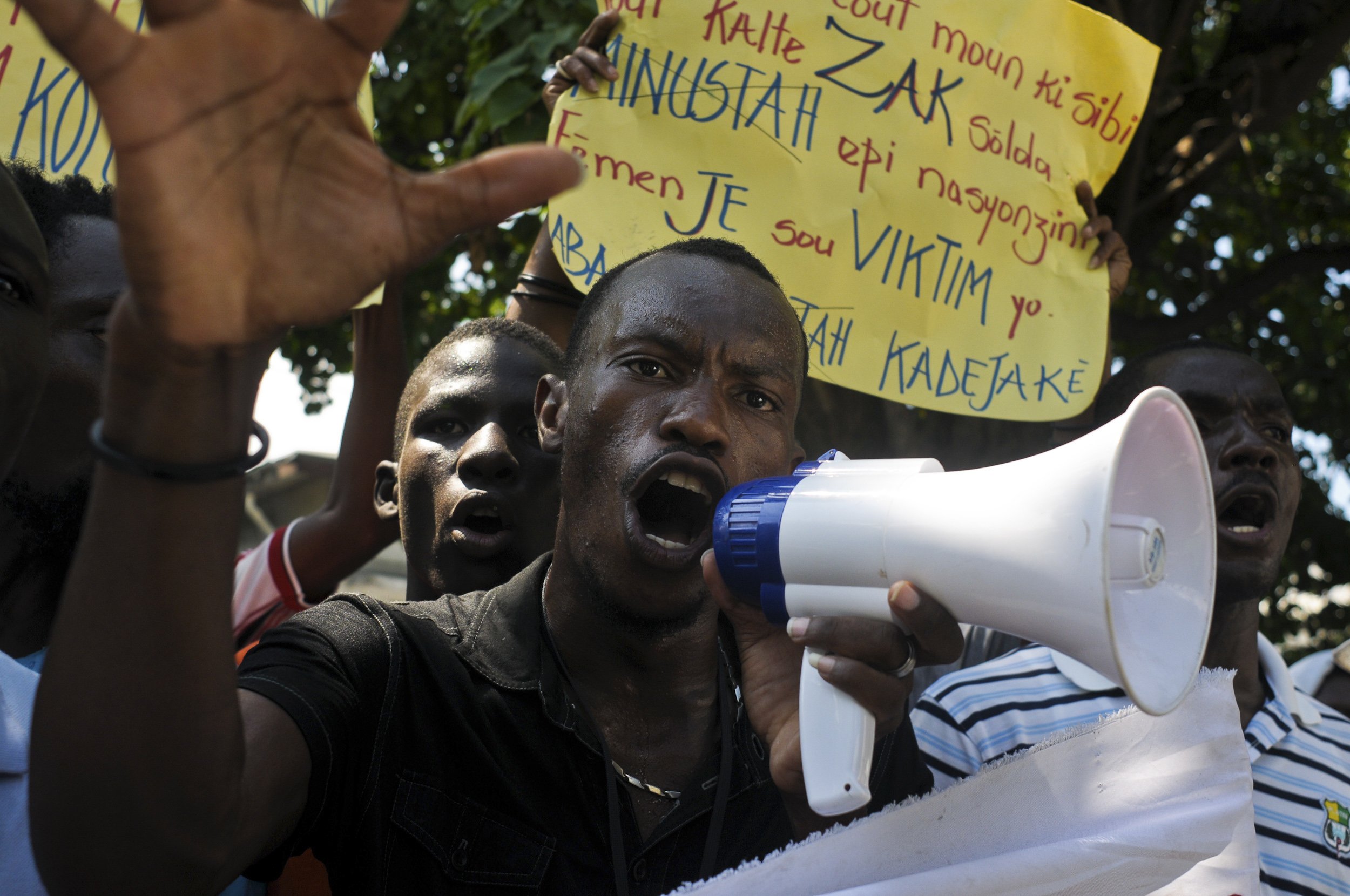 Over 2,300 peacekeepers will leave Haiti over the next six months after the United Nations Security Council voted unanimously to end its 13-year mission to the troubled Caribbean nation.
Under a new resolution supported by the U.N. Secretary General Antonio Guterres, a total of 2,370 troops, known as Blue Helmets, currently deployed in Haiti will be replaced with 295 officers focused on upholding the rule of law and strengthening the country's institutions and police force.
U.S. ambassador to the U.N. Nikki Haley expressed support for the proposal to end the United Nations Stabilization Mission in Haiti (MINUSTAH), which costs $346 million a year and is largely bankrolled by Washington. It is one of the 16 peacekeeping missions under review by the administration of President Donald Trump, Bloomberg reported in February.
The U.S., a permanent member of the Security Council and a founder of the organization, has already cut $32.5 million from the 2017 budget to the United Nations Population Fund in April, almost half of the original funding, as part of a bigger goal to reduce the annual contributions to the U.N. Trump neatly summarised his contempt for the U.N. in a tweet sent from his account on December 26, 2016, reading: "The United Nations has such great potential but right now it is just a club for people to get together, talk and have a good time. So sad!"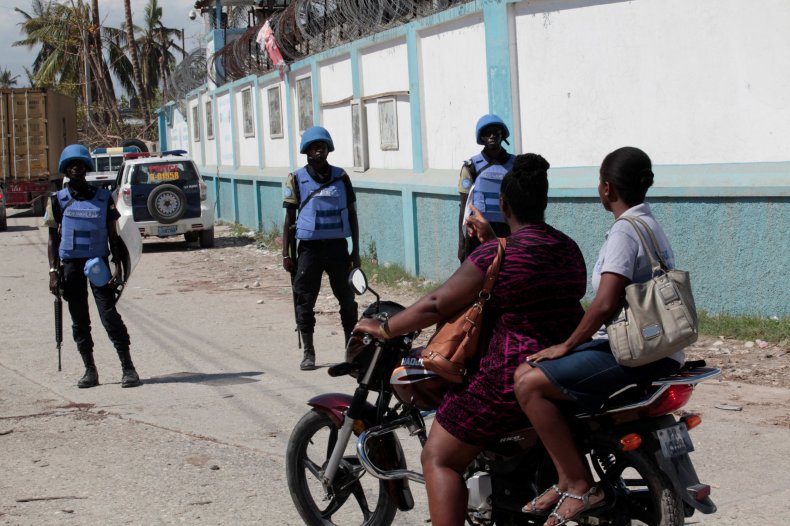 In a speech to the Security Council on April 11, Haley hailed MINUSTAH as "a strong example for how peacekeeping missions can and should change as a country's political situation changes. We believe the new Haiti embodies the core principles of success we have developed as part of our peacekeeping review."
The mission began in 2004 after a rebel group instigated a coup against President Jean-Bertrande Aristide, whom they held responsible for the assassination of group leader Amiot Metayer in September 2003. Haiti, a small Caribbean country sharing an island landmass with the Dominican Republic, has since endured waves of political violence and devastating natural disasters, including the deadly 2010 earthquake and Hurricane Matthew in 2016. New elections took place in November 2016 after polls a year earlier were canceled due to widespread fraud and violence.
In January, official results proclaimed the victory of the centre-right PTHK party led by Jovenel Moise, which the U.N. has recognized as a legitimate leader.
"Haiti's political outlook for 2017 and beyond has significantly improved, with the opening of a crucial window of opportunity to address the root causes of the political crisis that preceded the polls" the Special Representative of the Secretary-General for Haiti, Sandra Honoré, said in a statement supporting the discontinuation of the mission.
Scandals involving Blue Helmets from several countries, which include allegations of sexual assault, financial mismanagement and the 2010 cholera outbreak that killed 6,000 Haitians, weighed heavily over the Security Council discussion on the resolution on April 13.
While chairing the meeting, Haley mentioned an Associated Press investigation published in April that found nearly 2,000 accounts of sexual abuse and exploitation—around 300 of them inflicted on minors—on behalf of peacekeepers coming from a variety of countries including Bangladesh, Brazil, Jordan, Nigeria, Pakistan, Uruguay and Sri Lanka over 12 years.
As the U.N. only began disclosing alleged perpetrators' nationalities after 2015, it remains unclear whether other countries were involved.
Paragraphs 17 and 18 of the adopted Resolution 2350 explicitly address the allegations, requesting that the secretary-general takes "the necessary steps to ensure full compliance" of all peacekeeping personnel with the U.N. zero-tolerance policy on sexual exploitation and abuse, urging countries participating in the missions to "redouble" their efforts in preventing, investigating and punishing cases of misconduct.
An independent investigation by human rights worker Mark Snyder found that the issue of sexual exploitation and abuse committed by U.N. personnel in Haiti is underreported. While the U.N. counts just 75 total allegations of abuse during the years 2008-2015, Snyder's preliminary investigation results published in January 2017 estimated the total possible victims to be 564.
Snyder noted that even his figure was "an estimate derived from the findings of a single investigator and based only on allegations from those who agreed to meet and be interviewed."
Some allegations of sexual assault by peacekeepers have made it to court. In 2012, a Pakistani military tribunal in Haiti convicted two peacekeepers to a year in prison for raping a 14-year-old boy. A year earlier, a group of five Uruguayan peacekeepers were accused of raping an 18-year-old man, with a video purportedly showing the attack posted online. The violence led to protests in Haiti's capital Port-au-Prince and demands for the U.N. troops to leave the country.
But the biggest scandal involved around 134 Sri Lankan troops that were accused of carrying out multiple sexual assaults against Haitian women and girls between 2004 and 2007. According to military sources quoted by the AP, some of the peacekeepers involved in the ring were still in the Sri Lankan military as of 2016. Sri Lankan Defense Secretary Karunasena Hettiarachchi defended the troops, telling the AP: "People are quite happy and comfortable with the peacekeepers."
The U.N. claims to have a "zero tolerance policy" on sexual exploitation and abuse and Guterres announced new measures in March to tackle sexual abuse and exploitation by its troops and personnel. In a statement to the AP, Atul Khare, who heads the U.N. department in charge of peacekeeper discipline and conduct, said: "We believe we are advancing in the right direction, especially with the secretary-general's new approach. Improving the assistance provided to victims, who are at the heart of our response, is fundamental."
But according to Peter Gallo, a former UN investigator who testified in front of the House Committee on Foreign Affairs in Washington in April 2016, the issue won't be solved with a new set of guidelines since it goes to the heart of the organization.
"The dysfunction in the U.N. cannot be attributed to a few rogue officials, nor can it be blamed on those who have retired; it is very deeply ingrained in the culture of the organization. It cannot be remedied by another consultant report, another working group, new policies, any reorganization or by appointing another 'special coordinator'," he said.
Gallo recalled how U.N. bodies failed to appropriately investigate and report misconduct cases, particularly those relating to sexual assault and financial irregularities, denouncing a situation of "one of moral and ethical bankruptcy."
He called on the other member states to assume direct responsibility for the investigation of crime and misconduct by U.N. staff, as the organization has been unable to do so.
"The solution involves recognizing the need for what is essentially receivership. U.N. staff must be held accountable for their misdeeds, and that has to be done by an external body,completely independent of the U.N. Secretariat, and reporting directly to the general assembly," he said.