The final two episodes of HBO Max's hilariously sexy and feminist drama Minx are streaming now and already, fans want to know if there is going to be a whole lot more of Minx content to come.
The 10-part series, set in the 1970s, follows the story of an aspiring writer and feminist Joyce (played by Ophelia Lovibond) and low-rent publisher Doug (Jake Johnson) as they set to publish the first erotic magazine for women.
Newsweek spoke to star Lennon Parham who plays Joyce's older, sister about her hopes for Season 2, Minx's inclusion of full-frontal male nudity on screen, playing Shelly, and more.
Minx Season 2
Unfortunately, at the moment, HBO Max has not officially renewed Minx for the second season...yet.
Things are looking particularly good for the show's future if the reviews and ratings are anything to go by, not to mention the enthusiasm of the show's cast to return.
Speaking to Newsweek, Parham who plays Shelly in the series said she would "1,000 times" say yes to returning to Minx in the role of Shelly.
Discussing her love for Minx, Parham said the script attracted her to the show from the get-go, describing it as "ripe for comedy."
She said: "It was the funniest pilot script I had read in maybe two years. I love the world, I love the characters, I love the pace. The d**k montage. And then when I found out Jake Johnson and Ophelia Lovibond had come on board it really sealed the deal for me. The script is smart, funny, and also full of heart but set in this insane world of adult magazines. Ripe for comedy."
"I hope audiences laugh and go on this fun, sexy ride with all the characters of Minx. I hope they fall in love with each of the characters. There's a lot to love. I hope they wanna rock some bellbottoms. I hope maybe they begin to gently re-examine some judgmental thoughts that they might've had about people that work in this industry. I hope that some interesting conversations may be had with family members about stuff you've never talked about before."
Executive producer Paul Feig, in an interview with Collider, teased there was much more of Minx to come, sharing: "When you set up a show and you go in and pitch it, you have to be able to pitch up to Season 3 and Season 4. Not in great detail, but to go, 'Here's where this show is going.' So, yeah, we definitely know where it's going. I can't tell you, but it's good.
"It's a very long-term story that will surprise you, along the way. Ellen [Rapoport, creator] is so brilliant, she's got it all mapped out."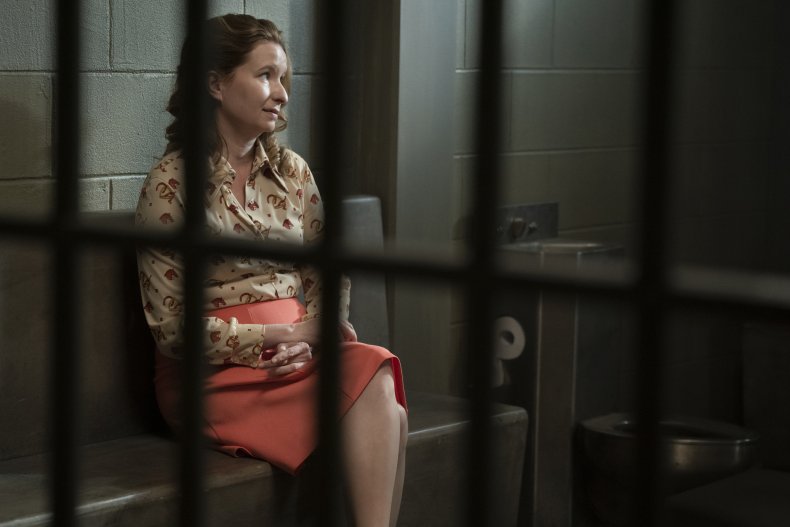 On Playing Shelly
With every episode of Minx, Shelly has become a fan favorite, loved for her enthusiasm for the magazine "Minx" and hilarious words of wisdom.
Shelly is Joyce's older, wiser, sister married to a dentist with three kids, who Parham describes as being "titillated" by the idea of her sister who eventually gets "lost" in her world.
She shared: "She is surprisingly open and go-with-the-flow-ey, perhaps from having lived in the real world for many years, and finds everything about this opportunity for her sister exciting and so that's why she encourages her to go for it and why she kind of gets lost in the world almost immediately."
By the end of Minx Season 1, Joyce and Shelly are closer than ever and Shelly has fully embraced the crazy world of Minx.
Parham reflected: "She's been living in this patriarchal society as a housewife, as a mother, a caretaker, keeping everything together and I think by witnessing her sister go for it and enter into this world she is starting to realize that there might be other ways to live. And she's craving that, having lived all of her life as a caretaker... I think she's in a space of wanting desperately something just for herself.
"I think she's probably never thought that much about women's rights, feminism because it doesn't really feel like it applies to her, but I think she's got quite progressive views actually and we start to see that as she and her sister who calls herself a feminist have these very different ideas about women's liberation."
She added: "I felt like I know who this woman is. Perhaps it's because I am also a mother, I also identify as a caretaker, I also feel like a big sister in many ways even though I'm an only child... but Shelly feels very familiar to me and the idea of a woman at a certain point in her life branching out and experiencing life in a different way feels very exciting to me and real."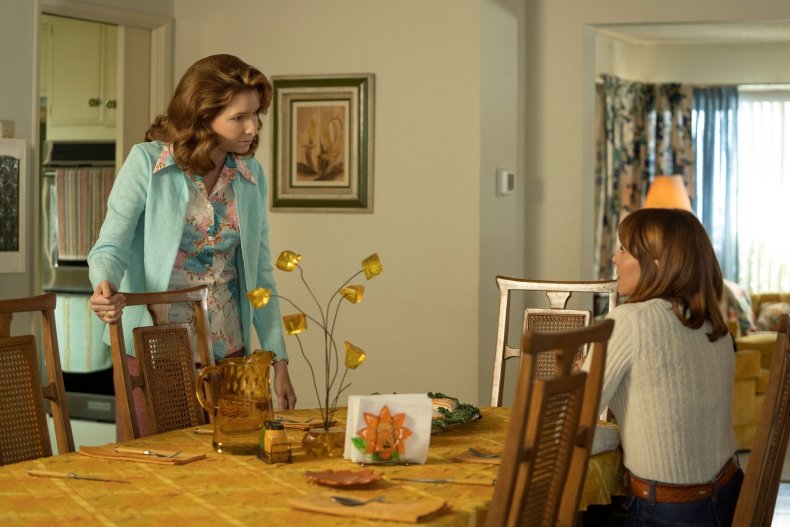 On Minx's On-Screen Male Nudity
In Episode 1, audiences are exposed to a lot of full-frontal male nudity. It may seem like a lot, but it does not re-appear until Episode 4 and then is lightly sprinkled throughout the rest of the season.
Fans of shows like Euphoria and Sex/Life will be no stranger to seeing full-frontal male nudity but today, female nudity is still more dominant.
One thing is for sure, the line-up of 40 penises had audiences talking and rightly so thinks Parham, describing the scene as "quite educational."
She reflected: "Well the show is set at a nude magazine and it's about the creation of the first-ever adult magazine for women, so if there weren't male nudity that would be bizarre. And lucky for us we are on HBO Max where is it we can take those risks. It is refreshing as a woman to see the plethora of male nudity. When I first saw the montage of penises from the pilot I was laughing and blushing and I found it quite educational and kind of wished I had seen it when I was you know maybe a teenager, it would've taken a lot of the pressure off.
"Filming with full male nudity was interesting because at first we were nervous and shy and also couldn't look away, but by the end of the day, just like the workers in a magazine like this, we got totally used to it and everyone got very comfortable with the nudity. I was really impressed with how respectfully it was all handled by our A.D. department and our creator and the EPs. It felt like it was really important to everyone that the actors who were brave enough to be vulnerable, especially our bottom-dollar models and the gentlemen who appeared in Minx whether or not they were wearing prosthetics, felt safe and respected and able to do their best work.
"So hats off to them. Or should I say, pants off?"
Minx is streaming on HBO Max now.