Is 'Minx' on HBO Max Based on a True Story?
Minx on HBO is the brand new workplace comedy-drama with a side of feminism, pornography, and eroticism all in one. The 10-part series follows the tale of feminist Joyce (played by Ophelia Lovibond) who teams up with adult-magazine publisher and producer Doug (Jake Johnson), to create the first female erotic magazine.
Prepare yourself for a whole load of genitalia (equally male and female), and a whole load of education on women's rights, sexuality, and second-wave feminism in HBO Max's Minx.
Newsweek has everything you need to know about the true story behind the hilarious new series.
Is Minx Based on a True Story?
Yes and no. To begin with, Joyce's magazine Minx is not real. However, in the 1970s, there was a burst of new erotic magazines challenging the male status quo.
For example, Suck: The First European Sex Paper was a London-based underground porn magazine celebrating free love and the LGBTQ+ community. It included poems from playwright Michael McClure аnd performance artist John Giorno, and other pieces of work from Jim Haynes, William Levy, Heathcote Williams, Germaine Greer, and Jean Shrimpton.
Also new to the scene were Playgirl and Viva, two female erotic magazines which were launched in the 1970s. These magazines were particularly progressive, catering solely to women's needs, interests, and sexual desires. They also featured articles championing feminism without the censorship of men.
Viva, in particular, featured a swath of pornography but also gave space to female writers such as Simone de Beauvoir and Gail Sheehy. Vogue's editor-in-chief Anna Wintour was also once the fashion editor.
Speaking on The Hollywood Reporter's podcast, TV's Top 5, Minx creator Ellen Rapoport shared she was inspired by the numerous porn magazines for women that sprung up in the 1970s to create Minx.
She said: "I read something about one of these magazines and it struck me immediately: these magazines in the 1970s were feminist magazines, which I'd had no idea about. It was a workplace that was populated by feminists and pornographers."
In Episode 1, audiences are exposed to a lot of full-frontal male nudity. It may seem like a lot, but it does not re-appear until Episode 4. Rapoport explained to The Hollywood Reporter the whole point of having male nudity was to reflect what the real female porn magazines were doing at the time.
She explained: "It felt like a cheat to not have full-frontal male nudity in pilot and then we don't revisit it until episode 104. I didn't want to be a one-trick pony and have penises flopping around in every episode. The way male nudity is used is really gratuitous and I don't have a problem with that. That's what Playgirl and Viva were doing. I wanted to go tit for tat so women would be able to see men naked."
By the end of Episode 1, Joyce and Doug have created their first edition of Minx, an erotic magazine aimed at women, featuring feminist-driven articles alongside a center-fold of male full-frontal nudity (and a sprinkling of dildo adverts here and there).
The show's main characters, Joyce and Doug, are entirely fictional but may have their roots in real-life figures. For example, publisher Doug Renetti is not a real person but he has similarities to Bob Guccione, the founder of men's magazine Penthouse and later Viva for women.
On the other hand, Joyce represents the thousands of women in America and much further, living amid second-wave feminism and exploring their sexual liberty. Nevertheless, the show's setting and themes are very much real, and there are plenty of historical references in the first two episodes alone.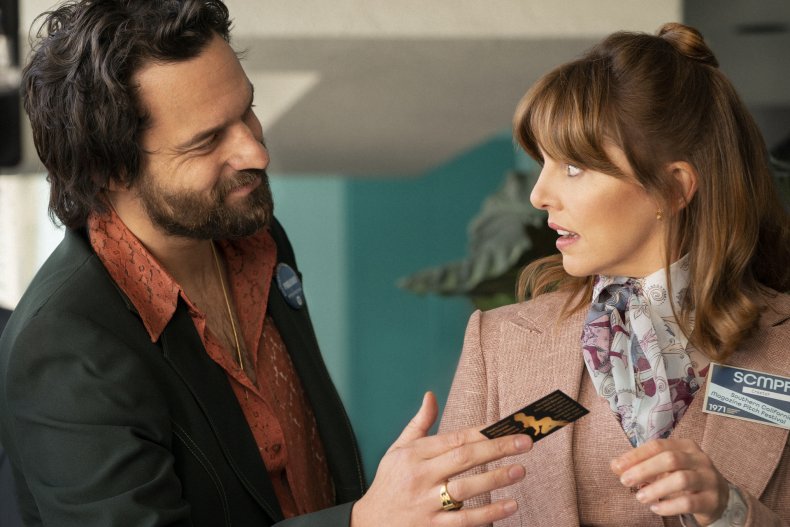 Minx is set in Los Angeles during the 1970s, a time of second-wave feminism, where women (and men) campaigned for women's rights regarding sexuality, family, the workplace, legal inequalities, and reproductive rights. At the same time, there were protests against the Vietnam War, and for gay rights and Civil Rights.
Along the way, audiences will see Joyce explore her own womanhood and her sexuality herself thanks to second-wave feminism.
Joyce references groundbreaking texts such as Lady Chatterley's Lover, The Kinsey Reports, and Our Bodies, Ourselves.
Lady Chatterley's Lover, written by English author D.H. Lawrence, was the subject of a watershed obscenity trial against publisher Penguin Books in the 1960s in the United Kingdom. The book, which tells the story of a physical and emotional relationship between a working-class man and an upper-class women, with descriptions of sex and explicit language, was also banned in the U.S., Canada, Australia, India, and Japan.
The Kinsey Reports were two books on human sexual behavior—Sexual Behavior in the Human Male (1948) and Sexual Behavior in the Human Female (1953)—that were seriously controversial as they challenged conventional beliefs and attitudes surrounding sex.
In Minx, Joyce refers to page 93 in the book Our Bodies, Ourselves by the Boston Women's Health Book Collectives, which goes into great detail on women's vulvas. Our Bodies, Ourselves, first published in 1970, discussed women's health and sexuality and encouraged feminist ideas such as reproductive rights, lesbian sexuality, and sexual independence.
Joyce also refers to her idol Gloria Steinem, a leading American feminist, and social-political activist, and imagines thanking her in her Pulitzer Prize speech.
Steinem co-founded the National Women's Political Caucus in 1971 to provide training and support for women working in government offices. She also co-founded the Women's Action Alliance which supported a network of feminist activists.
In the premiere episode, the latest edition of Cosmopolitan hit the newsstands with Burt Reynolds posing naked, but covering his genitals, as the centerfold and has sent the women around Joyce into a frenzy.
Audiences may be interested to know The Cosmopolitan issue really did exist and was seen as revolutionary in breaking taboos around female desire and launched a new series of women's magazine publishing, just like Minx in the HBO drama.
Minx airs Thursdays on HBO Max.