'Miracle' Cat Hit By Bus and Survived Despite 'Catastrophic' Injury Is Ready for New Home
Trudie the cat is being hailed as a "miracle" after surviving—and thriving—in the aftermath of a tragic bus collision and severe head injury.
While just one cat, Trudie's story speaks to the dangers faced by many strays. In the United Kingdom, where Trudie was found, there were an estimated "9 million stray cats and one-and-a-half million feral cats" as of 2018. Moreover, according to the nonprofit Cats Protection, "one in four cats have sustained significant injuries due to fights with cats or other animals or being involved in road traffic accidents."
Trudie was hit by the bus on March 14 in the town of Luton—and it has taken five months of rehabilitation for her to recover, reported The Evening Standard. She sustained head injuries in the collision, but, afraid of people, she fled the scene before any pedestrians could help her.
Assistant Amy Hearne and volunteer Katie Duncan, both of whom are affiliated with the Royal Society for the Prevention of Cruelty to Animals (RSPCA) Southridge Animal Centre, soon set out to find Trudie. The duo made flyers, posted on social media, and got local veterinarians and charities involved in the search.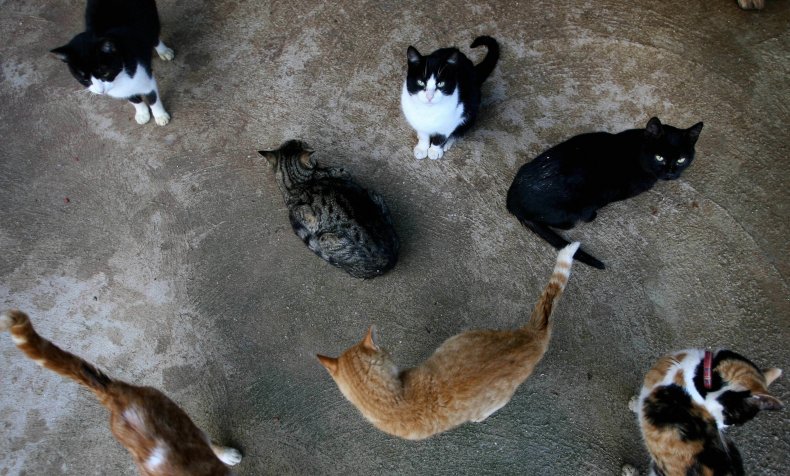 But Trudie wasn't easy to find. A whopping 16 days passed before she was found—meaning that the cat had spent over two weeks alone and gravely injured.
"Her facial injuries had left her unable to eat so she was weak and exhausted and must have been in so much pain," explained Hearne to The Standard. Once she was spotted, the RSPCA took Trudie into their care.
The injuries from the crash were extensive—Bedfordshire Live described them as "catastrophic"—and required immediate intervention. "She spent a week at the vets where she had life-saving surgery to remove her eye and wire her jaw back together," said Hearne. "I can't believe she'd survived as long as she had; she's a little fighter."
Following her surgery, Trudie spent a week being fed by a tube. As she regained her ability to walk and eat normally, she received "round-the-clock care."
Today, Trudie bears little resemblance to the cat that was rescued in the spring. "She loves mealtimes—which isn't surprising given everything she's been through—and is very chatty," Hearne told Bedfordshire Live. "She may be a tiny cat but she has a big personality."
Hearne added that they chose the cat's name as a way to honor everything she has overcome: "Trudie is a miracle so we gave her a very special name...after St. Gertrude the Patron Saint of Cats."
Newsweek has reached out to the Southridge Animal Centre for additional comment.