Last week, a dog was born with six legs and two tails, among other unusual anatomical features, and she appears to be the first of her kind. The puppy, born in Oklahoma and named Skipper Miracle, has some unique medical issues but is managing alright and expected to grow into an adorably odd dog.
On Monday, a photo of Skipper displaying her six legs was shared on Facebook by Neel Veterinary Hospital, which is located in Oklahoma City. The newborn puppy hadn't even opened its eyes yet, in the photo, nor had it perfected the use of all six of her legs. In addition, Skipper has two tails (which aren't visible in the image) "2 pelvic regions, 2 lower urinary tracts, 2 reproductive systems," according to the post.
Along with her unique body structure, Skipper is being evaluated for a few health disorders, including a possible spine condition that has yet to be confirmed, and monocephalus dipygus, which explains the dog's duplicated internal features.
Skipper is the first pup ever reported to have six legs. That means expert care will be necessary for her development. "With Skipper being so rare and unique, we will monitor her development to make sure she is comfortable throughout her life," Neel Veterinary Hospital told Newsweek.
Neel continued: "And with no other live puppies to compare her to, there will be some unknowns, but we will continue to research to make sure we provide the best care. Our hospital has donated services to her like an abdominal ultrasound so that we could see more details about her body internally and get a diagnosis."
The hospital added that Skipper's forever home has already set up a GoFundMe to help with her medical care. It revealed that Skipper was rejected by her mother, so the pup is already being bottle-fed. Over $3,300 had been donated at the time of publishing.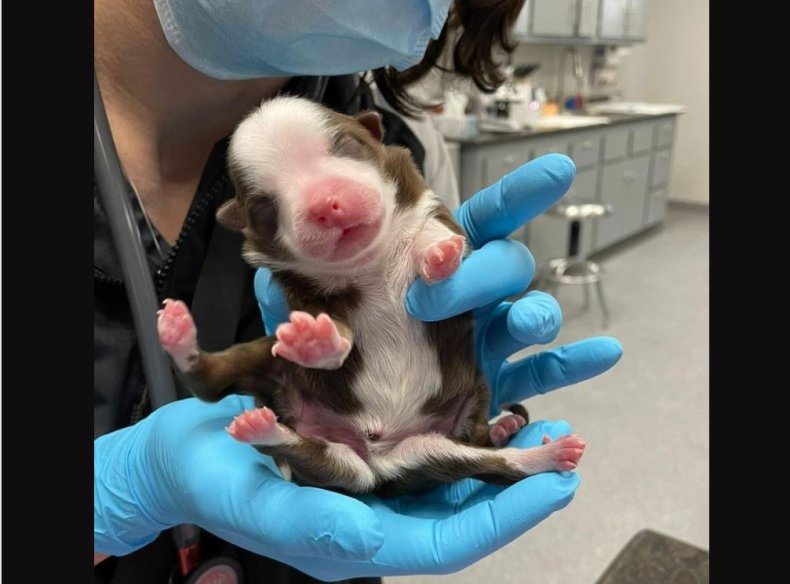 There may be limitations to Skipper's health and mobility as she ages, but as of now, the extent of her disabilities are unknown. The hospital said that all of Skipper's legs appear to work, which speaks to the overall health of the dog. "Positively, her organs appear to be in great shape, she is peeing and pooping, and is very strong!" the Facebook post read. "She nurses well and is growing appropriately so far. All of her legs move and respond to stimulus just like a normal puppy."
"Its [sic] possible she may need physical therapy and assistance with mobility as she gets older. We will continue to research her conditions, monitor her development during rechecks and help keep Skipper pain-free and comfortable for the rest of life. She is doing well at home now," the hospital shared.
Whatever her life ahead holds, Skipper appears to be a trailblazer in terms of dog disabilities and coping with them. Her overall quality of life won't be known until she reaches adulthood, but until then, internet users can send good wishes her way.