'Miracle': Michigan Woman Survives Internal Decapitation During Car Crash
A Michigan woman who was left internally decapitated after a car crash in August has had an astounding recovery against the odds, rehabilitation doctors have said.
Lila DeLine suffered a collision on August 16 while she was close to her home in Cedar Springs. The car was mangled in the crash, which left her with a damaged spine. Her husband Ben—who witnessed the incident—rushed to her aid as the at-fault female driver helped call 911.
The fact the husband held DeLine's head so she could breath had likely saved her life, doctors said. "There are still times I sit here now and go, 'My head is screwed on, literally screwed on, and that's the only thing keeping it on,'" the mother-of-two told WOOD-TV this week.
Dr. Charles Gibson, a surgeon at Spectrum Health Butterworth Hospital where DeLine was admitted, told WOOD-TV it was rare for a patient to survive the life-threatening injury—which was likened to the effect of a guillotine. "Just her getting here is nothing short of a miracle," he said. "Most people don't even make it from the scene of the crash with this sort of injury."
DeLine was later treated by experts from Mary Free Bed Rehabilitation Hospital. This month, the facility released a video on YouTube showing her recovery process since the collision.
Doctors explained how initially DeLine could only communicate by mouthing words and small eye movements. The video showed her progressing to standing up, exercising and walking.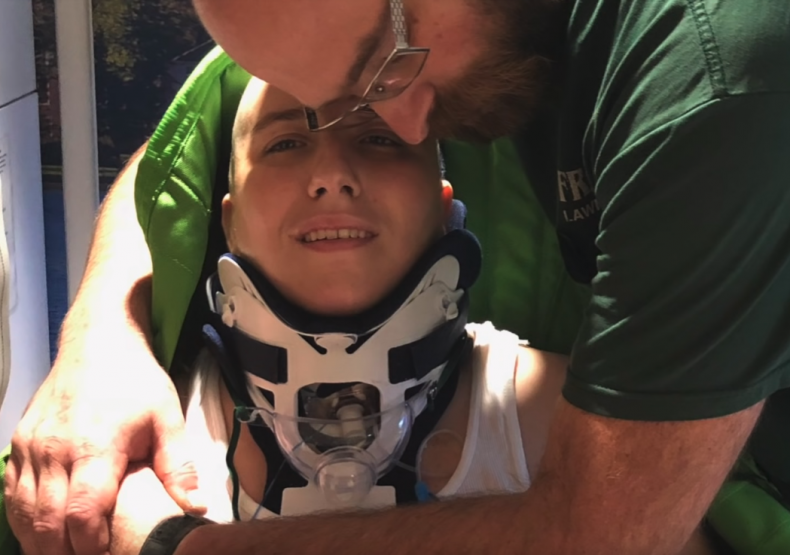 "She had area bleeding between her brain and her skull," Spectrum Health physician Gary Mikula said, describing her injuries from the crash. "She had area bleeding between her brain and her skull. Her most important injury was essentially a dislocation of her head off her spinal cord."
Kristy Simpson, a physical therapist at Mary Free Bed, said in the YouTube clip DeLine's spinal fracture meant "internally she was decapitated, her skull came off of her spine."
"I thought that was going to be my life," DeLine told WOOD-TV. "I thought that my life was going to be ventilators and diapers and not being able to communicate." The driver at fault was charged with one count of a moving violation causing serious impairment of a body function, the Grand Rapids-based news outlet also reported, citing the local Kent County Sheriff's Office.