'Miraculous': Colorado Officials Report No Casualties So Far After Destructive Fires
Colorado officials said Friday that no fatalities have been reported at the moment after devastating wildfires tore through the state.
Boulder County Sheriff Joe Pelle said at a news conference alongside Governor Jared Polis and others that so far no loss of life has been indicated, despite some residents having a very small window of time to evacuate.
"We still have no reports of casualties or fatalities," Pelle told reporters. "The one missing person we had last night has been accounted for as well. So that's awesome news and actually, I think given the events that we had yesterday, pretty miraculous."
Thousands of residents were forced to flee their homes Thursday night. While the official cause of the fires has yet to be confirmed, officials suspect it may have been prompted by power lines.
While damage assessment remains ongoing, Pelle said they are "fully expecting" there to be 500 or more homes that were lost due to the fires.
"We may have our own New Year's miracle on our hands if it holds up that there was no loss of life," Polis said. "We know that many people had just minutes to evacuate and if that was successfully pulled off by all the affected families, that's really quite a testimony to preparedness and emergency response."
The governor also said he's already spoken to President Joe Biden, who Polis said will approve an expedited major disaster declaration to assist impacted homeowners and small businesses.
The White House said Friday that Federal Emergency Management Agency (FEMA) Administrator Deanne Criswell and her team "are already working with their counterparts in Colorado to surge assistance."
"Fortunately, snowfall will help bring an end to the fires, and recovery efforts can get underway," the White House added.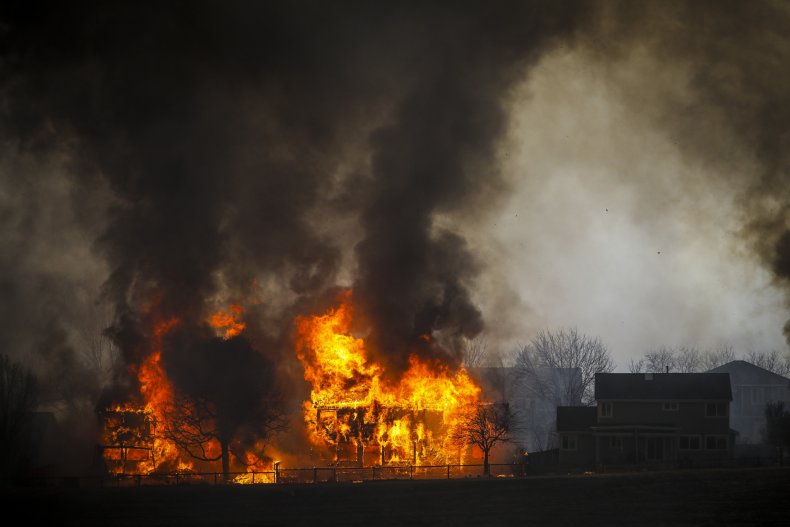 Pelle said Friday morning that residents who were evacuated are still not allowed to return, citing the risks posed by still-active fire in some areas as well as downed power lines.
But Pelle said that the change of weather is helping the fires die down after they burned roughly 6,200 acres overnight.
"At this point, as long as the weather holds up here, there's not going to be substantial additional damage from this fire," the sheriff said.
Officials have urged those who need assistance after the fire to call Boulder County's emergency center at 303-413-7730.
For people who want to volunteer, they can sign up at ColoradoResponds.org. Anyone who wants to make donations towards the businesses and families affected, there are details at BoulderOEM.com.
Update 12/31/21, 1:35 p.m. ET: with more information and background.