Hundreds of Ukrainian soldiers and civilians are reportedly holed up at a chemical plant in the Luhansk city of Severodonetsk where urban warfare between has caused a high number of casualties.
Rodion Miroshnik, a representative of the Moscow-backed self-proclaimed Luhansk People's Republic (LPR) said on Saturday that about 300 to 400 Ukrainian soldiers "are now blocked" at the Azot chemical plant.
He said on his Telegram channel that "contact has been established with militants" and negotiations were underway to evacuate the nearly 500 civilians he said are in the plant's bomb shelter.
The head of the Russian National Defense Control Center, Colonel-General Mikhail Mizintsev, said on Thursday that Ukrainian soldiers were "forcibly holding" hundreds of residents of Severodonetsk in the plant, according to state news agency Tass.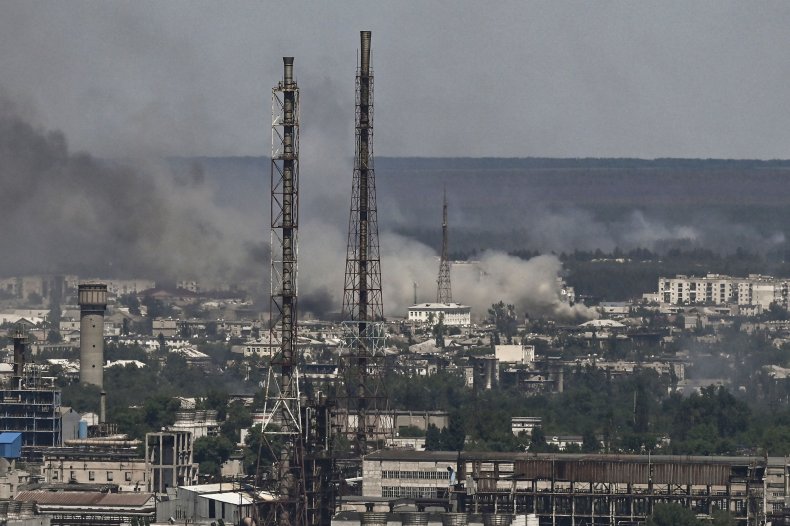 Miroshnik described as "unacceptable" demands from the "militants...to leave the territory of the chemical plant together with the hostages and to provide a corridor for crossing to Lysychansk," referring to the neighboring city. He said that the soldiers would be treated well if they released the civilians and surrendered. Newsweek could not verify the claims but has contacted the Ukrainian Defense Ministry for comment.
The situation has echoes of the Azovstal steel plant Mariupol where Ukrainian fighters resisted weeks of bombardment of the southeastern port city by Russian forces. They spent weeks holed up in the facility before they were taken prisoner.
The U.S. think tank the Institute for the Study of War (ISW) said in its daily update on Friday that Russian forces were continuing ground assaults within Severodonetsk but had yet to secure full control of the city, which would be key if Russia plans to control the Luhansk area in the eastern Donbas region of the country.
Meanwhile, Britain's Ministry of Defense said in its daily update on Saturday that Russian forces have not made advances into the south of the city. "Intense street to street fighting is ongoing and both sides are likely suffering high numbers of casualties."
The defense officials added that Russia was trying to overwhelm Ukrainian defenses with its artillery and air capabilities. They said that over the last two months, Russian forces have been resorting to inefficient older missile systems because they are running short on more precise modern missiles, making higher casualties more likely.
Ukrainian presidential adviser Oleksiy Arestovych said on Saturday that his country had lost around 10,000 troops since the start of the war on February 24. Ukraine says it is losing about 100 soldiers a day, with hundreds more wounded.
Arestovych said Russia's losses were several times greater with Kyiv estimating that around 30,000 Russian troops have died, although U.K intelligence puts the toll at half of that.