Miscrosoft's Russian Spy Was Greasy, Foreign, and Loved Snickers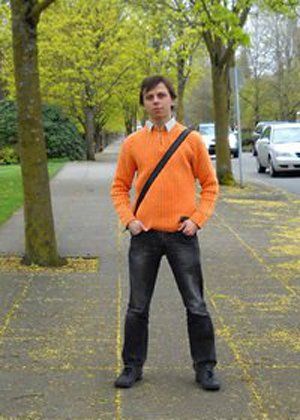 Alexey Karetnikov, the 23-year-old Russian spy at Microsoft busted last week, was "very oily" and "very Russian," according to a fellow dorm resident who lived near him in Microsoft's corporate housing complex. In an e-mail exchange with NEWSWEEK, the neighbor, who wished to remain anonymous, said Karetnikov spoke surprisingly poor English, but was "sophisticated" and knew a lot about Microsoft.
"I remember being impressed with how much he knew about Windows programming," the neighbor wrote, but added that Karetnikov "seemed very foreign." He recalled being surprised that Microsoft had hired an intern who could not speak English very well.
Karetnikov worked at Microsoft as an SDET, or tester, which entails writing software that tests codes written by other employees. He began working with Microsoft as an intern in the summer of 2008, then likely returned to Russia for a year, said Microsoft spokesman Lou Gellos. Having a yearlong gap is common for Microsoft interns, who often first work for the company between their junior and senior years of college. Karetnikov was hired as a full employee of the department in which he interned in October 2009. The FBI became aware of Karetnikov shortly after he arrived in the U.S. in the fall of 2009, immediately putting him under scrutiny as part of the broader, multiyear investigation of 11 other Russian agents, said a U.S. official familiar with the case.
According to Karetnikov's former neighbor, the two lived near one at another in the summer of 2008 at Aboda corporate housing in Redmond, Wash., while both were interns. Karetnikov was apparently perplexed by some aspects of American consumer culture—when his neighbor took him to Target, he was surprised that he didn't have to use his passport to buy clothes there—but took a strong liking to Snickers candy. He did not have a car, the neighbor said, so instead he rode his bike around Redmond. He told colleagues that he lived in St. Petersburg and was in the United States for the first time. "He kept to himself," said the neighbor, but said he found a few friends at Microsoft with whom he was able to speak Russian.
Karetnikov was taken into custody in Seattle on June 28, 2010. Investigators found no evidence that he had access to sensitive or classified information, since, as one official told The Washington Post, he was in the "early stages" of his operation and had "just set up shop." Likewise, a Microsoft spokesman confirmed that the company had reviewed Karetnikov's activities and uncovered no signs that he compromised any software, internal networks, or customers.
Since there was insufficient evidence to charge him with a crime, Karetnikov was deported by an immigration judge on July 12, said Department of Homeland Security spokesman Matt Chandler. As part of the arrangement, he admitted that he had violated immigration law and agreed to deportation in lieu of further court proceedings. Karetnikov would face criminal and civil penalties if he were to return to the U.S. without explicit approval.