'Misha and the Wolves': Who Is Misha Defonseca? Where Is She Now?
Misha and the Wolves is the new true-crime documentary on Netflix about the extraordinary true story of Misha Defonseca, who wrote the best-selling memoir, Misha: A Mémoire of the Holocaust Years. Just a few years after the memoir's initial success, Defonseca's experience began to be questioned and what transpired will shock viewers to their core. Who is Misha Defonseca and where is she now? Newsweek has everything you need to know.
Who Is Misha Defonseca?
Misha Defonseca is a writer and author from Etterbeek, Belgium. In 1997, Defonseca published what she called her memoir, Misha: a Mémoire of the Holocaust Years, which gave a full account of her supposed experience of fleeing her home in Belgium after the Nazis invaded in May 1940.
The Nazis supposedly apprehended her parents, who were a part of the Belgian resistance, and Misha was forced to fend for herself.
In her memoir she claimed at the age of six, she wandered across Europe and was sheltered by a friendly pack of wolves. She also claimed she killed a German soldier in self-defense, sneaking into and out of the Warsaw Ghetto, and managed to find her way home when war was over in September 1945.
Defonseca crossed paths with Jane Daniel, a local book publisher who suggested Defonseca publish a memoir after hearing her account on Yom HaShoah, Israel's Holocaust Remembrance Day.
One year later in 1997, Defonseca's memoir was published via Mt. Ivy Press.
However, suspicions began to arise over the veracity of her account, from historical accuracy to implausibility.
Among the first to publicly express doubt was German journalist Henryk Broder, who published an article in the German newspaper Der Spiegel.
Defonseca's publisher also began to express her doubts. In February 2008, she shared a baptism certificate from a Brussels church for a Monique De Wael (Defonseca's birth name) and a register from a school near her family home which showed Defonseca had enrolled there in 1943, two years after she claimed to have left Brussels on her journey across Europe. The records also revealed an age discrepancy between "Misha" and Monique.
Misha was allegedly 8 years old when her parents were taken away but her baptism records cite her birth year as 1937, which would make her 4 years old when her parents were arrested.
Daniel had begun to do her own research into Defonseca's story after the latter and ghostwriter Vera Lee won a $32.4 million in a copyright lawsuit against the publishing company and its founder Jane Daniel.
Maxime Steinberg, the leading historian of the Holocaust in Belgium, also pointed out several historical inaccuracies alongside forensic genealogists Sharon Sergeant and Colleen M. Fitzpatrick, who led the team of researchers who uncovered Defonseca's lies.
Soon afterwards, everything Defonseca had built around her story was gone in an instant.
She admitted in February 2008 to Belgian national newspaper Le Soir, Misha: A Mémoire of the Holocaust Years was entirely fictional, despite it being marketed as a true memoir.
Defonseca had even spoken about her fake experiences on Holocaust Memorial Day to crowds and had watched her story be translated in 18 languages. There was also a French film based on Defonseca's story, titled Survivre avec les loups (Surviving with Wolves).
The real Defonseca had been born Monique De Wael, the daughter of Catholic, not Jewish, parents who were arrested, deported, and murdered by the Nazis for being resistance members.
Her father, Robert, had cracked under interrogation and had given up all of the names of his fellow resistance fighters, in exchange for seeing his family for a last time, the New York Post reported. He and his wife later died in a German concentration camp and Defonseca was allegedly known as the "traitor's daughter" in the town.
She then lived with her grandparents and then her uncle. According to her statement to Le Soir, Misha did not go off in search of her missing parents but during her time with her uncle and his family, she began to "feel Jewish" and was passionate about wolves.
In February 2008, Defonseca admitted, Misha: A Mémoire of the Holocaust Years was entirely fictional.
When in 2008 she admitted her memoir was actually fictional, Defonseca told Le Soir: "It's not the true reality, but it is my reality."
"There are times when I find it difficult to differentiate between reality and my inner world," she added.
She continued: "I ask forgiveness of all those who feel betrayed, but I beg them to put themselves in the shoes of a little 4-year-old girl who has lost everything, who must survive, who plunges into an abyss of loneliness and to understand that I never wanted anything other than to ward off my suffering."
"Yes, my name is Monique De Wael, but I have wanted to forget it since I was four years old," she said.
"My parents were arrested and I was taken in by my grandfather, Ernest De Wael, and my uncle, Maurice De Wael. I was called 'daughter of a traitor' because my father was suspected of having talked under torture in the prison of Saint-Gilles. Ever since I can remember, I felt Jewish."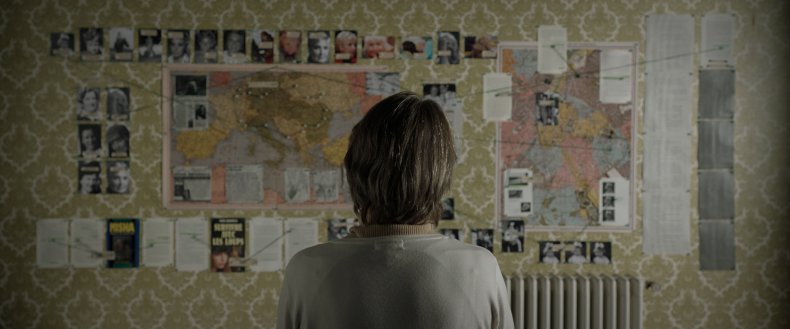 Where Is Misha Defonseca Now?
In May 2014, a Massachusetts court ordered Defonseca to repay her publisher $22.5 million.
Very little is known about Defonseca today. At the end of the documentary, it is revealed she still lives in Massachusetts with her husband and declined to be interviewed for the film.
Speaking to Point Of View Magazine, director Sam Hobkinson reflected: "What's fascinating in this case is that the story Misha was telling was pretty out there or over-the-top on many levels, but what fascinated was she that was telling it from the perspective of being a Holocaust survivor. So it was less to do with whether the story seemed believable and more to do with the fact that it was very difficult to challenge it given that she was saying she had gone through this terrible experience in her past.
"As the radio host who appears in the film says, far be it for me to challenge what she's been through. I think it's interesting, and that's ultimately what the success of her lie was based on. She was hiding behind something that was very difficult, emotionally difficult. to question."
Misha and the Wolves is now available on Netflix in the U.S. and will be released in the U.K. cinemas on September 3.