Misia, Queen of Paris, At The Musee D'Orsay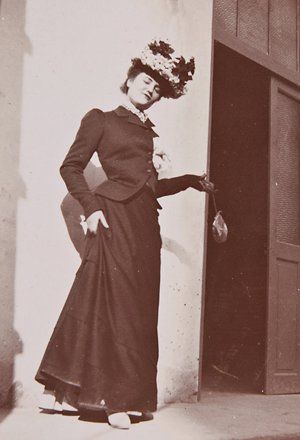 Patron of the arts, matchmaker, tastemaker, collector, muse. Misia Sert, née Godebska, was neither artist nor intellectual, but she was admired and despised by both. At a time when Paris was truly the brash, beating heart of the art world, she was a kingmaker, holding court. Now a sweeping retrospective, the first of its kind in Paris, is giving Misia her due at the Musée d'Orsay, where Misia, Queen of Paris runs through Sept. 9.
Like fair warning to visitors, the expo notes early that Misia "did not create anything." But her magnetic allure moved others to create near her, or for her, or about her, through heady eras—from the Belle Époque 1890s through the 1930s—and across disciplines: art, music, literature, dance, theater, fashion. Modern and timeless, imperious and vulnerable, vivacious and enigmatic, but more charismatic than beautiful, she was one of the most prolifically painted women of her time. A gifted pianist, she had a keen ear for avant-garde talent, rescuing masterpieces from anonymity, fiercely boosting her favorites. Dinners chez Misia were coveted affairs, from titled nobility to teenage poets.
Marcel Proust called her "a monument of history," finding inspiration for two characters in his magnum opus In Search of Lost Time: a meddling madame and a young princess "sponsor of all these great men." The pianist Erik Satie, who dedicated his Three Pieces in the Shape of a Pear to her, called Misia "a magician." She gave her catty confidante (and rumored lover) the young Coco Chanel an entrée into the art world—and later claimed she'd suggested that Coco try perfumes, before Chanel No. 5 was being spritzed in boudoirs around the world.
Misia was born in St. Petersburg in 1872. Her mother died in childbirth, after racing from Belgium, heavily pregnant, into a harsh Russian winter to confront Misia's sculptor father, Cyprien Godebski, and his mistress. Misia would always be drawn to similarly brilliant, selfish figures. She said she had "only husbands, never lovers" and would divorce three times, childless; each relationship's sordid, thrashing end became a trove of material picked over by artists.
Although raised in Belgium and France, she was called "La Polonaise" for her father's roots, her Slavic features and her black-eyed exotic charm. Her grandfather was a leading cellist and she studied piano under the composer Gabriel Fauré. As a child, she impressed Franz Liszt when she played Beethoven while seated upon his lap.
In 1893 she married Thadée Natanson, who led the progressive literary journal La Revue Blanche, a Belle Époque hotbed of young unknowns poised to change the face of art, music, and literature. An intimate circle of composers, painters, and poets would linger at the Natansons' stylish apartment on the rue Saint-Florentin and their summer homes outside Paris. Misia's biographers, the American pianists Arthur Gold and Robert Fizdale, called her "the feminine touchstone of one of the most talented circles of artists that Paris has ever known." They describe fin de siècle nights with Henri de Toulouse-Lautrec at the Chat Noir, the Montmartre cabaret the artist immortalized, with Satie at the piano and Debussy brooding in a corner.
Toulouse-Lautrec, Vuillard, Bonnard, and Vallotton, all more or less secretly in love with her, would paint Misia in every light—at the piano, on the porch, having breakfast. Sweet and shy Vuillard fell hardest, and his Misia portraits and photographs assembled here are a treat. His La Nuque de Misia, (Misia's Nape), the exhibit's panoramic postcard-size opener, is a tender ode, all quiet desire.
La Revue Blanche, and Misia's first marriage, couldn't last. Natanson turned to business to slake the journal's debts, eventually pushing his wife into the arms of a wealthy creditor, Alfred Edwards, the domineering newspaper tycoon she would marry in 1905.
But her artistic influence only grew. With the playwright Octave Mirbeau, Natanson would allegorize the couple's end in the controversial Le Foyer, staged at the Comédie Française. And Misia happily supported artists with Edwards's money. She gave Renoir 10,000 francs for her portrait, luminescent in pink and pearls with a little dog under her arm. It was as much as the master would accept—a trick she would use again to help proud, needy artists like Stravinsky, well after Edwards left Misia for a nubile bisexual actress. Later, in her memoirs, Misia regretted only resisting Renoir's ardent plea that she bare her breasts for his brush.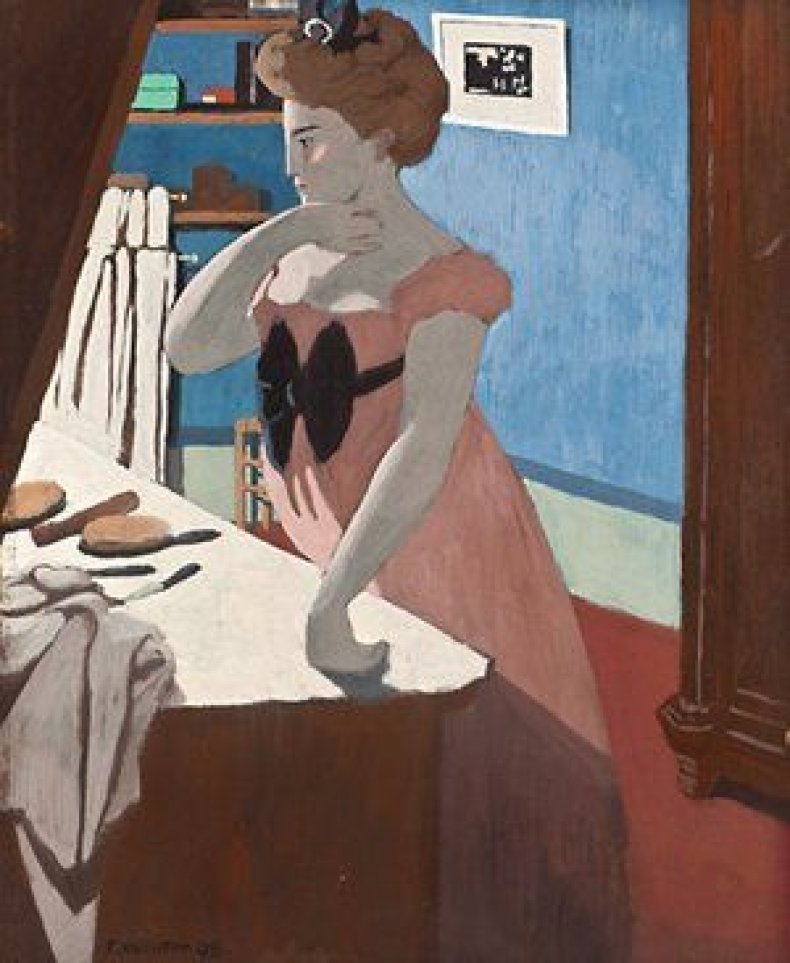 Her third husband, the Catalan painter Josep Maria Sert, exposed her to a new avant-garde world. (The massive American Progress mural in the lobby at 30 Rockefeller Center is his. A Sert expo is ongoing at Paris's Petit Palais until Aug. 5.) Misia grew close to the Russian impresario Serge Diaghilev, financing his Ballets Russes, even rescuing imperiled performances with cash before curtain. She was present at the creation of their most scandalous successes: Stravinsky's The Rite of Spring (1913), a seminal piece that Misia's savvy saved from a reticent Diaghilev; and the Satie-Cocteau cubist ballet Parade (1917), Picasso's foray into set and costume design. Misia had introduced Diaghilev to Cocteau, and was later godmother to Picasso's son, Paolo.
Jean Cocteau's novel Thomas the Impostor models a princess on Misia and her World War I adventures. She had appealed to couture houses for delivery trucks and, with Cocteau and Sert, ferried casualties from the front. Much later, Cocteau's 1940 ménage-à-trois play The Sacred Monsters flowed from the murky, claustrophobic trio Misia and Sert formed for years with a Georgian princess 30 years their junior, for whom Sert would eventually leave Misia, crushing her spirit.
Late in life, going blind and addicted to morphine, Misia made drug runs to Switzerland with Chanel, the last brilliant tyrant she loved. Photos of her last trip to Venice in 1947 show Misia as slight but still regal-looking. When she died in Paris in 1950, Chanel laid out her body on a bed of flowers, a work of art at the end.
Misia, Queen of Paris is so vivid a study in context—through portraits, photos, music, costumes, letters, and gifts—as to question its premise that Misia didn't create. She set a tone, fully living through effervescent eras, a behind-the-scenes alchemist giving artists means, partners, and wild material. At the newly remodeled Musée d'Orsay, she reigns again.