'Misogynistic and Racist' Pick-Up Artist Julien Blanc Denied Entry Into UK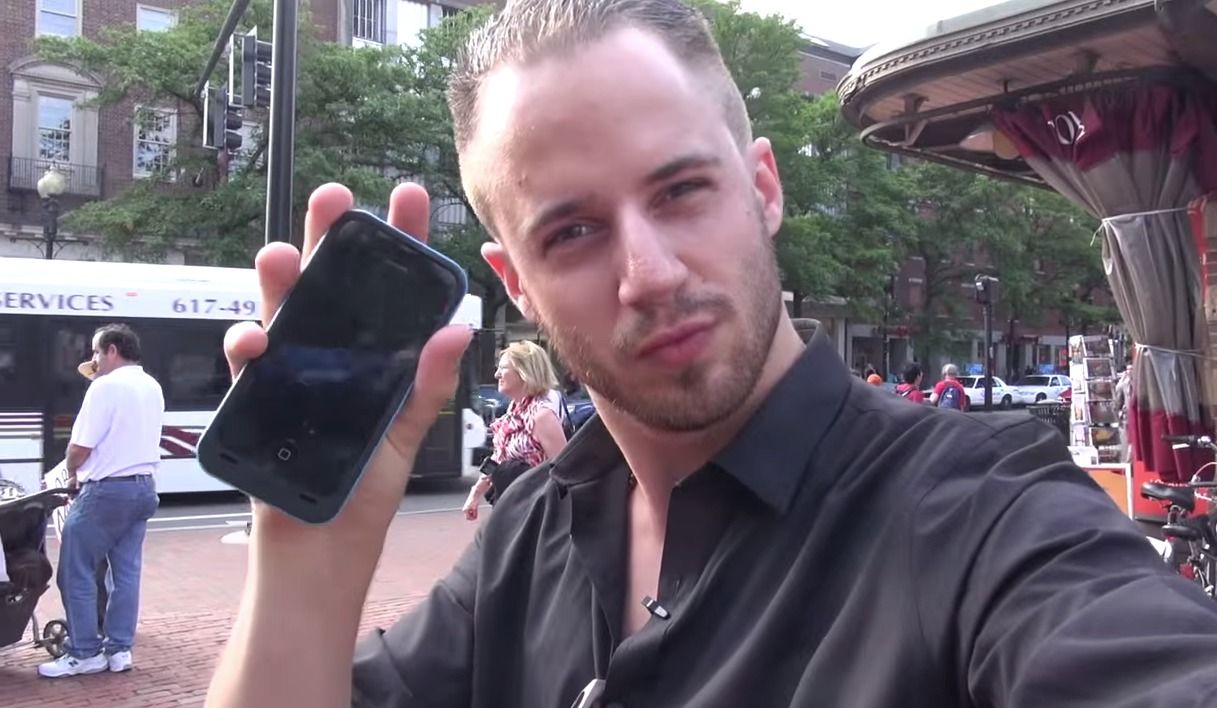 Controversial California 'pick-up artist' Julien Blanc has been denied entry to the UK, after a petition to prevent him hosting dating seminars in the country branding them "misogynistic", amassed over 120,000 signatures.
The UK home secretary, Theresa May, has banned Blanc from entering the country on the grounds that his activities are "not conducive to the public good", as the self-described "dating guru" was preparing to visit the UK in February as part of a world tour.
"Julien Blanc's so-called pick-up coaching promotes behaviour amounting to sexual harassment and sexual assault which is why we welcome the decision to deny him a visa," a spokesperson for End Violence Against Women, an organisation which campaigned to bar Blanc from the UK, told Newsweek Europe.
Blanc's website boasts that he can teach paying customers routines to make themselves "more sex-worthy" in the eyes of any woman, developed by his expertise of possessing "intergalactic levels of sex-worthiness".
His routines include telling a woman to "get on her knees, call him master and beg him to kiss her" which he guarantees has "always increased attraction".
Images have also been circulating online of Blanc advising men to choke women and pull them towards their crotches, spawning the hashtag #ChokingGirlsAroundTheWorld on Twitter.
In one of his coaching videos Blanc is recorded saying: "In Tokyo, if you're a white male, you can do what you want. I'm just romping through the streets, just grabbing girls' heads."
Comedian and women's rights activist Kate Smurthwaite told Newsweek Europe she supported the Home Office's decision, arguing Blanc's behaviour is harmful enough to be refused entry into the UK.
"Videos show Julien Blanc sexually assaulting women - choking them and dragging their heads to his groin - and teaching others to do the same. There is also a great deal of racism in his teaching," Smurthwaite said.
"We refuse entry to "hate preachers" who encourage acts of violence against others and we should treat Mr Blanc the same way. Other countries have already shown him the door, we should make it clear he is not welcome here."
Blanc offers his services in three packages, charging either $197, $397 or $497. The third and most expensive package offers customers access to Blanc's invite-only Facebook group where he keeps in touch with users and gives them tips.
"Julien Blanc may have thought his brand of racism and misogyny would be acceptable in the UK but actually people here reject such incitement and hate," End Violence Against Women added.
"Hopefully the market for such coaching will soon collapse altogether."
Blanc is part of a bigger online community of 'dating coaches' and 'pick-up artists' who all claim to help men improve their ability to attract women and refer to themselves as Real Social Interaction Nation. Kate Smurthwaite believes communities of such individuals represent a worrying trend in society.
"The 'culture' of so-called pick-up artists has long been one with some very worrying messages about women and appropriate behaviour in it," Smurthwaite says.
"Ideas like trying to undermine a woman's confidence and separate her from her friends sit uneasily with mainstream views about positive relationships and meaningful consent. Julien Blanc is an extreme example and in his case it's clear the line has been crossed between behaviour we might consider creepy and unhelpful to overt criminal activity."
This week Blanc appeared on CNN, apologising for controversies he has caused.
"I wanted to create a horrible attempt at humour and promote a shock – which it did, but for all the wrong reasons," Blanc said, denying that he teaches misogynistic behaviour.
"i teach guys how to gain confidence, most of them are socially awkward, and in order to socialise with women and perhaps get into a relationship with a woman."
"I 100% take responsibility. This is so far in the opposite direction of what I teach that I stupidly thought mocking it would be funny, but it wasn't and I regret putting that out," Blanc added.