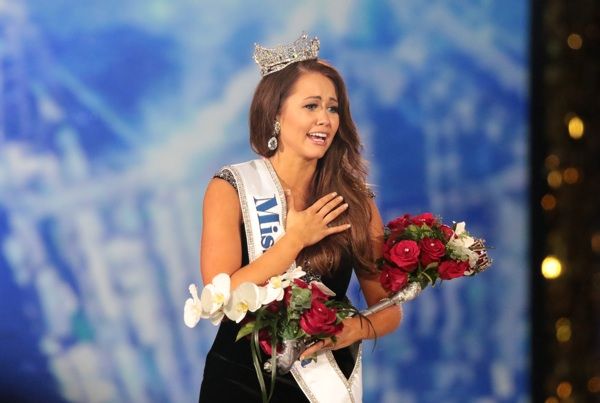 In the 97 years of the Miss America pageant, contestants originating from North Dakota have never placed within the top five of the competition or won a crown. However, Miss Dakota 2017 Cara Mund made history for the Roughrider State when she won the coveted Miss America 2018 crown on Sunday.
The 23-year-old, who hails from Bismarck, was crowned by former Miss America 2017 Savvy Shields of Arkansas after beating out contestants from District of Columbia, Missouri, New Jersey and Texas.
Mund captured the judges attention from the start of the competition on Wednesday with her unmatched beauty, impeccable intellect and, perhaps even more admirable, charitable heart. The dancer has been the lead organizer of a fashion show that raises money for the Make A Wish Foundation for the last 10 years and has raised over $78,000 to help fund wishes for 23 kids in North Dakota, according to the Willston Herald.
Mund's stellar jazz performance to Michael Jackson's "The Way You Make Me Feel" and her bright responses to not one but two panel questions--which marked a first for the Miss America pageant--may have been what completely won judges over, leading her to take the crown as her own.
Since she was a little girl, Mund dreamed about winning the Miss America competition and bringing the highest pageant title to North Dakota for the first time. She even told judges that winning the crown was at the top of her bucket list during the first round of panel questions.
Mund managed to see her biggest dreams turn into a reality after she first won the Miss North Dakota title back in June, which just so happened to be her fourth and final time competing in the state-wide competition. The Brown University alum--she has a degree in Business Entrepreneurship and Organization--has been competing in pageants since she was six years old and has snagged North Dakota crown titles including Little Miss, Miss Pre-Teen and Miss Junior Teen. She also won Miss North Dakota's Outstanding Teen in 2010.
Crown aside, Mund will receive a $50,000 scholarship--a heft grand prize that should come in handy when she starts law school at Notre Dame in the fall.