Miss America 2020: Miss Georgia, Miss Michigan and Miss New Jersey May Be Top Contenders at Competition After Winning Preliminaries
It's been a long year for the United States' 51 Miss America contestants, but all their efforts will pay off during the 93rd annual competition on Thursday when Miss America 2019 Nia Franklin passes her crown down to the newest titleholder of Miss America 2020.
Although all 51 contestants—representing all 50 states and the District of Colombia—will make an appearance during Miss America 2020's live broadcast from Connecticut's Mohegan Sun Earth Expo & Convention Center, only the top 15 will actually compete for the grand title.
The top contestants were determined during two nights of preliminary rounds, which kicked off on Sunday. While dozens of women won scholarships based on their scores during the preliminaries—which are determined by their private interviews, on-stage interviews, social impact pitch and talent portion scores—there were a few ladies in particular that stood above the rest and snagged some of the highest titles in the opening rounds, hinting at their potential to lead the pack during the live competition.
The top winners at the preliminary events included contestants from Georgia, Michigan and New Jersey.
Miss Georgia Victoria Hill won the overall talent portion of the preliminary contest. She won judges over with her vocal performance from the opera "La fille du regiment" on Sunday and then followed up on Monday securing the win for the on-stage interview. Hill will receive a $2,000 scholarship for the talent award while the on-stage interview comes with a $1,000 scholarship.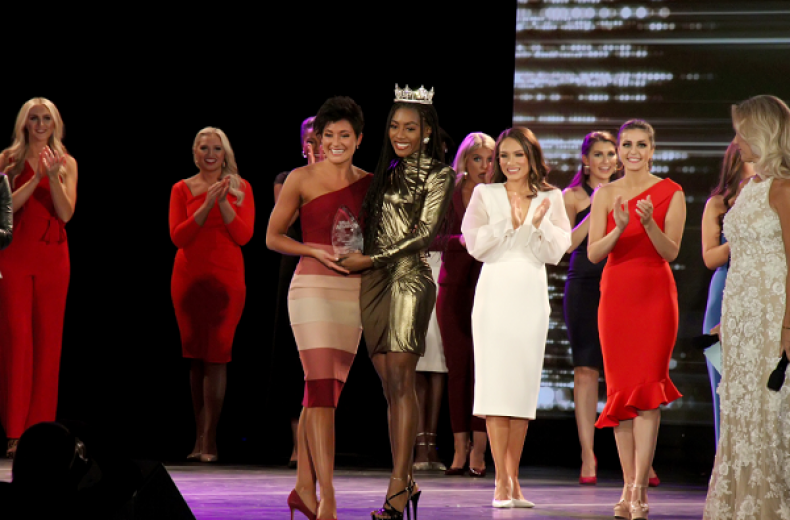 Miss Michigan Mallory Rivard claimed the overall interview title, which awarded her a $1,500 scholarship, while Miss New Jersey Jade Glad won the on-stage interview $1,000 scholarship on Sunday.
Other notable standouts from the preliminaries included Monday night winners Miss Oregon Shivali Kadam, who won the interview portion, and Miss Virginia Camille Schrier, who took home the scholarship for talent with her chemistry presentation of the catalytic decomposition of hydrogen peroxide.
The winner named Miss America 2020 on Thursday will receive a $50,000 scholarship and will spend the next year as the main representative of the Miss America Organization.
Like last year, the 2020 competition show will not include a swimsuit or evening gown portion but instead will allow contestants more time to share their personal achievements, social impacts and charitable efforts in addition to their life goals.
The annual competition will air live on NBC from its new Connecticut location on Thursday beginning at 8 p.m. ET.