Miss Iraq's Photo With Miss Israel Forces Family out of Iraq Due to Death Threats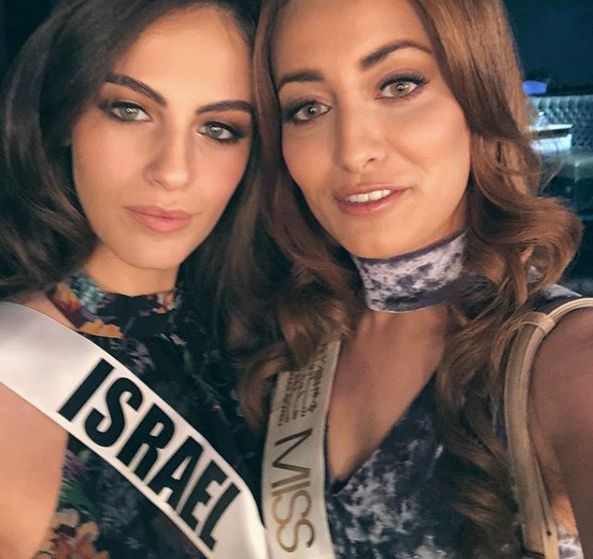 Relatives of Iraq's Miss Universe contestant have gone into hiding after a picture of the beauty queen with Miss Israel led to death threats.
During a Miss Universe event in November, Sarah Idan, representing Iraq, snapped a photo with her friend Adar Gandelsman, who was competing as Miss Israel. The photo was later posted to the women's Instagram accounts.
In response, people in Idan's home country of Iraq began issuing threats against the beauty queen and her family, Gandelsman told Israeli television.
"People made threats against her and her family that if she didn't return home and take down the photos, they would remove her [Miss Iraq] title, that they would kill her," Gandelsman told Israeli TV.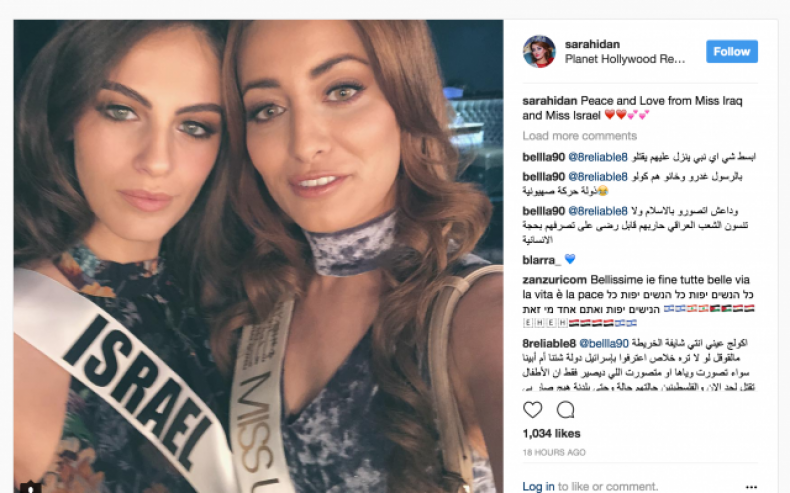 Gandelsman says that she and Idan are close friends who have remained in touch since the pageant. Idan, who lives in the U.S., confirmed the story with a Tweet.
"I'm not the first nor the last person to face prosecution over a matter of personal freedom. Millions of Iraqi women live in fear. #freeiraqiwomen," she posted on Twitter with a link to Gandelsman's interview.
The threats against Idan and her family are just one example of how tense the situation can be between Jews and Arabs in the Middle East, where many Muslims conflate any connection with Israel as support for Israeli activities.
Many in the Middle East are taught that Jews are murderers. These passions were inflamed even further recently when President Donald Trump recognized Jerusalem as the capital of Israel, a move that enraged many Arab leaders who want East Jerusalem to be the capital of a Palestinian state. Protests broke out across the Middle East in the wake of Trump's decision last week, and several Palestinians died in violent exchanges with Israeli forces.
Many countries in the region, like Iraq, do not have formal diplomatic relations with Israel.
Idan, however, had hoped that her photo would spread a message of tolerance and understanding. She posted the photo "so that people can understand that it's possible to live together," Gandelsman told Israeli TV.
Idan also defended the photo in a separate Arabic language post on Instagram.
"I want to stress that the purpose of the picture was only to express hope and desire for peace between the two countries," she wrote, adding that the photo with Gandelsman is not indicative of support for the Israeli government or a lack of support for the Palestinian cause.
People in Iraq were also angry that Idan had posted a photo in a bikini.