In her new book, Miss Manners Guide to Contagious Etiquette, author and columnist Judith Martin—along with her coauthors Nicholas and Jacobina Martin—discuss how to navigate polite social behavior in the era of social distancing.
In this Q&A, Martin shares her unvarnished views on emojis, over-the-top weddings and today's new foundation garments.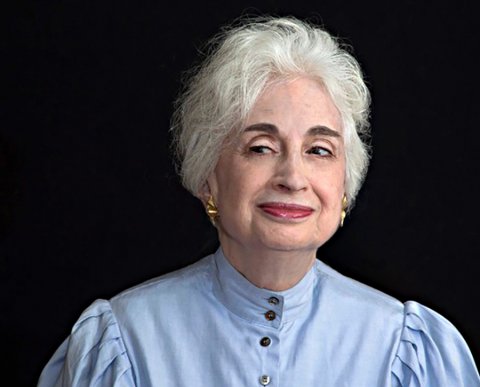 Judith Martin
Daniel Lake
Face masks, which are now de rigueur, prevent the most common polite gesture—the smile. How can we compensate?
You've heard of smiling eyes ("sure, they steal your heart away...")? Even above a mask, one can see the raised cheeks and narrowed but sparkling eyes that indicate a smile. True, you can get the same effect by scowling, but let's assume the best. Anyway, a friendly word would also help.
Do you think the pandemic brought out the best in how people interact with one another? Or the worst?
Yes.
With people spraying their deliveries down with disinfectant and "quarantining" them for three days prior to opening where possible, do you see any case where an electronic note can replace a handwritten, mailed one?
How deep an expression of gratitude is owed? There is no emoji that conveys "Thank you for risking your life for me."
A handwritten letter will dry and last, when an electronic one has vanished among the hundreds from commercial establishments declaring how much they care about you and their employees' safety.
Are there any social graces that have surfaced during the pandemic that you think should continue when life returns back to normal?
Indeed. People should no longer have to endure unwelcome hugs from strangers who pity them and want to advertise their own love of humanity.
Couples should have discovered that a personalized, memorable wedding is not the standard bloated extravaganza, but a serious ceremony, celebrated, to whatever extent possible, with their intimates.
Those whose rigid dress code is Casual and Comfortable for all occasions should be bored with their sweatpants—or at least be ready to part with them long enough for a thorough wash.
What have you been doing to keep busy during the stay-at-home orders?
Answering questions about the new behavior requirements, posing a better standard for the future and thinking about organizing the attic.
When you go out, what kind of face covering do you employ? Do you wear other protective gear?
Out? I may go out now?
I am beginning to think of my basic white face mask as underwear, and to consider what might be seemly and decorous to put over it.