Miss Taylor Swift's 'Betty' Performance at the ACM Awards Last Night? Watch It Right Here
Swifties, if you missed Taylor's live performance of "betty" at the American Country Music Awards, it's not too late. The Grammy-winning artist's performance from Wednesday night is available to stream on YouTube.
Swift played the guitar and belted out the clean version of the song for the empty Grand Ole Opry House, accompanied only by a harmonica. She donned a maroon sequined shirt and khaki high-waisted pants with heels.
The folklore hitmaker previously teased an appearance at the ACM Awards on Sunday, and then confirmed it on Tuesday. "Guys I don't know anything but I know I miss youuuuu. So watch the @ACMawards for my performance of 'Betty,'" she tweeted.
"Betty" is part of Swift's latest studio album, folkore. Many speculated that the song was the name of Blake Lively and Ryan Reynolds' third daughter (Swift mentions the name of their other girls, James and Inez in the tune).
However, she revealed last month the meaning behind the catchy song. "[James] has lost the love of his life basically and doesn't understand how to get it back," she said on Country Radio via Billboard. "I think we all have these situations in our lives where we learn to really, really give a heartfelt apology for the first time. Everybody makes mistakes, everybody really messes up sometimes and this is a song that I wrote from the perspective of a 17-year-old boy."
Swift also added that she liked telling different stories from different perspectives on folklore, and "betty" was just that. "I've always loved that in music you can kinda slip into different identities and you can sing from other people's perspectives," she admitted. "So that's what I did on this one."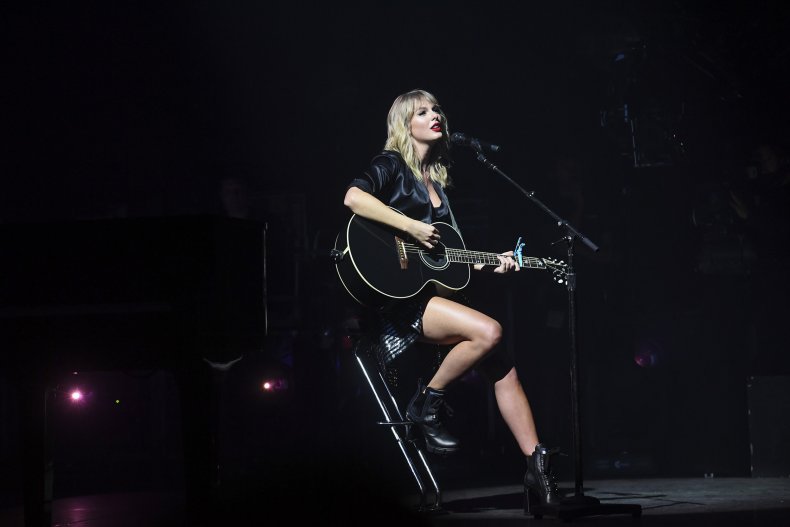 As for the names of Lively and Reynolds' kids, she wanted to include them, just 'cause. "I named all the characters in this story after my friends' kids... and I hope you like it!"
On July 23, Swift announced that she was releasing a surprise album the following day, which could arguably be the best thing to come out of 2020. "Most of the things I had planned this summer didn't end up happening, but there is something I hadn't planned on that DID happen. And that thing is my 8th studio album, folklore. Surprise."
She revealed that the pandemic was part of the inspiration behind the release.
"Before this year I probably would've overthought when to release this music at the 'perfect' time, but the times we're living in keep reminding me that nothing is guaranteed. My gut is telling me that if you make something you love, you should just put it out into the world. That's the side of uncertainty I can get on board with," she wrote.