Miss Universe 2018 in Photos: Catriona Gray of Philippines Crowned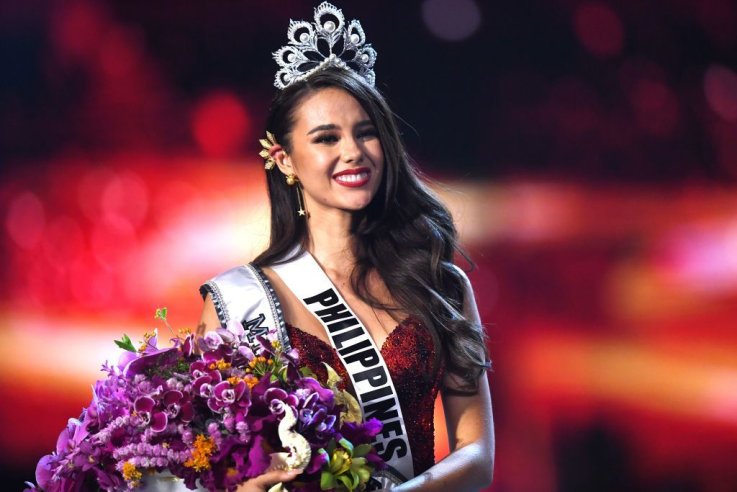 Every year a new young woman is crowned Miss Universe and we finally have a new winner. Miss Philippines' Catriona Gray is the newly anointed title-holder, crowned Sunday night during the live broadcast on FOX with Steve Harvey returning as host (and yes, he got the name right this year).
The broadcast aired in more than 190 countries worldwide and is estimated to have been viewed by half a billion people.
The term "Miss Universe" was first used in 1926 by the International Pageant of Pulchritude. That pageant was held annually until 1935, when it closed due to World War II. In 1951, the Pacific Knitting Milling company, the manufacturer of Catalina Swimwear, pulled their sponsorship of the Miss America pageant because the then-reigning title holder, Yolande Betbeze, refused to wear one of the company's swimsuits. The following year the company restarted the Miss Universe pageant, and it's been held annually ever since.
Now run by the Miss Universe Organization, winners of the pageant are able to, "...cultivate their personal career goals, advocate for humanitarian issues and be a voice to affect positive change in the world," says MissUniverse.com. Winners "have gone on to high-profile careers in government, business, finance, broadcasting, as well as film and television."
Only three countries have been present at every single Miss Universe Pagent: Canada, France, and Germany. In order for a country to qualify for the pageant, a company within that country must purchase the local rights to the competition through a franchise fee, and then host a pageant. Contestants cannot be married and must be between the ages of 18 and 28. Since 2012, openly transgender contestants have been allowed to compete. Miss Spain 2018, Angela Ponce, is the first transgender candidate to compete.
The previous owner, Donald Trump, sold the pageant to the current owner, talent agency WME/IMG, in 2015 after NBC cut all ties with Trump, which included the broadcasting rights to the Miss Universe Pagent, over his comments about illegal immigrants who crossed the border from Mexico during the 2016 presidential campaign.
This year's pageant wasn't without controversy. In an Instagram video that went viral, Miss USA Sarah Rose Summers, said that Miss Vietnam H'Hen Nie is "so cute and she pretends to know so much English and then you ask her a question after having a whole conversation with her and she (nods and smiles)," while attending the Miss Universe pageant in Thailand. She has since apologized for her comments, saying in an Instagram post, "In a moment where I intended to admire the courage of a few of my sisters, I said something that I now realize can be perceived as not respectful, and I apologize."
In response to the comments, Miss Vietnam H'Hen Nie told CNN that Summers didn't mean anything by the comments. "When she knew about my difficulties with (the English) language, she took an interest and showed me love." Nie said. "That's why she knows about that. Thank you, Miss USA, for taking care of me, showing me love and helping me recently."
If you missed this year's pageant, or just want a recap of the highlights, we've got you covered. Slide through to see some of the best photos from the 2018 Miss Universe Pageant.